State turns blind eye as stores break law
Oregon has the highest rate of tobacco sales to minors
Carl Nelson, dressed in jeans and a nondescript T-shirt, is hanging out near the Northeast Portland convenience store's gum and candy display.
Dillon, a 15-year-old with one of Oregon's more unusual summer jobs, waits until Nelson is nearly out of sight before heading for the front counter where he asks for a pack of cigarettes.
The Asian man behind the counter asks Dillon his age. When Dillon says he is 15, the clerk says he has to be 18 to buy tobacco products. Without speaking, Dillon turns and walk out of the store, followed seconds later by Nelson.
Ten minutes later, they repeat the scene at another store. By the end of the day, they will have hit more than a dozen stores of all kinds that sell tobacco.
Eventually, Dillon will be successful in his attempt to buy cigarettes. A line will form behind him and the clerk won't bother to ask for ID. An elderly clerk will ask for ID but his eyesight won't be keen enough to make out the date of birth on the card. Sometimes young clerks just don't seem to care, Nelson says.
Nelson, a retired Oregon State Police officer, is one of two men who comprise the bulk of Oregon's enforcement of laws forbidding the sale of tobacco to minors. But the truth is, they aren't enforcing those laws at all.
What happens, and doesn't happen, when an illegal sale is made later in the day, reveals how seriously the state takes enforcement. After Dillon pays for his cigarettes, he simply walks out. A crime punishable by a fine of up to $720 has been committed. Until two years ago, when a sale was made, Nelson would approach the clerk and issue a citation and a fine. Not anymore. Now he doesn't even talk to the clerk about the offense. He just heads back to his car with Dillon, fills out a federal survey 'Synar' form about the buy, and the two continue to their next stop.
The 1992 Synar amendment to the federal Alcohol, Drug Abuse and Mental Health Administration Reorganization Act called for states to take tough measures to keep tobacco products out of the hands of children. It was named for Congressman Mike Synar of Oklahoma, who sponsored the amendment to reduce the number of successful illegal purchases by minors to no more than 20 percent per year in each state.
Tribune Graphic: Pete Vogel
'A huge problem'
Nelson and the state's other enforcement agent witness more than 100 illegal buys every year, but since 2009 no Oregon retailers have been issued citations. Nelson's job merely enables the state to comply with federal regulations by compiling survey information so the feds know the percentage of retailers in Oregon that make illegal sales.
Oregon has given up enforcing tobacco laws governing sales to minors. The result, some anti-smoking experts say, is starting to show as more Oregon teens are able to illegally buy cigarettes and some youth smoking rates in Oregon appear to be on the rise.
Nationally, the rate for teens able to illegally buy cigarettes from retailers is 9 percent. It has dropped steadily for 15 years. Oregon's rate has steadily increased since 2006 to its current 19 percent. Last year in Multnomah County, teens were able to successfully buy tobacco products 24 percent of the time.
If federal data is correct (based on sting operations such as Nelson's across the country), Multnomah County is one of the easiest places in the nation for teens to buy cigarettes. That has a number of public health experts worried, and a few angry.
'This is a huge problem,' says Brett Hamilton, executive director of nonprofit Tobacco Free Coalition of Oregon. 'But the institutions fighting against it are large. You have big tobacco, you have groceries and convenience stores. All these people are making a lot of money off tobacco. The way they make their money is by hooking young people into smoking.'
Hamilton says he recently took a walk around Jefferson High School and found five stores within a few blocks selling cigarettes. He's convinced that is more than coincidence, based on studies that he says show youth smoking is most prevalent among the poor and minorities. He says that at one store near Jefferson he saw a clerk selling individual cigarettes - illegal in Oregon - to a young man who looked younger than 18.
'If we were to map the areas where tobacco retailers are located we'd find them concentrated around high schools, communities of color and low-income areas,' Hamilton says.
Erika Sward, director of national advocacy for the American Lung Association in Washington, D.C., says she's never heard of a state not issuing fines when it becomes aware of stores illegally selling to young people.
Sward calls Oregon's lack of enforcement 'very troubling.' She cautions about comparing different states based on the Synar data, saying some states take the required surveying more seriously than others. Some, she says, have reportedly warned retailers before inspections. But Sward says Oregon's lack of enforcement is in line with the state's unwillingness to spend the federally-recommended percentage of cigarette tax revenues on smoking cessation.
'What we know about Oregon is that it is falling short in a whole number of places in failing to prevent tobacco use,' Sward says.
Tribune File Photo: L.E. Baskow • Convenience stores sell 85 percent of cigarettes nationwide, and on average take in more than $500,000 in revenue annually from tobacco sales. They also are the stores where illegal sales to minors are most likely to take place.
Jeff Ruscoe, interim prevention manager for the addictions and mental health division of the Oregon Health Authority, is the man on the tobacco hot seat. He's in charge of state enforcement of tobacco laws. And he's upset, too.
Ruscoe says store clerks have started to figure out that there are no longer penalties for illegally selling to minors. They also know, Ruscoe says, that his two part-time inspectors are able to only hit about 700 retailers a year, maybe a fifth of the number that sell cigarettes statewide.
'They know the risk is low and the penalties not there,' Ruscoe says.
That might help explain the seemingly inexplicable rise in Oregon youth smoking. The national rate for eighth-graders smoking dropped from 9.3 percent in 2005 to 6.5 percent in 2009. In Oregon, the smoking rate for eighth-graders bottomed out at 8.1 percent in 2004 but rose to 9.9 percent in 2009.
Washington state maintains a more comprehensive tobacco enforcement program that includes fines when illegal sales are made, and 6 percent of its eighth-graders smoke.
On the other hand, the smoking rate for 11th-graders in Oregon is lower than the national average - 15 percent vs. 22 percent.
---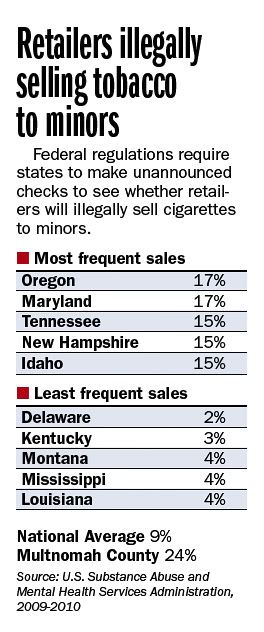 Tribune Graphic: Pete Vogel
---
Impact of fines
Ruscoe says he'd like to be able to fine retailers who fail their inspections. Nelson, as a retired state police officer, was able in the past to cite stores based on a special status granted from state police. But for the last two years his status has simply been that of a state health division employee with no authority to enforce state laws.
Even when Nelson had the authority to issue citations, the state's enforcement program was not nearly as effective as Ruscoe would have liked. Under state law, whoever sells tobacco to a minor is liable for a fine. That fine was not imposed on the store, however, but on the seller - the clerk.
Clerks were typically being hit with $300 fines that judges would cut in half. Many were fired by store owners.
Still, the fines had an impact. The evidence for that comes from a three-year period when Oregon was forced to have a comprehensive enforcement program.
In the 13-year history of federal youth tobacco sales inspections, only 18 times has any state reached such a high rate of youth sales that the federal program resorted to penalties. In 1998, Oregon's illegal buy rate reached 29 percent. As a result, Oregon had to pay a $1 million fine, which was used to improve enforcement.
According to Ruscoe, that $1 million allowed his division to hire extra inspectors to hit every tobacco retailer from 2000 to 2003, and to re-inspect those stores that failed. Every time a store illegally sold cigarettes to a minor, a fine was issued.
The result? In 2001, the rate of illegal buys dipped to 16 percent. By 2006, it dropped to 11 percent before starting its climb.
The most effective impetus for change, Ruscoe says, will come when store owners feel enough heat so they make clear to clerks they cannot sell to minors.
Ruscoe estimates that 25 percent of stores selling tobacco remain unknown to enforcement agents. That's because Oregon is one of 13 states that doesn't require retailers to obtain licenses to sell tobacco.
In states where retailers need licenses to sell tobacco, Ruscoe says, the license fees and the citation fines pay for a robust inspection program. In many of those states, federal officials say, every retailer is inspected each year, not the random one out of five that are hit in Oregon.
In states where retailers need licenses to sell tobacco, store owners can be issued the citation, not just clerks. That's key to enforcement, according to Ruscoe.
'Until we have a good disincentive for stores to not sell, we'll continue to see our rates high,' he says.
Ruscoe hoped the $1 million fine would spur Oregon legislators to pass a bill to institute licensing, but that didn't happen.
'The tobacco lobby in Oregon is very strong,' he says. 'They have a great lobbyist who has done a good job of keeping licensure out of the way.'
Focus on policies
In Oregon, the majority of cigarette sales take place in convenience stores and in stores connected to service stations. In fact, convenience stores sell 85 percent of cigarettes nationwide, according to Jeff Lenard, spokesman for the National Association of Convenience Stores.
By law, cigarettes must be handed to customers by clerks because 'they're prone to walking off the shelves,' Lenard says. Cigarette taxes make them expensive, and packs of cigarettes are easily sold on the street at nearly face value, he adds. That's why they are a target for shoplifters who may be addicted or are just looking to make some easy cash.
The average convenience store takes in $580,000 in revenue each year from tobacco sales, and Lenard says no store owner wants to jeopardize that kind of income by selling illegally.
The problem, he says, is entry-level workers who need constant training and monitoring. Some managers do that, others don't.
Richard Kosesan, executive director of the Oregon Neighborhood Store Association, says that licensing retailers selling tobacco would be a mistake.
'It's not necessary,' Kosesan says. 'It's just another government requirement and another government regulation. For the most part, the industry does a remarkable job of policing itself.'
But Susan Marsiglia Gray, who coordinates the federal Synar program that oversees youth tobacco prevention efforts, says states that have the lowest teen access rates have two things in common: strong state laws that include licensure for stores that sell tobacco, and the ability to suspend licenses if stores get caught.
Oregon has neither.
A number of states that license tobacco retailers hit every retailer every year with enforcement teams, and some have suspended retailers' licenses, she says.
Educating store owners is important, Marsiglia Gray says, but so are consequences.
'If I had to pick what matters most it would be enforcement,' Marsiglia Gray says. 'We know that when there is not a lot of enforcement happening retailer violations increase, and we are seeing that in Oregon.'
Karen Girard, health promotion manager for Oregon's public health division, says the state is focusing its anti-smoking efforts in other areas. She says the great majority of teens don't get their cigarettes from stores but from friends or family members, or by stealing them.
'What we really focus on are policies and social norms that keep youth from accessing tobacco,' Girard says.
Enforcement, according to state officials, is the responsibility of local law enforcement, though the state will be applying for federal funds that could be used to beef up enforcement.
Rachael Banks, program supervisor for Multnomah County's wellness and prevention program, calls 'startling' the federal data showing nearly one in four attempts by a teen to buy cigarettes here is successful.
'Our kids should not be buying tobacco,' Banks says.