FONT
SHARE THIS
MORE STORIES
---
TIMBERRRRRRRRS!
Details

Stephen Alexander
Portland soccer fans and MLS squad are a perfect match
In their first season as a Major League Soccer club, the Portland Timbers' results on the pitch have been a mixed bag of inconsistency. But the fans who pack the renovated Jeld-Wen Field are nothing if not consistent.
---
The dedication the fans have for the Timbers is unending and unconditional. With the downtown stadium being filled with passion, pride and songs for 90 minutes each match, the title of 'Soccer City, USA' could not be more appropriate.
Timbers coach John Spencer has played in some of the most storied leagues in the world, including the English Premier League. So the Scottish coach's words carry weight when he compares the passion of Timbers fans to that of any fans in the world.
'Everybody falls in love with foreign football,' Spencer said, in his post-match press conference after the Timbers' home opener April 14. 'But, when you actually go into the stadiums and you see the atmospheres … tonight was tremendous. It was up there with the best in world football. I don't think you'll see an atmosphere like that in American history. Ever. It was tremendous.'
More than two hours before the July 30 home match against Toronto FC, a line stretched around the stadium as people waited to be allowed through the Timbers Army gate.
The Timbers Army, the wild, eccentric group of fans in the north end of the stadium, try to live up to Spencer's words each match.
The wait outside the stadium takes on a tailgating atmosphere. That, and the need to get his desired seats, brought Tim Howard to the stadium at 1:30 p.m. - six and a half hours before the Saturday match was to begin.
'It's something we plan our day around,' Howard says. 'My wife has been here during that time as well. This is like family.'
Down the line, many people try to inconspicuously take slugs from bottles and cans of beer. While alcohol consumption outside the stadium is technically not allowed, a Portland Police sergeant admits that 'it's just something we kind of take in stride. We kind of look the other way.'
There is no effort to make drinking inconspicuous across the street at the Bitter End Pub and Eatery. The joint is packed with Timbers fans slamming back copious amounts of booze.
'Just like any other sport like American football, hockey, basketball, (alcohol) goes with the territory,' season-ticket holder Brandon Sweany says, as he sips a Pabst Blue Ribbon. 'I've gone to plenty of games and not touched a drop. Or I've come to games and been pretty much hammered. It just depends on my mood.
'(Timbers matches) are just a party atmosphere. And beer helps loosen you up a little, gets you in the mood to cheer. Courage juice, liquid courage.'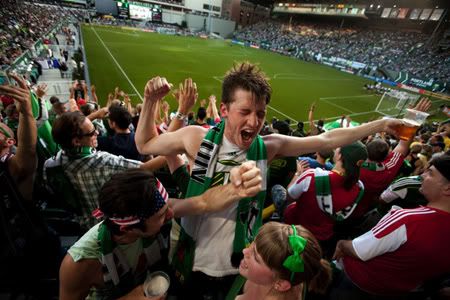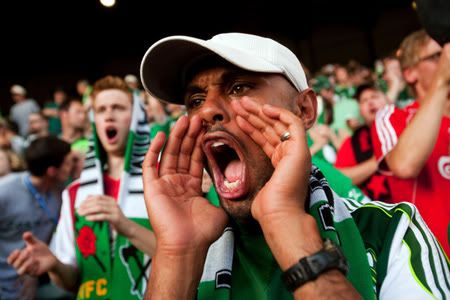 Tribune Photo: Christopher Onstott • The Portland Timbers, enjoying their inaugural season in Major League Soccer, have certainly taken the city by storm, with plenty of support from the community, including fans such as Miles Jackson (top), Michelle Garcia (middle) and Filly Afenegus (bottom).
Inappropriate words
With the Timbers filling the stadium to its 18,627-person capacity just about every match, tickets can be hard to come by. Ticket scalpers surround the stadium, wheeling and dealing. The markups are less than you might think, though.
'The demand is pretty high for all the Timbers games,' says a scalper named Richard, who didn't give his last name. 'There's not much of an overhead, probably about $15 extra on top of what the season price is. So a $25 ticket might go for $40. It's pretty reasonable.'
If you are able to get into the match, you will witness Jeld-Wen Field turn into something resembling a glee club frat house. There is hardly a moment when the Timbers Army is not bursting into song with any one of its 20-plus chants.
The fun of singing with friends can be as important as the match itself.
'Soccer is kind of what draws you in initially and then everything else here is kind of one of the added perks that sucks you into the whole atmosphere and the whole experience,' says Jenny Cestnik, who has been a Timbers Army member for three years.
While the Timbers Army provides the club's anthems, the rest of the stadium is filled with a constant roar, especially when the Timbers have a chance to score.
Profanity can be a staple of the Timbers fans' vocabulary. That does not deter Malaika and Chris Childers from bringing their three young children to the matches, though. Most of the time, anyway.
'There are no inappropriate words, just inappropriate times to use them,' Malaika Childers says. 'A soccer game is where you can use them. We can take the whole family and enjoy it, or be hooligans if we want without the kids. The kids do not go to (matches against the) Seattle (Sounders).'
Chris and Malaika Childers do not like the same team in any sport except for the Timbers.
'We've come from different places in the country, so they don't always intersect with the same teams,' Chris Childers says. 'We're both from Portland now so this is our home team.'
When Meredith, Owen and Joy Childers grow up, they will not have much of an option but to be Timbers fans as far as their parents are concerned.
'If they don't, they'll get kicked out of the house,' Malaika Childers says, smiling.
Timbers matches are not just for the young, either.
Jim and Barbara Feehan are a retired couple who still carry the ghost of their Irish accents. The two have been Timbers fans since moving to Portland. They began attending matches when the Timbers played in the North American Soccer League, some three-plus decades ago.
'The old Timbers were a great group,' Jim Feehan says. 'They came from England and spoke to the fans and were very close. These folks are much better organized. They've put a lot more money into it, and it's beautiful. And it's working good here.'
Barbara Feehan loves that she and her husband can continue to bond over the Timbers.
'We like soccer,' Barbara Feehan says. 'We enjoy the game, and it's exciting. It's easy for me to understand. We don't do a lot of coming downtown to theater or anything. It's nice to come downtown and be outside in the weather and enjoy a game we like.'
A love affair
Against Toronto, the Timbers fans watched Portland blow a 2-0 second-half lead and come away with only a 2-2 draw. Although a 3-0 home win against the L.A. Galaxy followed, some games are tough to take.
'It's not that we feel bad for ourselves, we feel bad for the team,' says Chris Powell, dejectedly puffing a cigarette outside the stadium. 'I've seen these guys be beaten very badly, but when you're up 2-0 and you give up two goals, it feels worse than being beaten.'
No matter what the results are on the pitch, though, Timbers fans love their home side. It seems they always will.
'If we won all the time, it wouldn't be fun,' Powell says. 'Why would we come out and watch the games? It's like a love affair. Good or bad, for better or for worse, we married those Timbers.'