Cider: Old drink looks to mix up happy hour
Alcoholic beverage enjoys a rebirth thanks to local apples, makers
Jeff Smith was tired of the overly hoppy beer he was drinking and brewing, the same old beverage choices available at the bars.
After taking a class, the Southeast Portland grocery store manager set his sights on making cider, the refreshing and deceptively strong fruit-based alcoholic beverage that's riding a new wave of popularity in Oregon and Washington thanks to the abundance of local orchard fruit.
After six years of perfecting his recipes, Smith and his wife, Erin, opened Bushwacker Cidery - the nation's first cider bar - last September just off Powell Boulevard in the Brooklyn neighborhood.
The opening coincided - and helped boost - a revival of the cider movement in Portland and the Pacific Northwest, bolstered by the local beer- and wine-obsessed foodie culture.
'Portland's just a really welcoming town to any new alcohol venture,' Smith says. 'It's also gluten free. People are realizing it's just a natural product. It's from branch to bottle, pure. I think people appreciate that.'
In the past two years, a wave of cider-mania has swept the Pacific Northwest.
Consider:
• Cider makers from around the world gathered in Portland for the city's first Cider Summit in June, following on the heels of a similar meeting in Seattle. Seven cider makers from Oregon and five from Washington state were in the mix, which represented 75 percent of the world's cider market.
nOregon may celebrate its first 'cider week' in mid-October, to coincide with local apple-tasting events. Washington state's first cider week, with various tastings and other events, is set to begin Sept. 10.
• Portland cider sales are on the rise, at grocery stores, restaurants and bars. At McMenamins Edgefield, sales of the house cider has increased 15 percent a year without any promotion, says winemaker Davis Palmer.
'I think there's a lot of connection between a locally made product,' Palmer says. 'It's just another niche of the artisan-fermented beverage that really fits well with Oregon and Washington.'
It's that convergence of the locavore movement and the abundant agriculture that's driving the latest cider movement, enthusiasts say. After all, cider is nothing new.
It's been around for hundreds of years in England and is still widely enjoyed there; in the U.S. it was the top alcoholic beverage before Prohibition, since wine was export-based and beer brewing hadn't begun.
After Prohibition, German immigrants brought their beer expertise, and large breweries soon popped up, followed by the craft beer movement in the 1970s. In the 1991, Vermont's Woodchuck Cider opened and rose to become the largest domestic cider brand.
In the past few years, however, cider experts credit one man for triggering the latest revival. Most local cider-makers, including Bushwacker's Smith, learned their craft from British cider guru Peter Mitchell, the 'Johnny Appleseed of cider,' who offers a two-week program each year in Mt. Vernon, Wash.
For most, it's a labor of love.
'What I make is definitely the kind of cider I enjoy drinking,' says Josh Johnson, owner of Lake Oswego-based Finnegan Cider. 'I never had a focus group or learn from polling what I thought was going to sell.'
Johnson opened the business last year after making cider for seven years as a side hobby to his day job, a neurologist. 'I like neurology,' he says, 'but I like making cider probably more.'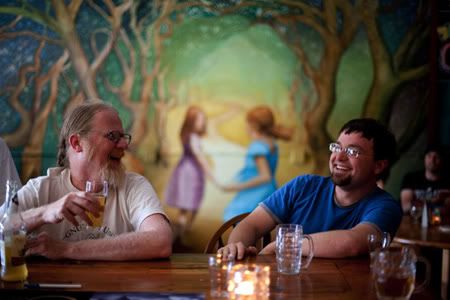 Tribune Photo: Christopher Onstott • Keith Zientek (right) and Richard Seimor enjoy cider and share a few laughs at Southeast Portland's Bushwacker Cidery, the nation's first cider bar. Enthusiasts say the recent cider renaissance has been spurred by the locavore movement, the abundance of orchard fruit and an appreciation for all things artisan-made.
New and fresh
On any given night, Bushwacker is packed with both first-time cider drinkers as well as 'cider nerds,' sampling the 115 bottled varieties, seven taps and various cider-based cocktails for the more adventurous.
About two-thirds of the cider varieties offered are artisan-made, which means they're produced from 100-percent pressed fruit, rather than the commercially made ciders made from concentrate, with water and sugar added back.
Flavors range from sweet and dry to bitter or smoky, many of them complex. They're made from dozens of varieties of locally grown apples as well as blueberries, peaches, pears and even cherries.
'Cider's kind of new; it's fresh, not as filling. You could call it a weekday drink,' says Kellen Danielson of Northeast Portland, who worked his way through a sampler tray during a guys' night out one recent Thursday.
Allen Gould, co-owner of the three-year-old Carleton Cyderworks in McMinnville, says he was at first apprehensive that people wouldn't have room for cider with such a saturation of beer and wine.
'But cider is distinct,' he says. 'It's not just another brown ale, pinot, IPA - it's its own thing. It's exciting in and of itself.'
A lot of people are banking on cider's growth. Palmer, the winemaker at Edgefield, is preparing to switch McMenamins' house cider from concentrate-based to a juice-based recipe made from Hood River apples.
'The flavor profile is better for juice,' Palmer says. 'We've done them side by side.'
It'll be the first change to McMenamins' house cider recipe since it began production in 1991.
In Salem, big changes are also under way. Wandering Aengus Ciderworks, one of Oregon's larger producers, will soon move into an expanded facility with assistance from the city of Salem.
The new space will allow them to quadruple their annual production, beyond the dozen or so states in which they currently distribute.
'My goal is to get its own category (in stores),' owner James Kohn says. 'A beer section, wine section, cider section. We're slowly building the shelf and pushing the big guys off to the side. We're growing the pie by adding more diversity.'
Each cider maker proudly touts its own distinguishing characteristics. One of the more unique flavors is the smoky cider made by Bushwacker, called 'Skin Your Smoke Wagon,' after a line from 'Tombstone.'
A few guys at Bushwacker on a recent Thursday enjoyed the smoky drink, thinking it was surely inspired by scotch.
'Yes, cider has a feminine association,' says Derek Cotton, of Southwest Portland. 'I'm a scotch drinker, a guys' guy. I'd challenge all the manliest scotch drinkers out there to come on out here and enjoy this right here.'
In fact, Smith says, it wasn't the scotch crowd he was chasing.
'I was inspired by the fact that we're right across from Edelweiss (Sausage and Delicatessen),' he says. 'They smoke all their meat. I was smelling the smoke and thought, 'Hmm, I wish we could smoke an apple.''
Two or three versions of the smoky stuff later, customers have given both thumbs up and thumbs down. He gets a lot of 'It's interesting.' He's not offended in the least.
He doesn't look down on anyone who prefers commercial cider to artisan-made. As long as they're drinking cider, it helps the whole industry, Smith says: 'Let the chips fall where they may. It's all out there. Everybody can decide for themselves.'