FONT
SHARE THIS
MORE STORIES
---
Back in the race
Meg Mautner's return to the racing world this past year has been fueled by determination, perseverance and intense conditioning.
---
This summer, the avid cyclist covered a lot of ground, getting back up to speed with finishing times on the track just shy of personal records she posted in 2009 at the Alpenrose Dairy Velodrome in Raleigh Hills.
It's been a grueling ride on her road to recovery following a devastating bicycle accident that grounded her for the 2010 season. But her hard work, competitive spirit and dedication are putting Mautner on a path to pursue new records.
'Ultimately, I want to have fun,' Mautner said. 'That's why I do this.
'It feels awesome to be racing again. I missed it so much.'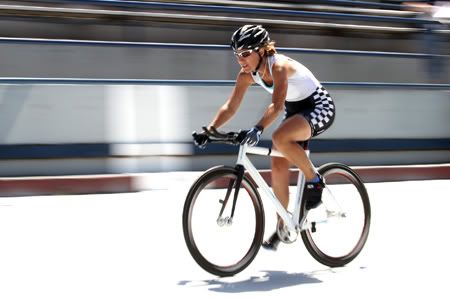 Crashing down
Last summer, Mautner was gearing up for the 11th annual Alpenrose Velodrome Challenge and the Masters Nationals elite racing event in Texas.
'The 2010 season started off great,' the 50-year-old Garden Home resident recalled. 'I was racing well and felt I was on track.'
A solo training ride around 10:30 a.m. July 8, 2010, knocked her off that course.
'I was on my way home, on a little ride on Scholls Ferry Road between Denney and Allen,' she said. 'I was riding hard to flush my legs out, when I hit a pot hole and went down.
'As I went flying, I thought, 'This is going to be bad.''
Mautner landed on her left elbow, sheering off her olecranon, the boney tip of the elbow. While her helmet and bike were fine, she was bleeding badly and had to walk her bike to the nearby Burgerville to call someone to take her to the emergency room.
'I knew something was wrong - I was dripping blood and had a bone sticking out,' she said.
Mautner underwent surgery at Providence St. Vincent Medical Center that afternoon.
'Thankfully, the surgeon on call was an upper arm extremity specialist - an elbow doctor - who cleaned out the wound, put a metal plate in to hold my elbow together and stitched me up.'
'My arm was frozen'
When the stitches came out after two weeks, she began intense physical therapy sessions twice a week with David McHenry to regain the use of her arm.
'I couldn't touch my nose or put my hair back in a ponytail,' she said. 'When I got dressed, I put one arm in and slithered in my other one.
'My arm was frozen. It wouldn't straighten. It was slightly bent. All the muscles were guarding the elbow. I had lots of long talks with those muscles.'
During the painful physical therapy sessions, Mautner worked on regaining her range of motion. With the aid of dynamic splints, she slowly regained flexion and extension abilities.
The entire time she eyed her custom Veloforma bike. And when the 2010 Alpenrose Velodrome Challenge rolled around, Mautner sat at the back gate to the track with her elbow wrapped up, monitoring track crossing for the Oregon Bicycle Racing Association.
'It was disappointing and frustrating,' she said about not being able to compete that day. 'I tried to look on the bright side. I could still ride my bike, and I would heal up. I could have been hurt so much more badly.
'I used that disappointment to fuel myself for this season. I was going to go hard and have fun.'
Six weeks after the accident, she started riding again. She began with commuting to work a few days a week at Mountain View Middle School, where she serves as an eighth-grade math teacher.
Within a couple weeks, she participated in timed events locally.
'I had to be ridiculously careful,' she admitted. 'At the end of August, I was racing at the track, but not in mass-start events.
'It felt so good to be racing again. My times were just awful - I had no fitness, no speed. But it was so fun to be back. I had missed it so much.'
The cycling community's support that got the former runner hooked on the sport a dozen years ago was a constant source of encouragement as Mautner got back into racing form.
'The racing community is a great bunch of people to hang out with,' said Mautner, whose husband Paul is also a competitive masters cycling racer. 'Everybody is so welcoming and encouraging. It's the atmosphere out there that makes you want to keep coming back and getting better.'
In constant motion
With track season at an end, cyclocross ramped up in September, and Mautner braved the challenging courses requiring packs of riders to navigate along pavement, wooded trails, grass, steep hills and obstacles. During these races, riders also have to quickly dismount, carry their bike and then climb back on the saddle to race to the finish.
'I was really hesitant,' she said of the cyclocross events in the fall and winter. 'I was worried I would fall on my elbow. I didn't want people to bump it or hit it.'
With each event, she gained more confidence.
When doctors removed the plate and its five screws from her elbow in February, Mautner made a turn in her recovery. Her range of motion showed signs of steady improvement.
Around the same time, she started participating in road races called criteriums that require cyclists to race around a short half-mile course for 30 to 45 minutes.
Those races, along with ongoing training sessions with her coach, Brian Abers, whipped her into shape for the 2011 Alpenrose Velodrome Challenge in mid-July, which attracts elite riders, national and international champions and world-class Olympians.
Mautner put up a strong fight as she raced against women half her age in the women's 3K 11-lap timed pursuit, 500-meter race and 40-lap women's qualifier points race.
In her pursuit race, Mautner's finish time was less than a second off her personal record, which she set in 2009. In the 500-meter race, she was 1/100th of a second off her best time. And though she didn't qualify to advance in the points race, her performance gave spectators a clinic on how to draft and hold onto a competitor's wheel, use the velodrome's steep banking to accelerate and attack the field.
'Looking back, I am happy with my times,' she said. 'I always want to go a little faster, but that's what I had in the tank that day.
'I'm competitive by nature though, I still want more. I know there's more in me. I just have to find it and dig it out.'
To see Mautner and other track racers in action, the Alpenrose Dairy Velodrome is hosting races Thursday nights this month. Mautner will also race Saturday during the Oregon Bicycle Racing Association championship criterium in Bend. She returns to Bend at the end of the month to race against other women in her age group during a Masters Nationals criterium.