BOOT-SCOOTIN ROOTS
Country gal Rebecca Brown takes a humble route from rural life to center stage
Big talent often comes from unlikely places, moving along with the strains of life to reach a fulfilling destination.
Einstein had difficulties with speech as a youngster. Rembrandt was the ninth of the offspring to a miller. Wilford Brimley once worked as a ranch hand and as bodyguard for Howard Hughes.
So Rebecca Brown's arrival as guitarist and lead singer for the local rock/country band 'Flexor T' from her rural roots in Clark County may not knock you for a loop after all.
Still, it's a rather jolting turnabout for Brown, 37, a realtor for Windermere by day and diva by night.
She led a sheltered life through a strict Christian upbringing, was home-schooled by her mother, intended on a career as a missionary and didn't start singing in public until her 20s.
Now, she is the flashy front gal for one of the area's top musical acts.
'It has been a long road getting here,' says Brown, whose friends call her Becca. 'A lot of rocky times and growing as a person. It's been painful, it just has. But I'm glad to have done it.'
• Brown has humble roots. She grew up a farm girl, one of three children raised in Hockinson, Wash., by Leonard and Cheryl Freese.
'Mom had 1,800 layer chickens, and some big roosters,' Becca says.
Leonard Freese also worked at Columbia Rock and Aggregate.
'He held two full-time jobs,' Becca says. 'He's the hardest-working man I know.'
Modern conveniences weren't aplenty. It was an almost Amish-like existence.
The Freeses didn't have tractors. They farmed with draft horses.
Heat at the Freese home was provided by a woodstove. Water came from a hand pump.
'We washed clothes on a washboard,' she says. 'We rung (the clothes) out by hand and strung them on the line to dry.
'Our house would run completely without electricity. If power went out, we wouldn't have skipped a beat. I'm not making any of this up.'
Courtesy of David Atterberry • Rebecca Brown gets plenty of backup from dancers Dee Dee Anderson (left) and Desiree Goode (right) in her country band, Flexor T.
The Freeses had a television set until Becca, aged 7, saw one of the Nair commercials ('Whose got short shorts?').
'My parents saw me dancing with the girl wearing short shorts,' Becca says. 'They got rid of the TV right away. I was probably 18 before they got another one.'
Times were tough. Columbia Rock would often shut down in the winter, and Becca's father would get laid off. One Christmas, the children got pencils, notebook paper and oranges as presents. Another time, church members entered the home, putting up a tree, providing presents for the kids ('I got a trike,' Becca recalls) and a ham for the oven.
'But it was a great childhood,' she says. 'I respect my parents more than anyone. My dad is my hero. My mom is the strongest woman i know. They're great people, and very generous. We grew turkeys and provided them for the homeless shelters every Thanksgiving and Christmas.
'We got to do things most kids don't get to do. I made bread every other day. We grew our wheat, ground our wheat, made our flour, then made bread. It was a different kind of lifestyle.'
When she was 15, the family moved to a family farm in Chelatchi Prairie, near Amboy, 30 miles Northeast of Vancouver.
'We called ourselves 'Ambodians,' ' Becca says. 'The general store, that's all there is in Chelatchi Prairie. If you wanted to go to the grocery store, you had to go into Amboy.'
Things soon began to move a bit more quickly. Becca was married at 18, had the first of her three children at 20, had the second at 22, divorced and began a two-year stint at the New Tribes Bible Institute in Jackson, Mich., at 23.
'I thought I was going to be a missionary,' she says. 'Then music happened.'
Growing up
What little singing Brown did as a girl was country.
'I grew up listening to country,' she says. 'Buck Owens, Jeanie C. Riley. It's second nature.'
The first time she sang in front of an audience was in her early 20s at Jollie's Restaurant in Ridgefield.
'I went out with a couple of girlfriends and there was a band playing and an open mike,' Brown says. They pushed me on stage and said, 'She sings.' So I got up and sang. Somebody was in the crowd from JB's Roadhouse, and she said, 'You should audition for our place.' '
Brown did and got the part, one she held onto for almost five years.
'I walked around with a cordless mike and a karaoke tract and sang while people ate their dinner,' she says. 'I had the worst stage fright you could imagine, but I found I liked singing and performing.
'I was terrified to do it, but I couldn't not do it. I had to do it.'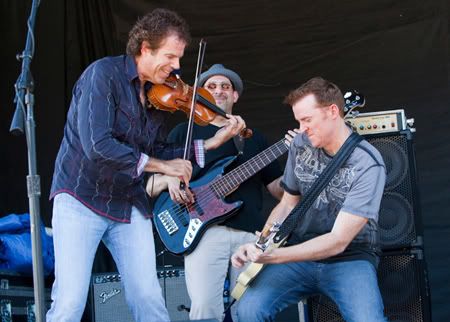 Courtesy of David Atterberry • Lead singer Rebecca Brown has ample support from experienced musicians like (left to right) Robert Baker on fiddle, Dave Rosenberg on bass and Brian Pelky on lead guitar and vocals, as well as KGW-TV broadcaster Joe Becker (below) on bass.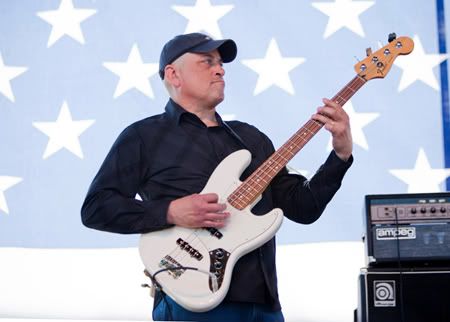 Over the next decade-plus, Brown married and divorced again, had another child and continued to sing professionally, creating a bit of an inner struggle.
'The religion I was brought up in and singing did not go together,' she says. Her parents did not approve. But she was no longer their little girl.
Brown sang and danced with several local bands, including a short stint with Body and Soul ('I'm not Aretha Franklin,' she quips).
Nearly two years ago, she joined 'Flexor T,' a band started by good friends Joe Becker - the KGW-TV sportscaster - and Brian Pelky.
'Brian used to be an editor at KGW,' Becker says. 'We've been friends for more than 20 years. We enjoyed playing music together. We had kicked around the idea of putting together a band for a long time.'
Pelky, who lives in Vancouver and is also a member of the group 'Five Guys Named Moe,' plays lead guitar and vocals; Becker, a Beaverton resident, is bass guitarist. Other members are Bob Baker, violin (Portland), and drummer Michael Braun (Portland), who played with Hall and Oates for 24 years. Portland's Dave Rosenberg fills in on bass guitar when Becker isn't available. Portland's Marty Higgins, who played with Nu Shooz and Body and Soul, is the backup drummer.
Flexor T features a pair of dancers - Dee Dee Anderson, the former coach of the Blazer Dancers, works every gig while the other spot is rotated - who do choreographed routines with Brown for what is billed as a 'Las Vegas-style show.'
'Those boys behind me are some of the most talented musicians in this town,' Brown says. 'Put that together with Dee Dee's girls ... it's a combination of very creative people who are not afraid to take a risk.
'A lot of other bands might say we're too showy, and not focusing on the music enough. I think we're people with a big vision who don't mind going out there and doing it.'
• On a recent week-day afternoon, Flexor T displays a great cross-section of material during an hour-long set at the Clark County Fair.
Becca's robust voice is in its comfort zone during the opening two country songs. She ably swings to rock next in a cover of the Rolling Stones' 'Honky Tonk Woman,' then bounces back to country for Alabama's 'You Gotta Have a Fiddler in the Band.'
'Maybe I have a little of Tanya Tucker's outlaw spirit. You know, 'Been divorced,' ' Brown says with a laugh. 'Country is my niche. I don't have to think about it; I don't have to work at it. Everything else is new to me.'
Local band Zuzo Blue played 'the first rock n' roll I'd really ever heard, and I fell in love with it,' she says. 'I like R and B, though I'm not good at it. But rock - maybe it makes sense, growing up in the country. Because every cowboy knows AC/DC. Every bullrider rides the bull to 'Back in Black.' '
Brown's stage presence is considerable, and she is a chameleon as she moves from number to number. She's Dolly Parton doing old-school country. She is Tina Turner, moving in perfect harmony with her dancers to Foreigner's 'Hot Blooded' and Led Zeppelin's 'Rock N' Roll.' She is Faith Hill to Pelky's Tim McGraw in the Flexor T original, 'I Could Grow Old With You,' a song that brings out the best in both of them.
'We're a high-energy show even without the girls,' Brown says. 'Once you get the dancers on the stage, the energy level goes up a whole 'nother notch. You wouldn't have thought it was possible.
'This show knocks most other bands out of the park. Nobody is afraid of a big idea. Who would ever think of putting Black Eyed Peas' 'I got a feeling' with Big and Rich's 'Save a Horse, Ride a Cowboy'? '
All the while, Brown is sexy and sultry and not just a little provocative, a direct departure from her upbringing.
'The way I was raised, my parents would not have been pleased with me dancing and singing,' she says. 'But now they're very supportive and they love it. My mom came to a show a couple of weeks ago and cried - and she does not cry. Dad cried, too.'
Brown laughs.
'I don't know how someone raised the way I was raised could be so not conservative,' she says. 'I grew up around rednecks. I'm a redneck, absolutely, and I was the black sheep of the family - different from all the other women.
'They're all strong women. My mom is a champion archery shooter. Then here comes this girl who wears high heels and likes to put makeup on.'
She laughs again.
'I was the shy girl,' Brown says. 'It was painful to talk. Sometimes I didn't talk at all. I was so awkward as a teenager.
'So performing is fun. You put in the hair extensions and the fake eyelashes and way more makeup than you would ever wear, and you kind of feel like you're wearing a mask and people can't really see you. You're being whoever you want to be. I just do what the music makes me do.'
Does it pretty well, too.
'She's fantastic - a great singer and a great entertainer,' Becker says. 'She really connects with the crowd. She has a personality that blossoms on stage.'
And the sexy persona? How does Brown feel about it?
'I probably struggled with it early on, but now I've gotten to a place where I love it,' she says. 'I love everything about our show. I wouldn't change it.'
Brown had no formal voice training until last year.
'I'm not an opera singer,' she says. 'I don't want to be told not to scream. But (the lessons) helped. It taught me how to recover my voice, how to keep it healthy, so you can go to go to a gig and be done and keep it in good shape.'
• Living in a Vancouver house with her boyfriend, Pelky, Brown has embraced the conveniences of city life.
'Have I ever,' she says. 'My dad is disappointed I have no yard. I love living in the suburbs. I love that it takes 10 minutes to get to Starbucks. I have a computer and a TV in almost every room.'
Brown doesn't dream of the big-time.
'I think one time I watched the CMA Awards and thought, 'That would be fun to do that,' ' she says. 'But I have babies; I have family. Being on the stage (at the Clark County Fair) - that's enough fun for me.'
Brown pauses, then adds:
'I think I'm going to look back and consider these the best days of my life. I'm going to miss them when they're gone. I love what I'm doing. I love the people I'm doing it with.'
Flexor T's upcoming gigs: Aug. 19 at the Jubitz Ponderosa Lounge in North Portland; Aug. 31 at the Oregon State Fair in Salem, Sept. 2 at the Refectory in Northeast Portland.