FONT
SHARE THIS
MORE STORIES
---
Were not going to let them fail • SEI turns 30
Details

Jennifer Anderson
Self Enhancement Inc. expands programs as it builds on success
When it came to putting down permanent roots 15 years ago, Tony Hopson Sr. didn't mess around.
---
He immediately went to North Portland's Unthank Park, then the hotspot for much of Portland's gang activity, and assembled a meeting with the leaders of the Kerby Blocc Crips.
'We know you're all running the park,' he recalls telling them. 'I know you don't want your younger brothers and sisters slinging (drugs), like you. We want to give them a better life.'
The gang leaders bought into the nonprofit's mission, and $10 million in fundraising later, Self Enhancement Inc.'s new home was born.
Today, the two-story, light-filled, 62,000-square-foot building on the west side of Unthank Park is a safe haven each year for 3,000 low-income, at-risk young people from North and Northeast Portland.
With the motto 'Youth potential realized,' the mini-empire hosts a middle-grades charter school, a summer program, free meals, community-based internships and afterschool enrichment including sports, music, dance and art.
Tribune Photo: Christopher Onstott • Roman (top), 3, plays on the swing set at Unthank Park, where the Self Enhancement, Inc. has made its home for the past 15 years. The nonprofit turns 30 this year, with a community celebration set for Saturday at the park.
There's also family support, tutoring and mentoring services on site as well as at nine other Portland Public Schools.
This week SEI celebrates its 30th anniversary, amid much success. A hundred percent of SEI's students graduated from Benson, Jefferson and Grant high schools this past year, and 85 percent went on to college or post-secondary school - far and above the results for students across Portland and the state.
In addition, 85 percent of SEI's kids are black; 75 percent come from single-parent homes living below the poverty line. In PPS as a whole, the average graduation rate for black students is 49 percent.
With three decades under its belt, SEI is about to shake things up a bit, with a radical change to its service model.
SEI typically begins serving children at age 8, while they're still highly impressionable and have many years to mold into successful adults. Now, SEI will begin accepting any freshman at Jefferson High School who wants to opt in to the program. That leaves just the difficult adolescent years to work with.
It's a big gamble, SEI President Hopson admits, because less-than-stellar results could reflect poorly on the organization's data, jeopardizing future funding.
'No one in their right mind would do that - take a kid in ninth grade,' Hopson says of the nonprofit world.
But Hopson is confident it will work out. He simply can't afford to pass up the chance, considering the need.
'We're that good,' he says. 'We know how to turn kids around. We know what they want, what they need. … If we can give them direction, discipline, support services, then unconditional love, we can have success with most of them.'
'These are our kids'
SEI's expansion will be just one of many things going on at the new Jefferson, set to debut as the Middle College for Advanced Studies in the fall.
The districtwide focus option lets students earn up to a year's worth of college credits by taking classes at Portland Community College's Cascade Campus across the street. Graduates who are financially eligible will receive free tuition for three years to the University of Oregon.
During the next four years of serving young people at Jefferson, Hopson hopes to have embraced every student who wants to be a part of SEI. He's also hoping to see at least an 80 percent graduation rate - above Jefferson's overall graduation rate of 50 percent in 2010.
'We're looking for every single one,' he says. 'These are our kids. We're not going to let them fail.'
Walking around SEI is like touring a small city, a miniature college campus. There's a library, computer lab, game room, gym, recording studio, dance studio and lockers for the SEI Academy students.
Since 2004, SEI has run the academy as its own public charter school for 126 students in grades six through eight.
While critics say charter schools skim the best students from neighborhood schools, Hopson sees them as a test ground, to 'see what can change in the (other) public schools. But charter schools are not the answer. There's millions of kids that are never going to see the inside of a charter school.'
While at SEI, kids can also grab a free meal. The cafeteria creates half of its 20,000 meals each quarter from scratch - with a goal to reach 100 percent. The cooks have recently revamped the menu to replace fried foods with healthier options that are still kid-friendly.
One thing visitors won't see at SEI is litter, graffiti on the walls, baseball caps or sagging pants. Students wear brightly colored T-shirts - one of a rainbow of colors - to identify which team they're on, which comes in handy on field trips.
Tribune Photo: Christopher Onstott • SEI kids watch a baseball game at Unthank Park, which has shed its reputation as a gang hotspot over the years thanks in part to the positive influences of SEI and the city parks bureau.
Everyone at SEI is asked to follow a set of six written standards, for example: 'We greet each other every day with a smile and handshake to strengthen the relationship between us,' 'We honor and respect each other and so we address one another with proper language and speech,' and 'We value the space of ourselves and others and are careful not to intrude or injure each other.'
Anyone who doesn't respect the standards is counseled, or loses privileges.
On a recent afternoon, the building was abuzz with summer activities, as well as kids just hanging out.
The building's open design, with inviting spaces, was intentional. Hopson says he had sketched his vision for the building on the back of a napkin, and handed it to the architects.
'We didn't want a box community center - we wanted somewhere special,' he says. 'Somewhere they'd treat like their mother's living room. There's a place for basketballs, a place to eat.'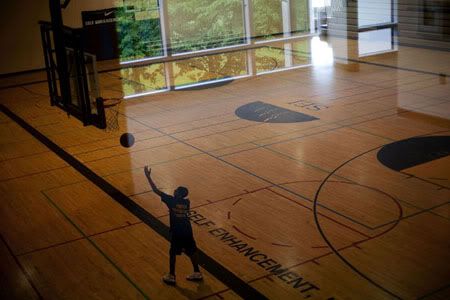 Tribune Photo: Christopher Onstott • SEI alumni say the program helped them to be successful. Portland attorney Michael Callier, who spent time in the program's gymnasium, like this current student, says SEI was like his "extended family."
Signs of respect
In all, SEI serves 900 kids at 10 PPS schools: King, Boise-Eliot, Humboldt, Vernon, Woodlawn, Ockley Green, Benson, Grant, Jefferson, and the SEI Academy. Another 300 young adults, age 18 to 25, also continue to receive services after they graduate.
If more funds were available, SEI would expand its reach in the schools, Hopson says.
SEI hasn't been without disappointments. Some students have been involved with or victims of gang-related crimes because of the choices they've made. But Hopson notes one remarkable fact: even during the period of high gang activity as the building was constructed, it wasn't tagged once. That is because of the respect SEI has in the community, he says.
SEI operates on a $12 million annual budget supported mostly by large, private donors. Hopson says he wants to reach out to alumni and community members because the need for funds is so great.
'When you're as successful as we are, we could serve more and more kids, and put a dent in the problem,' he says.
Considering the current challenges in public education, 'It's probably more difficult now than it's ever been,' he adds. 'The kids keep coming through the door.'
---
• Student says SEI pointed him in right direction
Seventeen years ago, Michael Callier was a struggling sophomore at Jefferson High School, just having landed in Portland to move in with his aunt.
'For some reason I wasn't as diligent academically as I might have been,' the 32-year-old says now. 'Family life was challenging.'
SEI took him under its wing, and was a constant presence in his life even when he wasn't ready to fully commit. When he finally came around during his senior year, SEI staff helped him study for his SATs and apply for college.
The support continued. When he was in law school at the University of Oregon, Callier recalls getting a box in the mail. 'It was a care package from SEI,' he says. 'I was like, 'Wow, I'm in law school and you guys are still sending me stuff.' '
Now, Callier is an attorney who lives around the corner from his family in Northeast Portland and helps out with SEI events when he can.
He left Portland's Tonkin Torp law firm three years ago to work at Nike, and on the weekends he heads to Seattle to earn his master's of science and information management degree at the University of Washington.
He'll put that all on hold, however, in less than two weeks when he heads off to China to pursue his longstanding passion: studying Chinese history and culture.
Having learned enough of the language to write an essay in Mandarin, he earned a scholarship to Suzhou University, just outside Shanghai, China, where he'll do consumer research and build a database to boost commerce between the United States and China.
Callier credits SEI for much of his success, even though he was lucky enough to have a supportive family who helped him along the way.
'Sometimes kids need more - an extension of the sort of foundation that good parents lay for a kid,' he says.
He thinks SEI's latest approach, starting a fresh crop of freshmen at Jefferson, will pay dividends. After all, he started as a sophomore, he says.
And SEI makes a point to drill home the message to kids that their life is what they make of it.
'They try to instill the self-starter mentality,' he says. 'They don't do the work for you. They point you in the right direction; in some cases they open doors for you. What you do after you walk in - that's up to you.'
- Jennifer Anderson