A BPA-free county?
It's tough to get away from the chemical, but officials might try a selective ban
Multnomah County Chair Jeff Cogen wants to enact a countywide ban on selling baby bottles and some other plastic products made with bisphenol A, after industry lobbyists killed a proposed statewide ban in this year's legislative session.
Bisphenol A - BPA - is a chemical compound found in water bottles, canned food, cash register receipts, computer keyboards and a host of other products. It affects the body much like estrogen, and has been linked to prostate cancer and a variety of other health problems.
'There's no dispute that BPA is a toxic, poisonous chemical,' Cogen says. 'It's increasingly clear that it shouldn't be in products that people put in their mouths or in their bodies.'
Many large retail chains refuse to sell baby bottles, sippy cups and reusable water bottles made with BPA. But that didn't stop business lobbyists from pressing House Republicans early this year to sideline a Senate-passed bill that would have banned those products in Oregon.
So Cogen, in conjunction with his old boss, Portland City Commissioner Dan Saltzman, decided to push a similar local ban.
'Multnomah County government is the local health authority; it's our job to protect the public health,' Cogen says.
He appointed a county work group to research various options and report to him in a couple of weeks. It's not clear if Cogen will seek to go beyond the products listed in the Senate bill, or when he'll issue a proposal. However, he says, 'What the state tried to do makes a lot of sense to me.'
Whatever the county does must be done on the cheap, because of budget constraints and the lack of staff to monitor what retailers are selling.
'A lot of the unknowns are around cost,' says Emerald Bogue, Cogen's policy adviser leading the effort.
Oregon Environmental Council, which has led the state campaign for BPA restrictions, supports the county move, says Renee Hackenmiller-Paradis, the Portland group's environmental health program manager.
Though she estimates only 5 percent to 10 percent of baby bottles and sippy cups sold here contain BPA, she says a county ban means concerned parents wouldn't have to play 'detective' to know which products are safe for their babies and infants.
Senate Bill 695, which passed the Senate 20-9, would have banned the sale and manufacture of BPA in reusable water bottles and children's beverage containers, plus infant formula sold to low-income families using the Women, Infants and Children subsidy program. That covers about half the baby formula sold in the state, Hackenmiller-Paradis says.
Tribune File Photo: Christopher Onstott • Bisphenol A, used in canned-food lining to protect the integrity of the food or beverage, can leach in very small amounts. Some companies are now offering BPA-free lining due to the health risks. Fred Meyer's corporate parent has vowed to eliminate BPA in its private-label canned goods.
The bill also would have created a state advisory group to recommend a system for certifying and labeling products made without BPA, such as canned foods and drinks. Without a reliable labeling system, it's impossible for a shopper to know if a product contains BPA. Supporters say that could give consumers assurance that a 'BPA-free' claim is accurate, and provide a marketing advantage for innovative Oregon companies, much as the Oregon Tilth certification system did for organic foods.
But the American Chemistry Council and other business lobbies vigorously opposed the bill. Even though the bill had enough votes to pass the House, Republican leaders wouldn't allow a floor vote, Hackenmiller-Paradis says. House Co-Speaker Bruce Hanna, R-Roseburg, who owns a soft-drink bottling company, didn't respond to interview requests.
Let FDA handle it?
Some business groups contend that scientific studies don't convincingly show BPA is a human health hazard, and they fear restrictions on baby bottles might lead to efforts to restrict its use in canned foods and other applications.
It's better to let the federal Food and Drug Administration study the matter and regulate it in the food supply, says Craig Smith, vice president of the Portland-based Northwest Food Processors Association.
'County-by-county regulations on these kinds of issues don't work very well; in fact they don't work at all,' Smith says. Multnomah County has no capacity to conduct risk assessments for products, he says.
Eight states have enacted bans on BPA in sippy cups and baby bottles and some, including Washington, include water bottles, says Sarah Doll, a Portland resident leading a national campaign against BPA for the State Alliance for Federal Reform of Chemical Policies.
Smith says those state laws were 'politically driven, not science driven.'
BPA, used in the lining of canned foods, helps prevent bacterial intrusions, such as salmonella. 'BPA has been a major contributor to the safety of the food supply,' Smith says, a point that BPA critics don't dispute.
However, there's a growing body of scientific studies documenting health problems from BPA. No one expects the international campaign against BPA to end with baby products and water bottles.
More than a billion pounds of BPA are produced each year in the United States, according to the National Library of Medicine website.
When a prominent local government such as Multnomah County enacts BPA restrictions, it can help change attitudes and lend momentum to wider efforts, says Bobbi Chase Wilding, organizing director of Clean New York, a nonprofit focused on environmental health issues.
Suffolk County in New York, which suffers from a high rate of breast cancer, led the nation in enacting BPA restrictions in 2009. Suffolk County, on Long Island, has 1.1 million people, and its local ban was a 'tipping point,' Chase Wilding says. Albany and Schenectady countiesfollowed suit, and that led the way to statewide legislation in New York to ban BPA in baby bottles and sippy cups in 2010.
A county can provide an easier avenue to take on entrenched corporate interests, Chase Wilding says. 'Machines of lobbying are not as powerful at the county level. The power levers are different and the economic levers are different.'
Though Multnomah County isn't well-positioned to monitor retail sales, she says citizens will surely point out when the county rules are being violated.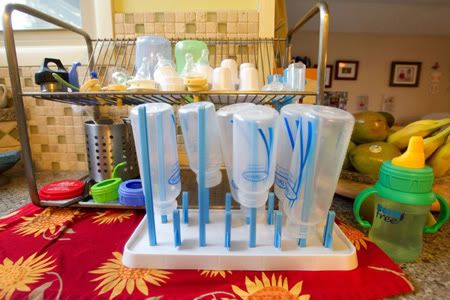 Tribune File Photo: Christopher Onstott • Major baby bottle and sippy cup manufacturers have largely removed BPA from their products. But lawmakers in Oregon have resisted banning baby products with BPA, under pressure from businesses fearful that other goods produced with BPA, such as canned foods, could later be banned.
Scientific studies
Dr. Gail Prins, a prostate disease specialist, was in Portland this summer presenting some of her research findings at a national conference of the Society for the Study of Reproduction. Estrogen can cause cancer in men and women, and BPA 'mimics' the effect of estrogen on the human body, says Prins, a professor of physiology and urology at the University of Illinois at Chicago.
'Bisphenol A can increase susceptibility to prostate cancer,' she says. Though science hasn't proven it causes the cancer, 'it increases the male's chance of getting it.'
There are more than 1,000 studies on BPA, many pointing to other potential health impacts. There's now a consensus about BPA among researchers, with the notable exception of those doing industry-funded studies, Prins says. 'I would say maybe 90 percent would conclude that the evidence is quite clear that BPA is producing harm. It could be 98 percent.'
Prins says industry is selectively using scientific studies, much like the tobacco industry did, in effect 'kicking the can down the road' to delay regulatory controls.
A website called Facts about BPA seeks to debunk what it calls 'myths' about BPA. Among the sources it refers to is an opinion piece from the Wall Street Journal, known for its pro-corporate editorial stances. The website sponsor, listed in fine print at the bottom of the screen, is the American Chemistry Council, the leading BPA critic and the prime lobby group opposing the Oregon bill.
BPA critics also cite reports by the Food and Drug Administration and other government agencies that back industry's contention that the scientific evidence against BPA is inconclusive.
'We need to rely on the FDA,' says Smith, of the food processors association. 'The FDA has said consistently that they don't see a problem.'
However, the FDA changed its position in January, saying BPA is a cause for concern, and calling for greater research. On an informational website for parents, the U.S. Health and Human Services Department now says: 'It is clear that the government and scientists and doctors need more research to better understand the potential human health effects of exposure to BPA, especially when it comes to the impact of BPA exposure on young children.'
Though industry tends to downplay the findings of hundreds of scientific studies on BPA, many manufacturers and retailers aren't waiting for formal government controls.
Major manufacturers of baby bottles and sippy cups have removed BPA from their products, and Walmart, Target, Fred Meyer and other retail chains have agreed not to sell those products.
In early 2011, the Oregon Environmental Council and allied groups did a spot check of stores in five states, and found a small number were still selling sippy cups that they suspect contain BPA, including a Dollar Store in Southwest Portland.
Cogen says those kinds of stores are of particular concern because they attract low-income customers, who have more health problems. Studies show low-income people have higher levels of BPA in their bodies, Hackenmiller-Paradis says.
A Portland Tribune survey of three Portland-area Dollar Stores last week found that most of the baby bottles and sippy cups are explicitly labeled BPA-free, as are some of the reusable water bottles. A small percentage are not labeled, including a $1 package of infant cups purchased at the Dollar Store on Southeast Foster Road near 69th Avenue. Hackenmiller-Paradis strongly suspects the cups contain BPA, and wonders if the company is selling old stock.
Tim Reid, vice president of investor relations for Chesapeake, Va.-based Dollar Tree Inc., doubts the product contains BPA.
'Since 2009 we have absolutely, positively not put on our shelves any children's product that has BPA in it,' Reid says.
However, after he was given the coding on the bottom of that product, Reid confirmed it was manufactured in 2008, before Dollar Tree began testing such products for BPA. Later versions of that same product have tested negative for BPA, he says, and lack of a BPA-free label doesn't mean it contains the chemical compound.
'They sure look like BPA cups, but I'd love to be proved wrong,' Hackenmiller-Paradis says. 'Either way, I think it's confusing for customers.'
No matter what Multnomah County does, or what impact that has, the BPA issue is not going to fade away.
Kroger, the nation's largest grocery chain, and the parent of Portland-based Fred Meyer, announced in May that it would start purchasing BPA-free paper for its cash register receipts. It also announced plans to eliminate canned foods using BPA for its private-label products, such as the Private Selection line.
Shoppers concerned about BPA, it seems, have yet another reason to read product labels carefully before buying.
---
Find out more
Federal government's advice to parents about BPA: www.hhs.gov/safety/bpa
Facts on BPA, from the perspective of the Oregon Environmental Council: www.oeconline.org/our-work/smart-policy/BPA
Facts on BPA, from the perspective of the American Chemistry Council: www.factsaboutbpa.org
How to find a water bottle without BPA, from REI: www.rei.com/expertadvice/articles/water+bottles.html