Truck fire snarls traffic on I-205, I-5 for hours, Tuesday
Driver escapes injury as exhaust pipe sets hay ablaze
It was well past dark Tuesday night before Northbound Interstate 205 reopened after a semi-truck loaded with hay caught fire between the Southwest 65th Avenue overpass and milepost 3 in Tualatin that morning.
No one was injured in the fire, but the northbound lanes of I-205 from Interstate-5 to Stafford Road remained closed from 11:20 a.m. to about 9 p.m., snarling traffic throughout the day and into the evening commute.
Tualatin Valley Fire and Rescue crews shuttled water to the scene to douse flames, which were still burning hours after truck driver Mike King pulled his burning rig to the side of the road.
'All of a sudden, I saw smoke coming down the right side of my truck,' said King, who works for Hoksbergen Hay out of Lynden, Wash. 'I thought, 'What the heck?' I was surprised.'
Truck driver Mike King said his exhaust pipe caught fire and flames quickly spread to hay he was carrying. Photo by Jaime Valdez
King was taking the truck back to Lynden, near the Canadian border, when he noticed smoke coming from the rig. King said it was his exhaust stack that caught fire, causing flames to spread to the truck's flat-bed trailer, which was stacked with 57 bales of hay, each weighing about 900 pounds.
Fire crews worked throughout the day to extinguish the fire, spreading each bale along the road and saturating it with water.
By 7 p.m., crews had removed about five dump truck loads of hay from the scene, but the road wasn't re-opened until two hours later.
'Until you break the hay up, it runs the risk of combusting,' said TVF and R spokeswoman Cassandra Ulven. 'So we have to ensure that all of that hay is not going to burn before we put it on another truck and transport it.'
Wednesday morning, wet hay could still be seen along the highway.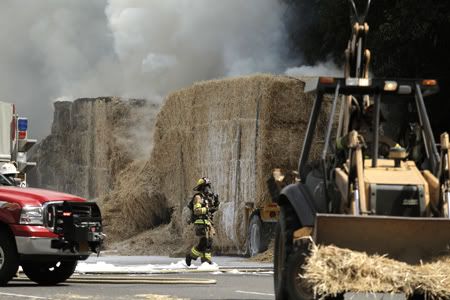 Fire crews work to extinguish the fire, Tuesday afternoon. Photo by Jaime Valdez.
Mike Nielsen was driving behind the rig when it caught fire and was one of a few dozen people stranded on the road as crews used the only available lane of the highway to bring in water.
'I thought it was kind of exciting until they stopped traffic one car ahead of me,' Nielsen said as he stood along the side of the road. Like many stuck along the northbound lane of the highway, Nielsen got out of his car to wait out the flames.
'There was a small explosion at one point," he said. 'I was getting ready to duck if there was any shrapnel.'
Most of the truck burned in the blaze as crews worked to keep the flames from spreading to nearby trees.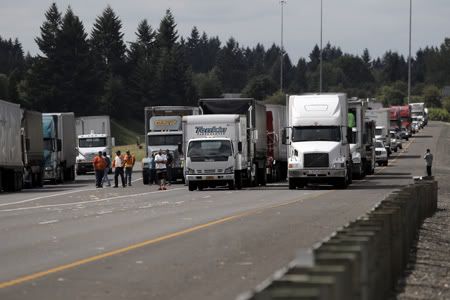 Traffic backs up along Interstate 205 as crews work to extinguish the fire.
Nielsen and the rest of the stranded drivers were able to leave at about 5 p.m., when fire crews re-opened one lane of the highway.
'While it was a really inconvenient event, particularly for those folks sitting in traffic for hours, no one was hurt, and there was a lot of cooperation,' Ulven said.