FONT
SHARE THIS
MORE STORIES
---
Suburbs winning regional diversity race
Census says people of color moving out of city for housing, jobs
Portland isn't as white as it was a decade ago, but surrounding suburbs have become even more ethnically and racially diverse.
---
A review of 2010 Census data shows sizable growth in Portland's Latino and Asian populations, but those groups grew even more swiftly in most of the suburbs. Portland's black population grew only slightly in the last decade, while its Native American population fell 7.5 percent.
Portland went from 75.5 percent white in 2000 to 72.2 percent in 2010, making little progress in shaking its image as one of the nation's whitest, least diverse big cities. In contrast, the proportion of minorities rose more briskly in 15 of 19 suburbs in the tricounty area.
The reasons are varied, but Portland has the region's most expensive housing, and hasn't kept pace with the suburbs in job gains.
'We see more people coming from Portland, because of the cost of living,' says Gloria Wiggins, division manager of El Programa Hispano in Gresham, and a leader of the Coalition of Communities of Color. 'It's not just Latinos; it's all people of color.'
Eight suburbs score higher than Portland on a widely used Diversity Index developed by USA Today. The index measures the likelihood that two random people on the street will come from different ethnic and racial groups tracked by the U.S. Census Bureau.
Whether it is blacks priced out of traditional Northeast Portland neighborhoods, or Southeast Asian immigrants moving to the suburbs to buy homes, 'it does disintegrate communities,' says Ronault 'Polo' Catalani, manager of New Portlander Programs for the city of Portland. Those groups are moving away from their neighborhood churches and other anchors, he says.
The 2010 Census revealed many other demographic shifts in the Portland area:
• Latinos form a majority in Cornelius, making it the first city in the Portland area to have a 'minority majority.'
• Damascus, the newest city in the area, is also the whitest, at 88.7 percent.
• The local black population grew by 1,067 in Portland over the decade, 1,912 in Gresham, 976 in Beaverton, and 890 in Hillsboro.
• Blacks account for 6.1 percent of Portland's population, down from 6.5 percent in 2000.
• Fairview has the area's second-largest share of black residents, at 4.4 percent.
• Happy Valley is 17.4 percent Asian, more by far than any other area community. Many Southeast Asians and ethnic Chinese bought homes there, Catalani says, lured by discounted prices on large foreclosed homes, stable schools, and safe, clean streets.
• Northeast Portland's Cully neighborhood is the most diverse neighborhood in Oregon, according to an analysis by Tom Cusack, author of the Oregon Housing Blog.
• Portland's Latino population grew 52.1 percent in the last decade, and accounts for 9.4 percent of the city. But Latinos reached double-digit proportions in 11 of the suburbs.
• Washington County is more diverse than Multnomah County, after its black, Latino, Asian, Native American, and Pacific Islander populations grew at a faster clip.
• Eight of the 11 cities with the least diversity in the tricounty area are in Clackamas County, including the bottom four.
• Blacks made inroads in desegregating largely white suburbs. King City has 55 black residents, up from zero a decade ago. Sherwood's black population rose from 47 to 125.
• In Wood Village, Cornelius, Happy Valley, King City and Gresham, the share of the white population fell by 10 percentage points or more in the last decade.
• Among the nation's 30 largest metropolitan areas, the Portland area's diversity index ranks 25th-highest, according to data tabulated by Cusack. That makes the Portland area more diverse than St. Louis, Minneapolis, Cincinnati, Pittsburgh and San Juan, Puerto Rico.
• The Portland area's black population, proportionally, is lowest of the 30 metro areas, well behind No. 29 Seattle.
• The Portland area has the fifth-highest share of Pacific Islanders, sixth-highest for Native Americans, 12th-highest for Asians and 18th highest for Latinos.
---
• Most diverse city? Wood Village
Drum roll please.
The most diverse city in the Portland area is now … Wood Village.
Who knew?
The tidy East Multnomah County suburb - known to outsiders as home to a former greyhound racetrack - has the highest 'diversity index' of any city in the Portland area, based on USA Today's analysis of 2010 Census results. Only Madras, in Central Oregon, scored as more diverse among the state's cities.
Community leaders attribute Wood Village's rapid demographic shift in the past decade to an influx of people of color seeking affordable housing, jobs, and a friendly town with a nice quality of life.
'I think it's part of the issue of poverty moving east,' says Gloria Wiggins, division manager of El Programa Hispano in Gresham, a service of Catholic Charities. 'In general, all communities of color are moving into this area because of the increased cost of living in Portland.'
In the past decade, Wood Village's Latino population more than tripled, and accounts for 37 percent of the city of about 4,000. The Asian population nearly tripled, and the black population, though still modest, more than quadrupled.
Wood Village also has attracted many Ukrainian and Lithuanian immigrants, though those groups aren't considered in the diversity index.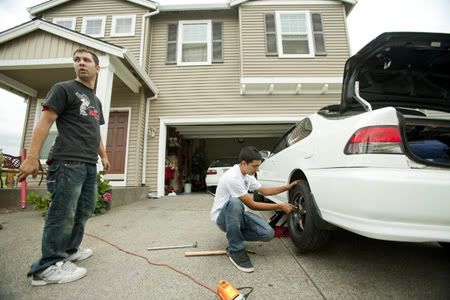 Tribune Photo: Christopher Onstott • Nuri Osmanovic (left) puts a new set of rims on his car with the help of his brother, Edin, at the Wood Village home where they live with their Ukrainian family.
Wood Village's growing diversity 'is a delightful and wonderful part of the community's fabric,' says City Administrator Bill Peterson, who moved here this year from Grants Pass. 'It is an incredibly accepting environment.'
USA Today developed its diversity index to measure the likelihood of two people from different racial/ethnic groups meeting on the street. It's not just a high number of people of color. Cornelius has a higher share of people of color, but it's not as diverse, because Latinos there reached majority status in the 2010 Census.
Latinos relocating from Portland, California and elsewhere found they can move up to become homeowners in Wood Village, particularly in its threemobile home parks, Wiggins says. The parks on Arata Road have a combined 270 spaces, more than one-fifth of Wood Village's housing stock.
There's also a relatively high number of modest single-family homes priced 'way under' $200,000, says Dave Fuller, Wood Village's mayor from 2001 to 2010.
Many of those homes were built in the 1940s, when Wood Village sprang up to house wartime manufacturing workers. 'It was developed to support the workers in what was then Reynolds Aluminum,' Fuller says.
Many Latinos later came to Wood Village to be near jobs in the area's nursery and farm industries.
In the mid-2000s, the new Riverwood subdivision became home to many Ukrainians and Lithuanians, Fuller says. Nearby are large church congregations holding services in those languages, as well as bakeries and other ethnic-oriented stores catering to the immigrants.
There are 2,600 jobs based in Wood Village, a large number for a city of its size.
Wood Village also has cultivated a nice community feeling with a series of municipal events, Peterson says. The annual Easter Egg hunt draws 2,000 people, and the National Night Out each July draws 3,500 to 4,000, he says.
On Sept. 10, the community hosts a large Octoberfest event.