Why are Oregons children so hungry?
New report says state's kids face the nation's highest rate of food insecurity as groups try to fill empty plates
A new national report shows just how much Oregonians have suffered in the depths of the national recession.
The report by Chicago's nonprofit Feeding America reveals that in 2009, Oregon had the highest rate of childhood hunger among the 50 states. Only Washington, D.C., had a higher rate.
The report says that 29 percent of Oregon (and Multnomah County) children faced 'food insecurity' in 2009, compared to a national average of 23 percent.
Those numbers won't shock most who deal with the needy in Oregon, since state data shows that one in five Oregonians receives food stamp benefits. But apparently the recession hit Oregon children especially hard, because the Feeding America study does not rank Oregon among the worst states for overall hunger.
The report, the first to map hunger county by county throughout the United States, has hunger and poverty experts readdressing an issue that has eluded definition for a decade, when data first began showing Oregon's comparatively high rate of people worried about their next meal. Nobody is certain why Oregon has so many hungry people, and especially hungry children.
The Feeding America report raises another vexing question. It is based on 2009 data, when the economy and employment in Oregon were bottoming out. In theory, the number of people needing food assistance would also have bottomed out then. But the people who dispense food to the hungry in Portland and throughout Oregon say they are getting more requests for help this year than ever before.
Tribune Graphic: Pete Vogel
'What we've been seeing is the number of people seeking emergency (food) help is just skyrocketing,' says Jean Kempe-Ware, spokeswoman for the Oregon Food Bank.
The food bank, which supplies local food pantries across the state, surveys its recipients. According to its most recent study, released in April 2010, a third of the people receiving emergency food boxes came from a household with children.
Among families receiving food bank aid in 2010, 30 percent of the households with children said they had begun reducing the size of children's meals. In 2008, 27 percent of family recipients were doing so.
Similarly, 76 percent of recipients in 2010 said they sometimes worried about how they would get their next meal, compared to 69 percent in 2008.
Kempe-Ware and others say that unemployment appears to be the biggest driver behind the increasing numbers, but unemployment statistics would appear to say otherwise.
Oregon and Michigan topped national underemployment rankings in 2009, when the number of people unemployed, working part-time despite a desire for full-time work and those who had given up searching for work, totaled 24 percent. For the most recent six months, that same underemployment rate for Oregon stands at 20 percent.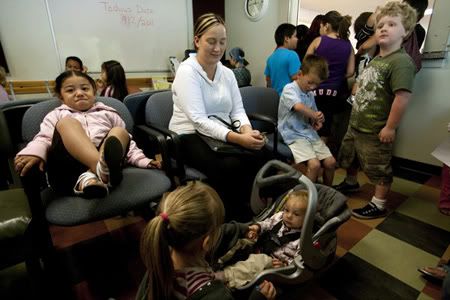 Tribune Photo: Christopher Onstott • Fairview resident Mandy Thrush (center) says she started visiting pantries when her food stamps ran out toward the end of the month. With two young children at home and a stepson part of the time, Thrush is grateful for the frozen green beans, corn and chicken pieces supplied by SnowCap food pantry in Gresham.
'They just want to cry'
Kempe-Ware says her workers are seeing new faces seeking food help every month, and are hearing more people say they have been unemployed for a long time.
Kathleen Green, pantry manager for St. Andrew's Episcopal Pantry in North Portland, says she's seeing a different type of person coming in for food assistance this year.
'I see it almost like zombies, no emotion, very sad, very depressed,' Green says. 'At times I get moms here, all they want me to do is hug them, and they just want to cry. Now they don't want to talk to someone, they don't want to call the crisis line or the pastor next door. They just want to sit there and cry.'
Green says that in 2009, St. Andrew's provided emergency food to 6,809 people, of whom 2,694 were children. In 2010, the pantry provided food to 8,989, of whom 4,220 were children.
Green wonders if maybe, in a sort of delayed reaction, some of the new recipients are formerly middle-class people who are just coming to grips with their need for food help.
'The newly poor don't know how to get help the first time,' Green says. 'They come in, there's this whole thing about 'I never had to ask' and, 'I didn't think I'd ever need help' and, 'This is so humiliating.' '
SnowCap in Gresham is the Portland area's largest food pantry, according to Executive Director Judy Alley, and more than half its recipients are families with children. SnowCap helps 10,000 people each month. Some receive pre-packaged emergency food boxes and others select their own groceries from the pantry.
'We used to think we were really busy if we did 4,000,' Alley says. 'It has gone steadily and consistently up.'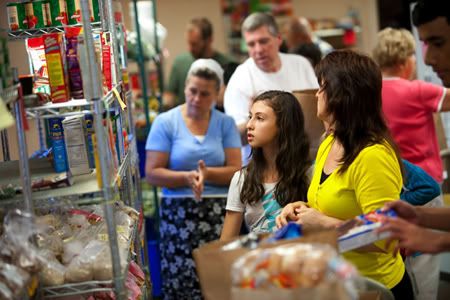 Tribune Photo: Christopher Onstott • SnowCap, the largest food pantry in Multnomah County, provides emergency food help to as many as 180 needy families a day. And more are coming in each month.
A real puzzle
Alley wonders if the state's unemployment figures truly reflect the hardship Oregonians are facing, though the government data does not come from unemployment insurance numbers, as many assume, but from monthly surveys conducted by the U.S. Census Bureau.
Maybe, Alley says, there are still people not being counted, for instance, those in their 60s opting for early Social Security benefits who have given up looking for work.
Alley concurs with Greene's assessment that there are people coming in for food help who weren't showing up even when unemployment was at its worst. She suspects the introduction of the ex-middle-class to food pantries has created a long-term effect.
'People who never knew that this alternative food distribution system existed, they've gotten over that hurdle of humbling themselves to stand in a line,' she says. 'If they go back to work and it's some kind of part-time, minimum-wage job, now they know there's another way to stretch their income. They're still going to be coming in.'
Another possibility is that some of those formerly middle-class recipients have lost their inhibition when it comes to revealing their food insecurity. Maybe in 2009 and 2010, newly poor, they didn't tell Census takers about their family food insecurity. But now, having adjusted to lives that include visits to food pantries, they do.
Mark Edwards, an assistant professor at the Oregon State University School of Public Policy, has studied hunger in Oregon for more than a decade, since a 2000 report claimed Oregon had the highest rate of household hunger in the country.
'That came as a shock to many of us who hadn't given it any thought,' Edwards says. 'There was lots of speculation that there must be something cultural about Oregon, vague things. We didn't know how to spend our money wisely or we all demanded organic broccoli. The problem was, things got better in four or five years. It's hard to imagine we suddenly learned how to make our food dollars stretch.'
From 2000 to 2005, according to Edwards, the hunger rate in Oregon was close to the national average.
Edwards is among those who don't think underemployment statistics tell the full story.
'You have people who are marginally employed in low-paying jobs, maybe part-time jobs,' he says. 'I think that's an important part of this story and why unemployment rates aren't tightly connected to this.'
Edwards says that historically, compared to other states, Oregon has a surprising number of two-parent households experiencing hunger, and households where at least one parent has a full-time job facing hunger. Nationally, 2.8 percent of American married couples with children face hunger problems. In Oregon, that number jumps to 6.1 percent.
'That's been the real puzzle we've been wrestling with,' Edwards says.
A possibility, Edwards says, is that Oregonians face an 'unhappy mix' of lower-income jobs and higher housing costs, leaving less money each month for food. One national study has shown that high housing costs are second only to unemployment as a driver of food insecurity.
'This may be one of those where the simplest explanation may be the wisest,' Edwards says. 'Just because people are now getting jobs doesn't mean they're in a position to meet all their expenses.'
For now, Oregon's high rate of childhood hunger remains a mystery, Edwards says. But experts agree that the stakes are high when it comes to child hunger.
'All of the research shows that children are impacted the most severely by hunger issues,' says Kempe-Ware. 'It affects their learning. It affects their health. Children who are hungry are likely to get sick more often, and it is more difficult for them to concentrate in school. It affects their brain development.'