FONT
SHARE THIS
MORE STORIES
---
Towers fall was like end of the world
Ten years later, storyteller's video captures street-level anguish as horror unfolds
Ten years seems like long enough to David Vanadia to hold on to a piece of American history.
---
On Sept. 11, 2001, Vanadia, a Pearl District resident and a professional storyteller, was living in Manhattan, not far from the World Trade Center towers. A video he shot of the falling towers and the anguish of people on the street is being shown for the first time this month, the 10th anniversary of that fateful day.
After a call from his mother in New Jersey and another from a friend, Vanadia rushed into the street with his video recorder and began shooting everything: people bumping into each other and starting random conversations, yelling for loved ones seemingly trapped in the towers, and the second tower coming down in a cloud of smoke and grit that spread for blocks.
My 9/11 from David Vanadia on Vimeo.
Courtesy of David Vanadia • Viewer discretion is advised.
Vanadia, 41, held on to his three-plus hours of video for 10 years without showing more than a few bits and pieces to a few friends. A year ago, he watched the whole thing for the first time. Now he's edited the video to a powerful hour.
Vanadia says he is releasing his video now because he expects, with the 10th anniversary of 9/11, a number of romanticized and politicized versions of the event will be circulated.
'I wanted to show people something I thought was honest,' he says. 'I just want people to see what it was like in New York.'
The video includes its share of haunting images. A man with a blue bandana around his head stands on the hood of a car, staring at the vanished Twin Towers while yelling the name 'Rita' over and over. Toward the end of the video, as Vanadia completes his walk toward the destruction zone, the streets of the Bowery appear nearly vacant and covered by snowfall - really the dust from the disintegrating towers.
There is nothing romantic or political about Vanadia's video. He edited out more than two hours but kept the images unchanged and chronological. In fact, Vanadia is concerned that people watching it who weren't there will find it too easy to criticize.
As events unfold, many bystanders seem nonchalant or focused on seemingly insignificant details. One man looking at the destruction says he feels most sorry for the person who bought the Twin Towers for $800 million. Another can't stop talking about how upset he is at not having brought his camera.
Misinformation and wild rumors abound. 'We were all in shock,' Vanadia says.
In fact, the video's final scene is less than complimentary to Vanadia himself. Behind camera, he observes with a tone of amazement that there are no cabs on what is a nearly deserted, smoke- and ash-filled street.
Vanadia says he ended the video there precisely because he was no different than his fellow New Yorkers that morning.
'They said all those crazy things and so did I. I'm with them,' he says. 'We can't believe what we just saw, and we really don't know what we just saw.'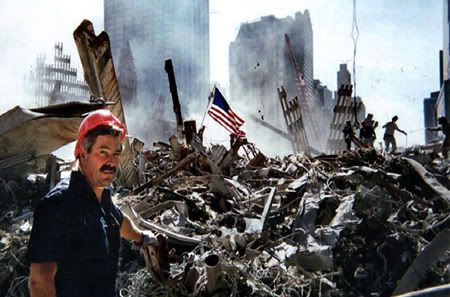 Tribune File Photo:  L.E. Baskow • Portland firefighter Dwight Englert (above) traveled to New York following the 9/11 attacks to help fellow firefighters at Ground Zero. An unsigned author (below) wrote a window message on Broadway in the days after the collapse of the World Trade Center.
Courtesy of Portland Fire Department