Bigfoot! Bug sundaes! Fake poo! Oh my!
Portland's Peculiarium has just enough weirdness to make art lovers squirm
Finally, there's a place in Portland where you can get a decent bug sundae. Your choice: worms or scorpions. But there's more to the Peculiarium than just snacks. Like a roadside attraction out of 'The Twilight Zone,' this strange Northwest Portland museum is stocked with fake mustaches, work by local artists, nickel candy and a helpful display that explains how to avoid spontaneous human combustion.
Three friends - Mike Wellins, Lisa Freeman and Eric Bute - opened the spot six months ago and have kept busy hosting First Thursday art openings and introducing a new generation to Pop Rocks.
At the door, visitors are greeted by a 10-foot Sasquatch constructed by Wellins, who is a director at Laika, and Bute, who also works in the local film business. Freeman is the full-time manager and resident baker, whipping up treats such as chocolate Franken-balls.
If there is a unifying influence for the Peculiarium, it's cinema. Some of the art on display was originally made for film sets, including an evil robot and a giant whale head.
'Monsters, sci-fi generally, isn't considered fine art,' explains Wellins. 'There's a stuffy element about fine art galleries. We kind of wanted to have more fun.'
TRIBUNE PHOTO: CHRISTOPHER ONSTOTT • Curiousity seekers flock to Peculiarium, where things are wacky and weird. If a person is brave enough to eat a 'bug sundae,' they earn induction into the Insectarium Club.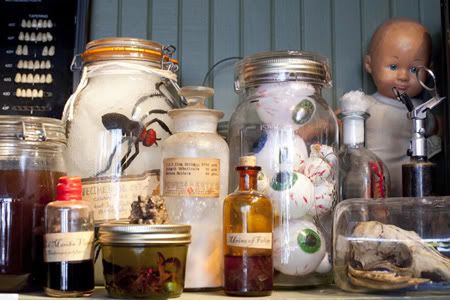 Artists' cool stuff
One part of the large space is dedicated to monthly art exhibits. For September, it's hung with bizarre paintings by Monte Wolverton, an editorial cartoonist and son of Basil Wolverton, the famous Mad Magazine illustrator.
Other artists' work is scattered among more permanent displays - installations, you might call them - reminiscent of the tableaus you find in amusement park haunted houses. In one, a ventriloquist's dummy is strapped into an electric chair, and a plaque tells the story of how he murdered his own puppet master. Another is a life-sized and gory scene of an alien autopsy. Where the kidnapped human's head should be there, there's a hole so that visitors can stick their own heads through for a snapshot.
In a glass case nearby there's a Victorian-looking kit for killing vampires.
'We're always keeping it in flux,' Wellins says. 'This is kind of a perfect place for all our artist friends that make big things and cool stuff that they don't necessarily have room for.'
Some of the stuff came from his own garage. There also are one-of-a-kind tiki mugs, old postcards, gag gifts and books by Jefferson Davis, the author of 'A Haunted Tour Guide to the Pacific Northwest' and many similar titles.
Lure them in
The front of the gallery is a candy store and novelty shop, with many of the items that used to appear in magic stores and joke shops: stink bombs, finger traps, fake poo.
'I always loved that stuff,' Wellins says, 'and those places don't exist anymore. A lot of kids have never seen snakes in a can. It's really fun to see kids rediscover the stuff; they think it's new.
'Part of our plan was, you don't have to get soaked every time you take kids out.'
The snack bar in one corner offers affordable hot dogs, popcorn, sandwiches and ice cream - including a sundae drizzled with edible fake blood. The specialty of the house, though, is the bug sundae.
Wellins admits that he hasn't actually tried one yet, but many have. Their reward is induction into the Insectarium Club. Portraits of the club's members are hung on the wall and posted on the Peculiarium's website. The freeze-dried mealworms, reportedly, are crunchy, a bit like Rice Krispies. The little scorpions, dried and with their stingers removed, are chewier.
Wellins says he doesn't worry about the Peculiarium being too frightening for younger children. If they're too young, he says, you'll know before you make it through the door.
He's discovered that, from a kid's perspective, the Sasquatch in the entry is by far the scariest thing, and sometimes they dig in their heels.
'You cannot lure them in with candy or ice cream,' he says. 'We gotta be on the edge. If it was all G-rated, it wouldn't be that fun.'
11 a.m. to 9 p.m. Thursday-Sunday, 2234 N.W. Thurman St., 503-227-3164, peculiarium .com, free