FONT
SHARE THIS
MORE STORIES
---
Program puts kids on train to school
Details

Jennifer Anderson
Portland students bike, walk along city's Safe Routes
Portland's pervasive bike culture is trickling down to the kindergarten set.
---
New numbers from the Portland Bureau of Transportation show that the city's children get to elementary and K-8 school by bike and foot for at least 40 percent of their trips during the week among those participating in the Safe Route to Schools program. That's up from 31 percent five years ago.
More precisely: the latest data - collected from parent surveys at 40 of the Safe Routes schools this past spring - show that 8 percent of Portland students get to school by bike, versus 1 percent nationally. It revealed that 32 percent get to school by walking, compared to 11 percent nationally.
In addition, 22 percent of the families surveyed reported walking or biking every day, 12 percent report never trying it and 18 percent said it wasn't an option for their child.
The results aren't surprising to the many parents, teachers and bike advocates who've watched the growing reach of the Portland Safe Routes to Schools program, now in 80 of the city's 100 or so elementary and K-8 schools (including the Portland, Reynolds, Parkrose and David Douglas school districts).
'It's taking over the city,' says Laurie Paulsen, a parent at North Portland's Beach Elementary, who has helped coordinate her school's bike efforts over the past few years. 'Go by any school now and you see full bike racks. It's something our city has embraced.'
At Beach, for example, the 18 bike racks - holding about 50 kids bikes - are stuffed full each morning, Paulsen says. Many more bikes are chained to the fence. The PTA has asked Safe Routes for more bike racks, and they're on their way. That's good news for the Beach 'bike train,' a tradition that's now part of the commuting culture at many Portland schools.
'We have to go down Alberta; it's a lot easier when there's 15 of us than just two or three of us,' Paulsen says of the train, which consists of a ride leader and at least one other adult who guide families to school along three predetermined routes, as far away as four miles from the school.
Fifteen people showed up for Beach's first bike train last Tuesday morning, a number that will grow throughout the year, Paulsen says. Last May, more than 150 students participated.
Ten Portland schools have bike trains this year and 15 have 'walking school buses,' all led by volunteers.
Besides teaching basic traffic safety to kids at a young age, the benefits of walking and biking to school are no-brainers, advocates say. The simple act of stepping out of the car leads to better health, more focused and happy kids, less traffic and cleaner air, not to mention a more connected community.
'The biggest thing we didn't realize going in is that it would foster community,' Paulsen says. 'Parents and kids of different age children are getting to know each other. You feel more connected to your school. The more connected, the more likely to volunteer to the school. It's slowly pulling people into the school, in a comfortable way.'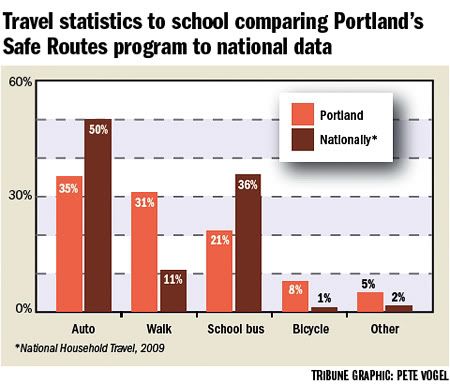 Community design
Unlike other national Safe Routes Programs, Portland's is not a nonprofit - it is housed within the city's Bureau of Transportation. As such, it sits alongside the city's traffic engineers who are already at work on safety improvements citywide.
It's also one of just a few - if not the only - Safe Routes programs nationally that enjoy a sustainable funding stream, instead of having to rely on federal grants.
Since it began in 2001 in just a handful of Portland schools - slowly adding more schools each year - it now runs on a $652,000 annual budget, more than half of which comes from the state's Traffic Safety Account. That is the pot of revenue from traffic fines - everything from red-light running to speeding and crosswalk violations.
Since the Legislature increased and earmarked those funds in 2003, the revenue has been a steady source of funding for Safe Routes and other programs. Safe Routes is also funded by business energy tax credits and grants.
Portland Safe Routes still looks to federal grants for ways to fund bigger projects and expand its programs to reach more students, says Cheryl Kuck, spokeswoman for the city's transportation bureau.
Kuck also credits the program's success to the nature of Portland. With its urban growth boundary and structure of neighborhood schools, 'The design of our community allows programs like this to be successful,' she says.
The transportation bureau has built 30 miles of neighborhood greenways in the past two years, and expects to bring at least 50 percent of the city's households within a half-mile of a neighborhood greenway by January.
Another calling card of Portland Safe Routes - unlike its national counterparts - is the broad network of partners it's built, including the transportation and police bureaus, the school districts, Bicycle Transportation Alliance, local pedestrian coalitions and trauma nurses.
Because of its deep reach, Kuck says: 'We go beyond what we consider basic-level (service). I haven't seen any community with as broad partnerships as us.'
Many of the projects overlap with larger city efforts, such as the planning for engineering improvements around Rigler School in Northeast Portland's Cully neighborhood.
Portland Public Schools is contracting with Safe Routes for the first time to develop an engineering plan for Rigler, to the tune of $5,000. Set to be completed by Oct. 31, the plan will likely include marked crosswalks and curb extensions, speed bumps, sidewalk infill, parking, and potential street design proposals for unimproved streets. City officials will then seek grant funding for the work.
No parking at school
Farther out in East Portland, many Safe Routes schools have been working with their engineering challenges for years. The Parkrose School District's Prescott Elementary - at Northeast 104th and Prescott Street - isn't an ideal area to walk or bike, admits longtime Principal Michael Lopes.
'Students walk along the shoulder of the road,' he says, and some of the crossings are dangerous. But he can tick off a steady stream of improvements since 2005, when Prescott became the first school to partner with Safe Routes.
They've worked with transportation officials to get speed bumps installed, pedestrian islands, and chunks of sidewalk along primary walking routes.
In schools, Safe Routes teaches younger students about pedestrian safety, and older students about bike safety.
Despite the infrastructure challenges, the majority of students at Prescott - 300 of the school's 380 - walk or ride bike to school each day, mostly out of necessity, Lopes says.
Many live in the apartment complexes less than a mile of the school and are not served by the school bus. Many of the parents don't have cars, or choose to walk because there's virtually no parking at the school.
Another $74,000 in promised improvements to the Prescott area over the next two years promise to bring angled parking, bike lanes and speed bumps, among other fixes.
Without Safe Routes' help, Lopes says, 'I don't think as many students would walk to school, and I don't think as many parents would have confidence that their kids could walk to school.'
Oct. 5 is International Walk + Bike to School Day, in which dozens of Portland schools and 200 across Oregon participated last year. To learn more, attend one of three upcoming trainings, free and open to the public: 4 p.m. Sept. 15 at Belmont Library, 1038 S.E. Cesar Chavez Blvd.; 3:30 p.m. Sept. 19 North Portland Library, 512 N. Killingsworth St.; and noon Sept. 20 at Midland Library, 805 S.E. 122nd Ave. For more information, see walknbike.org.