FONT
SHARE THIS
MORE STORIES
---
La Niña reigns (and rains)
Details

Jennifer Anderson
Oh yeah, it's going to stay cold and wet again this winter
Last Thursday, Sept. 15, the same story topped all of the local newscasts: 'It rained!' Mark Nelsen, Fox 12's chief meteorologist, told his viewers that a mere .02 inches fell at PDX, but it was enough to break the 22-day dry spell.
---
Many residents saw it as a mixed blessing. It brought much-needed relief to those parched lawns, yet it was also the start of summer's end, the unmistakable harbinger of another long, gray Oregon winter to come.
'People like to complain about it,' says Nelsen, a self-professed 'weather geek' who's worked in the business for 18 years, including 11 at his current position. 'People get tired of the gloom here. But there are people that like actually like it.'
There's a reason it makes for the perfect small talk. Caring about the weather is something that bonds people because everyone experiences it.
'You can start any conversation with the weather,' says Nelsen, whose long-running weather blog attracted a whopping 78,000 comments on Jan. 11, after a snowfall prediction that didn't happen as forecasted. 'It's the No. 1 thing people tune into in the newscast.'
That's true even in the Pacific Northwest, where we're generally lacking in the extreme weather department - no East Coast-style hurricanes, tornadoes, droughts, flash floods or blizzards to speak of - and a few drizzles or snowflakes are enough to lead the news.
'It's so rare we have severe thunder warnings,' Nelsen says. 'Around here, people don't feel we have weather that can kill them.'
With such relatively mild conditions, perhaps Oregonians can't be blamed for their infamously bad driving skills in the rain and snow - or how quickly school is canceled and city transportation sometimes brought to a near halt.
Last year Portland saw two cold snaps - around Thanksgiving and then in late February - that weren't as memorable as the ice storm of 2008, but nonetheless had everyone glued to the weather report.
Now that the rain and cooler temperatures have made an entrance, and Friday, Sept. 23 marks the first day of autumn, many are dying to know: what's in store for the next nine months?
The National Oceanic and Atmospheric Association's Climate Prediction Center issued its advisory last week that the weather episode known as La Niña will be back for a second consecutive year. That means the sea-surface temperatures near the equator are cooler than average, which tends to bring more precipitation.
In other words, hold on to your hats: the Pacific Northwest is about to see another wetter and colder winter that probably will extend into spring.
That's good news for skiers, bad news for gardeners.
The last La Niña winter, 2007 to 2008, was a massive snow year in the Cascades.
Tribune Photo: Christopher Onstott • Guests huddled under umbrellas at the Pearl District's Jamison Square last weekend during a rainy wedding celebration. The first day of fall is Friday, Sept. 23, but the rain is already playing peek-a-boo in Portland.
'Skiers love La Niña,' says Kathie Dello, deputy director of the Oregon Climate Center at Oregon State University. 'People ask if they should buy a season pass. I would consider it.'
As for rain, this past year Portland saw 46 inches of precipitation, compared to the annual average of 37. The last time the region saw such an active winter was in 1994, 1995 and 1996, which brought 43, 55 and 59 inches of rainfall, respectively.
With all the precipitation, river flooding and windstorms are more likely in a La Niña year. Skiers might recall that flooding rain closed ski resorts in January after nine inches of rain on Mount Hood in 24 hours, which is a rarity.
La Niña also brought the giant windstorm or 'Great Coastal Gale' on the Northern Oregon Coast in 2007, the strongest in the region since 1962's deadly Columbus Day Storm.
The opposite of La Niña is El Niño, when it's warmer and drier than normal. Each weather event typically lasts nine to 12 months and cycles in and out every three to five years, interspersed with periods of neutral years.
So don't ask a weather expert to predict what's next. Chances are, they'll say it's unpredictable.
Better next spring?
Dello, of the Oregon Climate Center, says that in her opinion, La Niña packed a bigger punch this past spring than winter, since March through May were all anomolously wet.
In addition, May through July were the coolest months on record, according to the National Climatic Data Center. Conditions wreaked havoc on local fruits and crops; the U.S. Department of Agriculture recently declared Washington County, among others, to be a natural disaster area because of a 30 percent or more drop in crop values.
'The longer, colder and wetter the spring, it's especially challenging for the stone fruits like plums and cherries - they get fungal disease,' says Katy Kolker, executive director of the nonprofit Portland Fruit Tree Project. 'When there's more moisture and cold in the spring, the fungal disease runs rampant.'
The trees produce less fruit, fall into poor health, experience delayed ripening and sometimes don't ripen in time for harvest, Kolker says.
But she sees the big picture: 'It's sort of the nature of what we do. We're always at the whim of nature in terms of how much fruit there's going to be.'
Fox 12's Nelsen says he hasn't yet started discussing the ins and outs of La Niña with his viewers yet this season - there's still plenty of time for that this fall.
La Niña will, however, be the likely topic of the Oct. 29 annual weather forum at the Oregon Museum of Science and Industry that attracts about 300 people each year. Last year's theme was the finicky La Niña winter.
Will this year be a repeat? There's no way to tell.
They can say one thing: this winter could be the last La Niña year for a while. Typically after two years, an El Niño pattern returns or the climate falls into a neutral period. There's been just one three-year La Niña in the past 50 years.
That's good news for anyone headed out to buy a light-therapy lamp in anticipation of the gray skies.
'You just survived the coolest late spring in Portland's history,' Nelsen says. 'It can only be better next spring.'
This email address is being protected from spambots. You need JavaScript enabled to view it.
---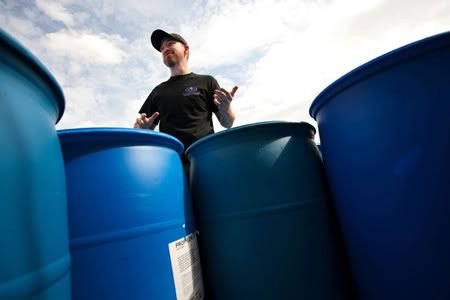 Tribune Photo/Christopher Onstott • Scott Yelton, owner of Portland Purple Water, wants to promote water conservation by helping people collect and reuse their rainwater. Business is booming, he says.
• Rain harvesters ready to grab plentiful resource
As the wet weather descends on Portland during the next several months, Scott Yelton will be filling up his rain barrels, one by one.
As owner of a four-year-old shop called Portland Purple Water, Yelton is a local leader in the growing industry of rainwater harvesting.
That means the art of capturing rainfall from rooftops and putting it to good use in a variety of ways: watering the garden, washing clothes, flushing toilets or even -as Yelton is planning to demonstrate in his Beaverton showroom - making coffee from the rainwater, once it's properly filtered.
'What goes better than coffee and rain in Portland,' Yelton says, putting the finishing touches on his 'rainwater coffee bar' last week.
The setup in his Beaverton showroom consists of a double sink outfitted with spigots to five filters, so that customers can see how it all works.
The downspout next to the sink shows how the rainwater makes its journey directly from the building's galvanized metal rooftop to the 1,500-gallon cistern at the back of the shop.
'I think what we've found is, it's always going to rain here,' Yelton says. 'Last year was an amazingly huge rainwater event. You used to be able to just walk outside and it was just a drizzle.'
To water conservationists, rainwater harvesting just makes ecological sense. Some of the benefits they point to are reducing the energy and chemicals needed to sanitize and pump the water, keeping the rainwater in the watershed in which it fell, and avoiding the negative effects of storm water, such as erosion and pollution in waterways.
With all the rain expected, 'we want to keep that resource,' Yelton says. 'The opportunity is huge here.'
The coffee bar is expected to shape up just in time for the thirsty mobs of rainwater harvesting enthusiasts. The American Rainwater Catchment Systems Association, a Texas nonprofit that claims more than 700 members worldwide, will gather in Portland for their annual convention Sept. 27. They're hoping it will rain.
- Jennifer Anderson