FONT
SHARE THIS
MORE STORIES
---
It's 'Open' season
Details

Jason Vondersmith
Local artists showcase their work with a touch of whimsy
For the art lover, it's a chance to watch an artist make things. For the artist, it's a chance to expose his or her art.
---
Set for Oct. 8, 9, 15 and 16, Portland Open Studios is a win-win.
Visitors can see just about everything -from somebody up-cycling wearable fashion to someone making molten glass or porcelain stretch into vessels, and from landscape paintings to silk-screened band posters. More than 100 artists will be involved throughout the Portland area.
Sculpture artist Marta Farris of Tualatin is a first-time participant. She makes metal objects with bright colors, using recycled materials. She does a lot of welding, and she paints with heavy enamel, producing pieces that work best outside and in the garden.
'I have a BA in art, and I've always done some kind of art,' Farris says. 'My husband had the (welding) equipment, and I learned how to put it all together. It's not that I like to weld, but I like to put pieces together, and I like to be outside.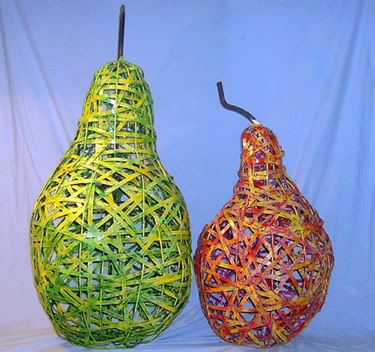 COURTESY OF PORTLAND OPEN STUDIOS • Welding women are featured in Portland Open Studios set for Oct. 8, 9, 15 and 16: (Above) Bethany Farris' colorful outdoor figures, as in these pears made of metal strapping; (below) Jill Torberson's mixed media art.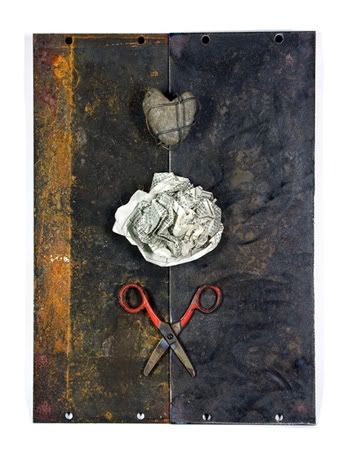 'People will put fun things outside, whereas they're picky about what they put inside. It allows you to be whimsical and, in Oregon where it's gray, brightly colored.'
Not many women weld, even in the art world, but Farris adds, 'I wouldn't want to be responsible for welding together a bridge or a fancy platform for the president to stand on. If you make enough contact points, it'll hold together.'
Similarly, Bethany Moore-Garrison of North Portland, who will open her Kiva Studio to Portland Open Studios for the first time, has done some welding, but she has recently done more cold fabricating with riveting, sewing and hand stitching. She specializes in designer wear, moving on from making inanimate objects to producing clothing for real people.
'I was a student in a sculpture program, and I got into mixed metals and sculpture,' she says. 'I referred to them as 'dress forms.' I ended up getting into recycled fashion shows, got involved as a designer with Junk to Funk.
'They truly are art pieces. I refer to them now as 'couture costumes.' I create original pieces throughout the year and also do custom work off of those pieces. In my mind, I'm more of a sculptural artist, working with a form that is a figure.' She also plans to launch a hat company.
Another welder, Jill Torberson, who owns Weld Metal Works of Portland, also will be part of Portland Open Studios. She's a mixed media artist who has turned a lifelong fascination with 'garbage' and surplus materials into art, emphasizing deconstruction.
In 2005, she made a sculpture for PGE's corporate offices, using surplus materials from its power stations and metal shop. She has shown at several galleries and shops around the metro area. Her work is currently at the Mark Woolley Gallery in Southeast Portland.
There are two ways to enjoy Portland Open Studios. Admission of $15 gets you a full-color tour guide or an iPhone app with two tickets. A $5 admission gets you map-only tickets. Studios are open from 10 a.m. to 5 p.m. all four days. For information, go to www.portlandopenstudios.com.
Portland Open Studios annually awards two artists younger than 30 the Kimberly Gates Scholarship to participate in the event. This year's recipients are conceptual artist Tori Abernathy and sculptor Chris Wagner.