Portable dangers
PSU architect wants to build a better classroom, state industry
When local schools bulge with too many students, one of the first options for school districts is slapping a new 'portable classroom' on the playground.
They're cheap.
They go up quickly.
And they don't require voter approval of a bond measure.
Portland Public Schools - which has built only two new schools in the past 40 years - uses 129 portables, many of them with two classrooms each, says district spokesman Matt Shelby.
Those portables could easily provide classroom space for 5,000 or more students, or one out of every nine students in the district.
Portland State University architecture professor Sergio Palleroni says those students are getting shortchanged.
'Where we're putting our kids, they spend eight hours a day, three-fourths of the year, in places that are not healthy, safe, learning-conducive places,' Palleroni says.
Palleroni grew concerned when he heard that a new portable at his children's school, Sunnyside Environmental School in Southeast Portland, was recently found to be 'off-gassing' formaldehyde and other toxics into the classroom air. The heating and cooling system was so noisy that teachers were turning it off so students could hear instruction. Testing revealed there were spikes of carbon dioxide because of weak air circulation.
The globe-trotting professor, along with his wife, PSU architecture professor Margarette Leite, have collaborated with college students and others to design schools and other public facilities around the world. Now they're turning their attention to Portland, teaming with others to create a new 'green portable.'
'We're trying to see if we can create dignified spaces that are healthy, clean and deserving of being public buildings,' Palleroni says.
Gov. John Kitzhaber recently blessed the idea by naming it one of his Oregon Solutions initiatives. The initiative is uniting local designers, engineers, school facilities managers, building codes experts, and Blazer Industries, the Salem-area company that's the Northwest's largest builder of portable classrooms. Dennis Wilde of Gerding Edlen, a Portland green building guru, is convening the group.
Participants hope to craft a new design - and perhaps a new industry for Oregon - that will enable school districts to buy competitively priced classrooms that are truly portable, healthy and better for student learning and the environment.
Companies are now introducing more environmentally friendly portables, but not at a price that's competitive with current portables, says Rachel Gutter, director of the Center for Green Schools at the U.S. Green Building Council in Washington D.C.
'To do that would be truly transformative,' Gutter says.
Tribune Photo: Christopher Onstott • PSU graduate student Matt Sedor uses a Flir Systems infrared camera to test conditions inside a portable classroom at Sunnyside Environmental School. The $7,000 device can detect air and water leaks and poor insulation, and measure carbon dioxide and carbon monoxide.
Out on the playground
Darren Zook's sixth-grade classroom at Northeast Portland's Rigler School, a portable installed in the 1940s, is better than most, because it has a full bank of windows on one side. He doesn't mind it, but notes there are some limitations that hamper student learning and teaching.
'The temperature changes really quickly; it gets really hot in here and really cold in here,' says Zook, who brought in two fans from home during the mid-September heat wave. 'It's hard to focus' when students get sweaty, he says.
Zook has given up keeping plants or animals in the classroom because they can't survive the wild temperature swings.
Sixth-grader Nyame Johnson says she prefers Zook's classroom, near the playground in a pod of portables, separate from the main brick building. 'It's like more comfortable because you're not in a building with so many other kids, and you get fresh air easily,' Johnson says.
But that highlights some of the pitfalls of portables: separation from the rest of the school, and the lack of indoor fresh air and natural sunlight.
Rigler has eight portable classrooms.
'If I had my druthers, I wouldn't have classrooms that are separated from the main building,' says Rigler Principal Kristie Cunin.
Kindergarten classes had to be moved out of the portables, because there's no water. 'You need water when you've got kids,' Cunin says, 'for art, for science, for hygiene.'
The portables tend to get vandalized more, she says, and they don't have fire alarms. 'When we do a fire drill, we have to go knock on the door' and inform the students and teacher, Cunin says.
Some teachers and students prefer portables because the newer ones often come with air conditioning and heating systems, and many of Portland's old brick schools lack air conditioning and have antiquated heating systems.
But portables don't compare so well to newly built or modernized schools, as the Portland School Board hopes to construct if voters pass a different version of a failed 2011 bond measure.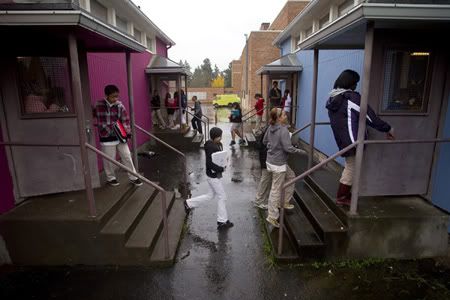 Tribune File Photo: Christopher Onstott • Two middle-school classes, totaling more than 50 students, move between two portable classrooms used for math and science at Rigler School.
Dinosaurs in the school yard
Portables are 'essentially trailers on the back lot,' says Julie McEvoy Baines, who researched portable classrooms in three architecture classes with Palleroni, before graduating PSU this year.
She studied all sorts of portables in Portland schools, including new ones and some that are 40 years old. 'It's like some dinosaur that just doesn't want to change,' Baines says. 'They look exactly the same.'
The newer portables - Portland Public Schools prefers to call them modulars because they're hard to move - typically have one or two small windows per classroom. There's little ability to use natural light. The acoustics are terrible. The siding often is T-111, which some people view as tacky. Often there's inadequate air circulation.
A 1993 study commissioned by the California Department of Health Services found there's inferior air quality inside portables, including the presence of too much formaldehyde, says Deborah Moore, cofounder and executive director of the Green Schools Initiative in Berkeley. There's no such thing as an 'OSHA' that protects kids' health inside the classrooms, she says. 'We protect worker health, but we don't protect student health.'
Portables tend to have inadequate insulation and get more leaky roofs, Gutter says. 'In certain climates, they're just hotbeds for mold,' she says. 'They're built on the cheap. They're not built to last, despite the fact that many of them survive as long as school buildings.'
A variety of studies showed that workers perform better, and have lower absenteeism, when their work places have direct sunlight and fresh air. With a green building, 'you can reduce absenteeism and sickness by 10 percent,' Palleroni says.
It's harder to document gains in student performance from better classrooms. But it stands to reason that students who are sweaty, uncomfortable or can't hear their teacher might not perform as well or have the same attention span.
Not so cheap
The three portables Portland Public Schools installed during the summer, each with two classrooms, cost a total of nearly $1.2 million once they were installed, Shelby says.
That's nearly $223 per square foot, well more than the industry average. But it's well below the $322 per square foot the district hoped to spend on new regular classrooms at Cleveland High if the bond measure passed.
School districts often install a portable because they're cheaper initially, Wilde says. But they aren't necessarily cheaper in the long run, he says, because of high operating costs.
A typical district cost for a two-classroom portable is $150,000 to $180,000, Palleroni says. But the final price goes up to $320,000 to $350,000 by the time a school district builds foundations, cements steps, and pays for permits, inspections and other fees.
The Oregon Solutions team is brainstorming and testing ways to cut costs while improving the way the portables work, such as adding direct sunlight to reduce heating bills. It may be possible, because of the heat those student bodies bring, to do away with traditional heating systems and use a simpler heat recovery system, Palleroni says.
The team also is exploring the idea of using a giant 'Archimedes screw,' which would fasten the building into the ground for seismic safety, and keep it level with the ground. That would eliminate the cost of a foundation and cement steps, and make the buildings truly portable.
Kendra Cox, project manager for Blazer Industries, says the portable classrooms her company builds are safe and meet strict building codes. However, she says, manufacturers build to the specifications and budgets of school districts.
'We're not sure why the schools haven't specified greener classrooms,' Cox says, 'but if they have only so much to spend, we're going to build to that.'
Like others in the collaboration, Cox is optimistic that it will succeed.
Kim Travis, the Oregon Solutions program manager who is helping marshal government resources for the initiative, says the end goals are a better learning environment for children and a new industry for Oregon, with portables using local materials.
The team expects to create and install one or two prototypes by next school year, and then test them exhaustively. If all goes according to plan, the team will seek a private company to make the newly designed portables. Blazer Industries, after building the prototypes, would have a leg up on the competition.
'Our best hope,' Palleroni says, 'is that in five years, thousands of these units will be built, using these guidelines.'