FONT
SHARE THIS
MORE STORIES
---
County probation officer: Ill bet hell cry
Tough new model for kids with felonies turns lives around
If he was the type of man to lose his temper, Leslie Taylor might be approaching that point right about now. But Taylor, a large man with a slow fuse, is merely growing frustrated as his conversation repeats and repeats and rolls back on itself.
---
On a warm, sunny afternoon he's sitting in an eerily darkened living room. All the blinds in Sammy's house are drawn, the darkness challenged only by the glow of a giant flat-screen TV. Thirteen-year-old Sammy (not his real name) has settled on a couch, and if he was to slump any lower he'd be under the pillows.
Sammy's mother sits on a chair to the side. At one point, Sammy's two sisters wander in from the kitchen, and Taylor beckons them to stay.
'It's OK, it's family probation,' he says.
Crime victim advocates for years have been saying Multnomah County's juvenile probation policies don't provide tough consequences - especially detention for youth who don't follow the rules of their probation. There aren't enough detention beds, the victom advocates say. Officers are discouraged from filling up those that do exist, or using other freedom-restricting options such as ankle bracelets and house arrests. Teen offenders, even violent ones, are getting too many second and third chances, victim advocates insist.
This summer, Multnomah County's Department of Community Justice changed its model for working with juvenile probationers. Taylor and his colleagues are no longer called probation officers. Formally, they are juvenile court counselors. Kids such as Sammy no longer come to Taylor's office to check in. Most meetings are held in probationers' homes with the entire household present. This is Taylor's 'family probation.'
Whether it is in his office or in a living room, Taylor constantly sees kids like Sammy, who face life-defining decisions long before they are prepared to deal with them. At 13, Sammy is hardly within hailing distance of anything that might be called maturity. From the look of him sunk in on the couch, he is about as aggressive as a puddle of Jell-O. But he already has on his record two burglary convictions, and he owes about $1,500 in restitution.
His case has been in Taylor's hands for a year.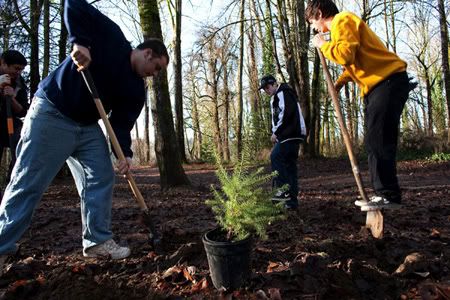 Tribune File Photo: Christopher Onstott • Multnomah County juvenile probationers who owe restitution can earn the money through Project Payback. Here, volunteers work on river bank restoration at Gladstone's Meldrum Bar Park.
Down detention path
Multnomah County operates a program - Project Payback - for probationary teens to earn their restitution money by working on special grounds keeping and trash detail work crews. Sammy hasn't shown up consistently to the program. Asked why, he shrugs his shoulders.
'They never come up with an answer the first time you ask them,' Taylor says later.
Sammy has attended skill-building classes and worked on self-confidence with a mentor Taylor assigned. In his weekly meetings, Taylor has tried to engage the entire family. Last week, when Sammy said he couldn't get up in time to make work crew, his mother said she would buy him an alarm clock. But he still hasn't been showing, and this week Taylor took a call from a parent claiming that Sammy started a fight in a nearby park.
In a voice muffled by the pillow he's set on his stomach, Sammy says he can't get to the work crew because he doesn't have a bus pass. Taylor looks to Sammy's mother, but she doesn't have an answer.
Taylor smiles as Sammy's older sister says he can use her pass. In some ways, this 16-year-old sister has been the most helpful force in the family. And that, Taylor says, is what he's always looking for: one positive thing in the home that he can build on.
'I'm counting on you to get on him,' he says to the sister.
Taylor asks Sammy what his consequence should be for not following through and showing at his work crew.
'And don't tell me, 'Write a letter.' We've been down that path,' Taylor says.
'Community detention?' Sammy asks.
Community detention leaves children in their homes but requires them to make mandatory calls to probation staff throughout the day. Some kids on community detention also get outfitted with electronic ankle bracelets.
Taylor has already tried community detention with Sammy.
Taylor says he is going to recommend to a judge that Sammy be held at the county detention center. Sammy doesn't react, but then, he hasn't shown a bit of emotion throughout the entire conversation.
Back in his car, driving to his next probationer's home, Taylor acknowledges how in a single conversation he has gone from problem solver to family therapist to cheerleader and finally, to the voice of authority.
He says he's hoping the judge will agree that two or three days in detention is enough for Sammy. With some kids - and Taylor is hoping Sammy is one of them - detention provides the jolt that gets them serious about following the conditions of their probation.
A weekend in detention means Sammy misses Saturday basketball, the one thing in which he shows interest. He'll also be surprised, Taylor surmises, at how much he misses his mother and home.
'I'll bet he'll cry,' Taylor says.
Tribune File Photo: Christopher Onstott • An inmate at the Mulnomah County Juvenile Detention Center reads a comic book in his cell. The detention center houses up to 64 youths at a time, some awaiting judicial processing and some suffering the consequences of not complying with their probation rules.
Shake-em-up weekends
If Taylor had his way, Sammy would be heading to the detention center today. He knows that one of the pillars of current criminal justice thinking, and this holds especially true with teens, is that consequences be swift and certain.
But juvenile probation officers in Multnomah County are not granted the same authority as adult officers, who themselves can sanction their probationers to jail. Taylor can order lighter sanctions such as requiring a letter to a victim or community service, but when it comes to detention Taylor can only make a recommendation to a judge. By law, he could take Sammy into custody awaiting a court hearing, and Ken Chapman, spokesman for Crime Victims United, says that's exactly what he'd like to see happen in these cases.
'For a kid to get a chance to change there has to be a reasonable 'or else,' ' Chapman says, referring to detention.
Now, a week or longer could lapse before a judge rules on Taylor's detention recommendation for Sammy.
In Taylor's view, even if Sammy goes to detention, the delay makes it less likely he will connect the consequence of detention with his fighting and failure to show up for work crew. On the other hand, attorneys for teens on probation say they think it wiser that the process involve a full hearing before a judge where the teen can have legal representation.
Those two views personify the fundamental tension in juvenile probation. The boys who constitute Taylor's high-risk caseload are between 12 and 18. They are young men, but they are also felons, many having committed robbery and assault.
Keeping the public safe from them short term might mean lockup, but long term it means doing what he can to see they don't become adult criminals.
Taylor estimates that 15 of his 20 are either gang-affiliated or at least hang around the edges of gangs, and that 10 percent to 20 percent of his teen probationers end up committing felonies as adults. He is willing to send his kids to detention, estimating he recommends lockup for about one out of three of his probationers, ranging from a shake-them-up weekend to eight days for kids who just won't cooperate.
At the end of a long day of visits, Taylor says it makes sense to work with the families, because once probation is finished and he is out of their lives, the kids will still live with their families.
Taylor recognizes the irony of a program built on a form of family therapy when often the family is a big part of the problem. Today, he's seen mothers, grandparents, aunts, uncle and sisters. But no fathers. He takes a minute to mentally review his entire case load of 20 kids and then says none of his probationers have a father living with them.
This email address is being protected from spambots. You need JavaScript enabled to view it.
---
• Family focus aims to save money, change lives
Squeezed by tight budgets, criminal justice authorities are trying to cut jail and detention costs statewide.
Multnomah County juvenile justice officials are placing their bets with the new family focused counseling program practiced by Leslie Taylor and fellow juvenile probation officers.
Thach Nguyen, Multnomah County probation services manager, says the new Functional Family Probation Services program has been used in Washington state and has resulted in a 15-percent reduction in felony recidivism.
Lower recidivism rates in Washington yielded a savings of $49,000 per probationer, Nguyen says, and he hopes eventually the same will be realized in Multnomah County.
Putting probationary teens under lock and key is expensive. The most drastic alternative, confinement in the state's MacLaren Youth Correctional Facility in Woodburn, costs the state about $50,000 a year. Shorter detention stays in the county's Donald E. Long Detention Center costs $300 a day.
Twenty years ago,the county had as many as 100 probationary teens in detention on a given day. Today, that number is closer to 20, but Nguyen says 30 to 40 others are still living at home on community detention, with requirements that they call in to probation officers from home throughout the day or wear electronic bracelets to monitor their whereabouts.
Nguyen says the new family focused approach to teen probation will require a change in attitude among some probation officers and family members but will pay dividends in the long run.
'Usually, when we come and talk to the family, they say, 'He's on probation. I'm not on probation. If he doesn't listen, take him and put him in a group home or residential program or detention.' That's not what we want. It doesn't work,' Nguyen says.
- Peter Korn