FONT
SHARE THIS
MORE STORIES
---
IT'S A THRILLER
• Cirque's 'Immortal' keeps King of Pop swingin'
The 'King of Pop' is coming to Portland in the form of the 'Michael Jackson: The Immortal World Tour,' a joint venture between the late star's estate and Cirque du Soleil.
---
The 'Immortal' show recently debuted in Montreal, and will make stops in Canada and other Northwest destinations before playing at the Rose Garden, Nov. 18-20. Tickets are $50 to $250, and can be purchased at 1-877-789-7673 or www.rosequarter.com.
About 60 Jackson songs and plenty of videos from his last 'This Is It' tour will be featured, with 76 artists and 15 musicians bringing the big star to life. Interestingly, show organizers opted not to try to feature an imitator of Michael Jackson, saying there was only one and will only be one 'MJ.'
Jackson's mother, some siblings and children attended the tour opening Oct. 2 in Montreal, and reportedly liked it.
Director Jamie King built the Cirque show in the mold of 'Love,' featuring The Beatles.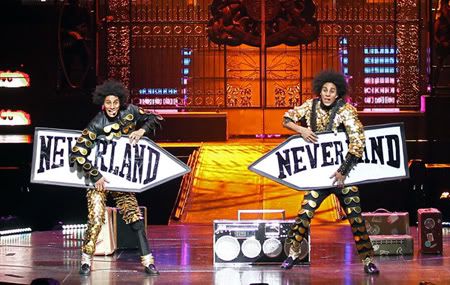 © 2011 OSA Images/Cirque du Soleil
'It's a memorial, not a resurrection, no matter how devoutly this may be wished by Jackson fans,' wrote Pat Donnelly, in her Montreal Gazette review. 'The MJ show is a hybrid of circus, dance and concert, a performance art spectacle that bombards the senses.'
Following the Portland show, it has been announced, the second posthumous Michael Jackson album, 'Immortal,' will be released Nov. 21. It will serve as the soundtrack for the Cirque tour, featuring reworked versions of his beloved hits.
- Jason Vondersmith