FONT
SHARE THIS
MORE STORIES
---
School redesign impact yet to be seen
Details

Jennifer Anderson
Gap between rich, poor high schools still hasn't been resolved
For many years, Franklin High School has had a quick explanation for its less than stellar athletics.
---
This year, the school doesn't have that excuse.
The new, beefier Franklin - up from 1,000 to 1,500 students this year with addition of Marshall Campus students - could be more competitive in sports, as they've already seen with their first season win against Madison High.
'In football, we have three teams - we haven't had that in years,' Principal Shay James says. 'Before, we had kids playing both offense and defense, getting tired. In swimming and golf, we were always thinking, 'Will we have enough kids to field a team?' '
About three years ago, Portland Public Schools leaders and parent activists began talking about the need to level the playing field between the haves and have-nots. The 'better' schools attracted more students, while others lost teachers and resources as enrollment dwindled, continuing a downward spiral.
The Portland School Board engaged in a controversial high school redesign process that changed direction several times, ending in a compromise that is still confusing to many people.
The new high school framework, as PPS calls it, is a month into its implementation. It involves the closure of Marshall Campus to round out enrollment at other schools; the conversion of Jefferson into a focus-option middle college; and implementation of a 'core program' at each of the seven comprehensive schools.
Tribune Photo: Christopher Onstott • Benson High School senior Phuong Tran works in the school's new technology multimedia lab, newly equipped thanks to a $172,000 grant sought by teacher Cathy Skatch. Despite fewer students, teachers and programs this year, the Benson community is determined to stay on track and continue to make large gains.
A few surprises
While it will be awhile before its effectiveness can be gauged, the district's 13,000 high schoolers - along with their families, teachers and principals - are working to navigate the changes.
So what exactly has changed as a result of the new framework? Here are a few surprises:
nThe 'rich school/poor school' dynamic remains. The high schools' socioeconomics have not changed as part of the redesign because they continue to reflect the neighborhoods in which they're located.
Plams to ban neighborhood-to-neighborhood student transfers did not happen, but they are limited -simply because schools have fewer open slots.
Last year the district granted 743 of 1,125 transfer requests; this year that's down to 528 of the 818 requested.
• There's still some right-sizing work to do. Franklin, Madison and Roosevelt are bigger than in the past, but Madison (1,163 students) and Roosevelt (751) still have some catching up to do. The others fall into the 1,300 to 1,600 student range: Lincoln at 1,478, Wilson at 1,388, Grant at 1,564, Cleveland at 1,520, and Franklin at 1,485 according to the district's preliminary October 2011 enrollment report.
• Jefferson remains small. Not counting the Jefferson Young Women's Academy, on the Tubman campus, Jefferson enrolled just 413 this year, compared to 415 last year. About 135 of those are freshmen, not quite in the ballpark of the 140 to 170 the district had estimated would pour in. District leaders can't explain, except to say there's still work to do. 'It's the first year of middle college, and students are going to be the best salespeople,' Shelby says. 'As students experience the schools, hopefully those experiences are positive, and those numbers will grow.'
• Benson did not shrink as much as people might think. Enrollment dropped from 986 last year to 890. But the school will shrink due to attrition in upcoming years if the cap on freshmen remains. This year freshmen were capped at 240; there are 60 on the waiting list.
• Pieces of the promised 'core program' are still missing. Superintendent Carole Smith first talked about a core program three years ago, when she described her vision of students being able to access the same breadth and rigor of coursework, regardless of where they lived.
The core program the school board developed - which district leaders said went a long way toward bringing equity to the schools - includes college-credit courses and support classes; online learning; two world languages to advanced levels; visual and performing arts; and career learning.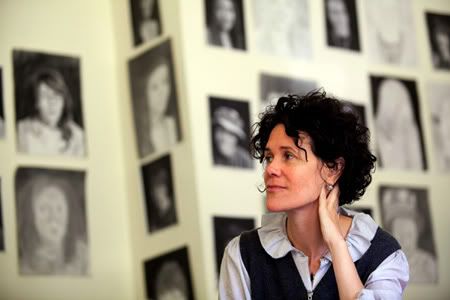 Tribune Photo: Christopher Onstott • Grant High School Principal Vivian Orlen, in her second year at the school, has rankled some with her changes to AP and other class offerings, but she insists she's doing it in the interest of all students.
Now, the program is in place for the most part, starting with the freshman class; the rest will be phased in by 2015 as the budget allows.
'I don't have the specifics about which pieces are missing at each school,' says chief academic officer Carla Randall. 'But the idea is they'd be in place for freshmen, and move up with the ranks.'
• New schedule change makes a bigger splash. Ironically, it's not the new high school framework that's having the biggest impact in the high schools. It's the surprise PPS decision this past spring to move the high schools from a five-of-seven to six-of-eight class schedule in light of a $4 million state budget shortfall. The Portland Association of Teachers charged that it was a breach of union contract, subsequently filing a complaint that is now in arbitration.
In the high schools, it's resulted in larger class sizes, higher teacher workloads and students having the options of a late arrival, early dismissal, study hall or free period. Many principals love how that's brought a sense of calm to their building, since fewer transitions between the 90-minute periods mean less time in the hallway and more classroom learning.
• High school enrollment will grow in coming years. The biggest bulge is in kindergarten through second-graders, with upwards of 4,000 at each grade level. Overall, the preliminary enrollment report shows a total of 47,412 students - PPS' highest number since 2004. It's the third year in a row the district has seen an increase; the five-year trend is up 1,000 students.
School challenges
Here's a peek at challenges at some of the high schools:
Franklin - At Franklin, the addition of 450 students this year - a little more than half the 700 students at Marshall - came with a safety net of resources. There's a new SUN School program, StepUp mentoring and tutoring program, and a Multnomah County health clinic. An outreach specialist focuses on boosting school attendance, since more than a third of the new students are designated as academic priority by the district, qualifying for more funds.
The community has embraced the new population, James says. 'Nike just donated T-shirts to every student in the building. We had an energizer assembly and passed out the shirts. In the football game against Cleveland it was a sea of maroon. I think people felt that.'
As for academics, the core program was already in place at Franklin; district leaders credit it with reducing the achievement gap in recent years.
As James puts it, 'our graduation rates this year were not predictable by race.' For three of the past four years, Franklin has met its Adequate Yearly Progress benchmarks. There's a lot at stake this year, she says: 'We've got to stay on track to where we're heading.'
Jefferson - People in the community are so interested in what's going on at Jefferson, Principal Margaret Calvert says, they stop her in the grocery store and pepper her with questions about how, exactly, the new program is supposed to work.
Calvert, a plainspoken vice principal of three years at the school who lives in the neighborhood, says she's happy to fill them in. She tries to tell them that while there's a new focus to the school, it's not from scratch: 'We took what was working and we're building it to scale. We're taking the pieces that were effective and saying everybody should be doing it.'
She's speaking about the more focused partnership with Portland Community College Cascade Campus, across the street. The University of Oregon has promised free tuition for three years to income-eligible Jefferson students who earn up to 30 credits - one year of college - by graduation.
While Jefferson students have been able to earn PCC credits in the class, there's a threefold increase in credits being taken this year, she says. Add to that the creation of freshman academies, and a broader partnership with the nonprofit Self Enhancement Inc. for more afterschool enrichment and family support and Calvert has high hopes for the school year.
Benson - In her first month on the job, Principal Carol Campbell already knows the names of dozens of alumni, workforce partners and community members who've called to pledge their support. When they ask why Benson's enrollment was capped, she shrugs and says it wasn't on her watch.
Her job, as she sees it, is to help Benson make its case as a showcase for the district's career-technical education offerings, after narrowly avoiding a plan to convert it to a two-year program. That will be challenging, she admits, with fewer students, teachers and programs; this year pharmacy and drafting were cut.
'The challenge now is, how does Benson fit into PPS, not as a detriment but as an option,' Campbell says. She vows to 'continue to stay the course, plead our case, continue to build our programs.'
Grant - The past year at Grant has been tough, Principal Vivien Orlen admits. Not because of the new high school framework, she says - that in itself hasn't changed the structure of Grant much. But she has made adjustments, based on what she says are better programming decisions to serve all students.
For example: Freshmen have a required new writing class to take, meaning they get one less elective. The sophomores must now take health, rather than taking it online over the summer. Juniors and seniors used to be able to take a higher-level class at Reed College, Portland State University or Portland Community College if they've run out of offerings at Grant, but that's no longer the case because the alternate-day block schedule doesn't fit with college class schedules.
AP classes are another source of angst, since AP psychology, art history, European history and Spanish were cut. Orlen argues that the AP classes were not racially balanced, and fewer than half the students who took the classes earned a score of 4 or higher, which is usually required to receive college credit.
It's also the first year that many new courses are offered, Orlen says. There's a 'words of warfare' junior English class, and a senior course called 'Project Citizen,' an alternate to the elite Constitution Team that focuses on local government and social action rather than constitutional law.
'I feel like the school is at a critical juncture, where it can't necessarily continue to provide all these opportunities during the school day,' says Orlen. 'In an era of depleted resources, it's pretty difficult because the school has had the luxury for many years of being able to do a lot of different programs for many years.'