IN-TENTS CONFLICT
City's handling of downtown protest at odds with anti-camping ordinance
Nearly two weeks before Occupy Portland protesters set up camp in two downtown squares within a block of City Hall, attorneys representing the city of Portland were in federal court arguing that the city's anti-camping ordinance was constitutional and necessary to protect public health and safety.
Seven days after 200 to 400 people established a protest camp inside Chapman and Lownsdale squares on Southwest Fourth Avenue, city officials who enacted that anti-camping ordinance six years ago still have not moved to force Occupy Portland campers out of the parks.
The message? The protesters can stay - for now. Mayor Sam Adams has asked the Portland Police Bureau to work with the group to keep the peace, and both sides appear to be cooperating.
Spencer Neal, litigation director of the nonprofit Oregon Law Center, says the City Council is playing politics by allowing the protesters to camp in Chapman and Lownsdale squares.
'The liberals at City Hall support the protesters but not the homeless,' says Neal, whose organization filed the 2008 class-action lawsuit in U.S. District Court charging that the anti-camping ordinance violates the U.S. Constitution.
Lawyers for the city and several homeless people went before U.S. District Judge Ann Aiken on Sept. 20 to argue about the city ordinance that makes it illegal for people to sleep on public property or in public rights of way. The ordinance carries a maximum fine of $100 and a maximum jail sentence of 30 days.
City lawyers have said the ordinance was rationally based on the city's interests in public health, public safety and the proper management of its property.
Today, with two downtown parks across the street from the federal courthouse crowded around the clock with Occupy Portland campers, city officials show little willingness to enforce the anti-camping ordinance. In fact, even though the protesters don't have permits to camp or to close part of Southwest Main Street near Chapman and Lownsdale squares, it's likely they won't have to leave anytime soon, according to Adams' staff.
'There is no deadline at this time,' says Adams spokeswoman Caryn Brooks, adding that camping is still not allowed in any other park. 'Since this is maintaining a balance between public safety and working with a large crowd peacefully, it is an ever-evolving process.'
Among other things, the lawsuit argues that the city's anti-camping restrictions violate the due process guarantees of the Eighth Amendment and the 14th Amendment guarantee of travel and movement.
At the September federal court hearing, attorneys representing the city asked Aiken for a declaratory judgment in the city's favor. No timetable has been announced for Aiken's ruling.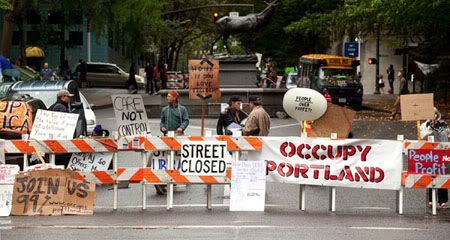 Tribune Photo: Christopher Onstott • Protesters have closed off Southwest Main Street between Chapman and Lownsdale square withlut getting city permission, causing traffic problems at the intersection with Third Avenue.
Extraordinary situation
The Oregon Law Center sued the city on behalf of three homeless Portland men and one woman who were either cited by the police for sleeping in public or were roused from their camps on public property.
'Punishing homeless people for sleeping outside is placing the burden for the lack of sufficient housing squarely on the shoulders of those who can do the least to remedy this problem,' the lawsuit states.
The city has held several meetings with lawyers representing the plaintiffs to explore resolving the lawsuit. In December 2009, the City Council was scheduled to consider a proposed settlement that, among other things, would have allowed up to four people to camp on public property between 10 p.m. and 7 a.m., provided they were quiet, did not cause public health problems and did not draw significant complaints from neighbors.
The council pulled the proposed settlement from its agenda at the last minute after receiving a letter from the Portland Business Alliance opposing the change as unnecessarily diminishing the city's authority to manage its public spaces. The association represents business owners and managers in downtown and surrounding areas. The ordinance settling the lawsuit was never rescheduled for a vote.
Neal says, however, that the city is largely following terms of the proposed settlement.
Despite her group's stand in favor of the anti-camping ordinance, Portland Business Alliance President and Chief Executive Officer Sandra McDonough supports the city's handling of the Occupy Portland protest. She says the organization sees it as an extraordinary situation that is a reaction to national issues.
McDonough says the association also supports allowing protesters to stay temporarily in Chapman and Lownsdale squares, a location away from the retail core, provided it does not set a precedent for future camps. Association members believe Main Street should be reopened to provide easier access to downtown from the Hawthorne Bridge, especially because the Morrison Bridge ramp is closed for repairs, McDonough says.
John Kuzmanich, chairman of the Oregon Tea Party, chided Adams for allowing the Occupy Portland camp to continue without permits, saying his group has not received the same treatment from City Hall. When hecklers disrupted a 2011 tax day demonstration by the Tea Party in Pioneer Courthouse Square, police on the scene did not step in to restore order, he says.
'I think the mayor has missed several opportunities to bring the community together by not expressing his support for all sides of the political spectrum to give voice to their concerns,' Kuzmanich says.
Tribune Photo: Christopher Onstott • "I've eaten better here since I moved to Portland," said Jake Lee, a recent Michigan transplant, while brushing his teeth on his fifth day in the unauthorized but allowed downtown Occupy Portland encampment, where more than 200 people have been staying.
Keep moving in Chicago
According to published reports, the Portland protest march was the second-largest in the nation, behind the original Occupy Wall Street protest that set up a similar camp in mid-September in Manhattan's Liberty Square.
Reaction to camps set up by protesters has varied among cities. In Chicago, police have not only told protesters they could not camp overnight, they have insisted that protesters keep moving during the day if they wish to stay out of jail.
In Denver, local and state police have told protesters they could not camp, but by Sunday more than 20 tents and shelters had been put in place near a Veterans Memorial close to the State Capitol.
In Boston, officials had allowed about 100 protesters to camp in a city park, but on Tuesday police arrested more than 150 who refused to leave a second camping area.
Seattle Mayor Mike McGinn told protesters in the Emerald City that they could not set up tents in the downtown shopping district's Westlake Park. Police there arrested 25 protesters who refused the order. Since then, McGinn has suggested that protesters stay overnight at City Hall Plaza.
Meanwhile, protesters at the Occupy Portland tent cities show no signs of leaving the downtown parks. A number of the protesters said they planned to stay 'indefinitely.'
'[Occupy] Wall Street has been there for three or four weeks, so I would expect the same and more out of this and all the other occupations,' says Maya Holden, 18, a farm worker. 'They can tell us we have to leave, but you can't just make 400 people leave.'
Reporters Peter Korn and Reed Jackson contributed to this story.