Old Town homeless camp refuses to budge
Vacant lot owner says tent city is a statement like Occupy Portland
It took roughly 24 hours for a new Dignity Village-like homeless camp set up on a vacant Old Town lot to catch the attention of city regulators.
The campsite behind a fence of old doors is on one of the city's most visible and controversial undeveloped pieces of property, and it confronts downtown visitors just as they cross the Burnside Bridge heading west. It will likely confront city officials as a vexing political issue in the days and weeks ahead.
The property is owned by Michael Wright, who has been locked in a feud with city officials over his vacant lot next to the Chinatown gate on West Burnside Street. With a new nonprofit tenant providing shelter for the homeless, Wright is forcing city officials to consider just what constitutes a political protest.
Portland Mayor Sam Adams has not said precisely why he is allowing Occupy Portland protesters to camp indefinitely in two downtown squares a block from City Hall. But the homeless campers on West Burnside Street - in a confrontation with inspectors from the city's Bureau of Development Services - made clear that they feel they should be treated by the city with at least as much tolerance.
City inspectors told the organization that it could not set up a homeless tent city on the lot. So far, like protesters a dozen blocks to the south, the homeless group isn't budging.
Last week, Wright signed a lease with his latest tenant, a homeless advocacy organization called Right2DreamTwo. During the weekend, led by Ibrahim Mubarak, one of the founders of Dignity Village in Northeast Portland, and members of nonprofit Right 2 Survive, volunteers began the minimal construction necessary to turn Wright's property into an encampment that Mubarak says will be home to 30 to 50 people.
The property already has running water and electricity, and Mubarak says that for now campers will use the city's nearby Portland Loo public rest room on Northwest Fifth Avenue and Glisan Street, or the rest room facilities of nearby homeless shelters, including Bud Clark Commons, which opened this summer and includes a day center for the homeless.
Tribune Photo: Christopher Onstott • Homeless advocate Ibrahim Mubarak, one of the founders of Dignity Village in Northeast Portland, organizes the move in at Right2DreamTwo, a downtown homeless encampment that will provide shelter for 30 to 50 people sleeping in tents.
'This is political'
Mubarak says the encampment on private property is legal. His organization, he says, has filed paperwork to become a federal nonprofit entity, it has a lease and has purchased liability insurance. No cooking will be done on the site. Sandwiches will be served to the tent city residents or pre-cooked hot meals will be brought in and served from hot pots.
'We have checked everything,' Mubarak says.
Monday afternoon, about 20 men and women gathered at the property to discuss the rules that will govern the camp, including bans on weapons, violence, alcohol, drugs and campfires. Some were still trying to scavenge tents or other material that could be used as makeshift shelters against the rain. Organizers from nonprofit Right2Survive explained some of the ground rules, including the fact that no one should refer to his or her tent as a permanent residence.
The reason for that distinction became clear by 2 p.m., when two investigators from the Portland Bureau of Development Services showed up at the camp. Mike Liefeld, enforcement program manager for the bureau, told the group that a complaint had been registered about the site and that city code does not allow overnight camping, even on private property.
Mubarak responded that the site's organizers felt they were complying with city code.
'This is not a campsite, this is a rest area,' Mubarak told Liefeld.
Mubarak raised a larger issue: hundreds of Occupy Portland protesters who have been given tacit approval by Adams and the city to camp indefinitely in two public squares on Southwest Fourth Avenue between the Portland Building and the city's Justice Center.
'Take care of that problem first and then come to us,' Mubarak told Liefeld.
Mubarak believes that his camp is just as valid a form of protest as the Occupy Portland movement.
'This is political,' Mubarak said. 'We're letting them know what they're doing to people. This is a political statement, 'Look at the government, look at us.' '
Property owner Wright, with murder and drug-dealing convictions in his past, sees the West Burnside Street camp as part of his continuing conflict with the city on what he can do on his property.
Tribune Photo: Christopher Onstott • Mike O'Callaghan starts construction on a fence made from discarded doors to surround the empty lot turned homeless camp at the corner of Northwest Fourth Avenue and West Burnside Street.
Food carts are gone
For years, Wright had Cindy's Adult Bookstore on the site, until the city forced Wright to close and raze that building along with its laundry list of code violations and reputed criminal activities. Since 2007 the property has been a vacant, gravel-topped lot.
Last year, Wright tried to earn income on the property by renting it to two food cart owners. The carts enlivened the site and appeared to scare off the homeless people who regularly used the back wall adjoining the property as a rest room.
But in the spring, the Bureau of Development Services told Wright that somebody had complained about the food carts, which the city said were violating city code. Wright had to have them removed.
The food carts were declared illegal because they were sitting on gravel. If Wright paved his property, turning it into a parking lot, it could violate a city moratorium on new downtown parking lots.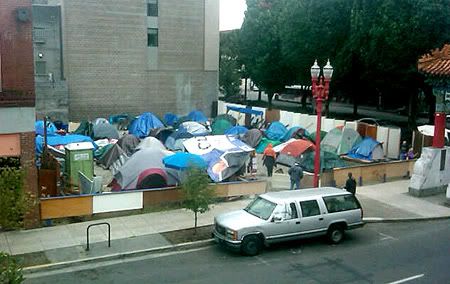 Submitted photo • This is what the camp looked like on Thursday, Oct. 13 from a nearby building.
The food carts were removed in June.
'I tried to utilize the property in a number of different ways to generate income and everywhere I turned the city denied me use of the property,' Wright says. 'I thought I could at least help the homeless with it. I want to thank the city of Portland for herding me in the proper direction.'
Wright says it wasn't exactly a coincidence that his homeless tent village popped up just as Occupy Portland protesters were allowed to illegally camp on two city squares.
'When I realized the city lets people without permission camp out, I realized the city could be flexible,' Wright said. 'We couldn't pass up this opportunity. The timing is too good.'
Mubarak says his organization is prepared to answer complaints and city investigations.
'They'll try to close it down,' Mubarak says. 'People try to do a lot of things. 'We're going to fight them nail and hand. We're here for the long run.'