FONT
SHARE THIS
MORE STORIES
---
Detention for kids is last resort to officers
Juvenile probation walks fine line toward family program goal
On Oct. 6, the Portland Tribune published the first part of its look into Multnomah County's new family-focused model for working with convicted teens sentenced to probation. This week, the Tribune looks into two obstacles facing county juvenile probation officers.
---
Standing in a high school parking lot, Leslie Taylor is certain of one thing: he really doesn't want to send Jamaal to the Multnomah County detention center.
But Jamaal (not his real name), a 17-year-old former Northeast Portland gang member, doesn't seem to realize how close he is to turning his life around, or how close he is to losing the gains he has made so far.
Taylor, Jamaal's probation officer, is committed to the county's new program that insists all his meetings with the youth he oversees take place with all family members present. But today he is especially aware that with many of his high-risk offenders - Jamaal is one of those - there is another pseudo-family that cannot be ignored. For some of these kids, their gangs have become more influential than their traditional families.
Jamaal was originally arrested on a criminal mischief and assault charge after a school yard fight. He was put on informal probation, a status that two out of three county youths receive which includes considerably less oversight than formal probation. Still, Jamaal had to pay restitution and perform community service as well as attend skill-building and drug treatment classes.
But then Jamaal brought a loaded gun to school, claiming he was afraid members of a rival gang were going to attack him.
Gun charges, an assault conviction and formal probation followed. Taylor says that all the classes and community service in the world were unlikely to make a change in Jamaal as long as he lived at home, still under the influence of his Northeast Portland neighborhood gangs.
Today, Jamaal is doing well -not a model probationer, but close. That was made possible, Taylor says, because he arranged a change of custody for Jamaal, who now lives with a family friend made guardian with the permission of his parents.
Jamaal, who is black, lives with his guardian in a mostly white neighborhood, away from the gangs that have exerted such influence in his life.
Jamaal is going to class and applying himself at his new school. He has moved up the football team depth chart and has even been appointed a team captain. Most importantly, considering this is a kid on probation, Jamaal has not had any more run-ins with the law.
Even now, Jamaal is not completely free of the gangs' influence. He owes restitution. Of the original $900 he was ordered to pay to his victims and for court costs, $307.10 remains. The county community justice department has a program - Operation Payback - that pays $50 toward the debts of youths on probation for each day they work on cleanup crews. Lately, Jamaal hasn't been showing up at the work groups.
Standing next to Taylor's car, they are joined by Jamaal's guardian, a petite woman who mostly stays out of the conversation. Jamaal says when he worked with one of the crews during the summer a member of a rival gang threatened him. If he goes again he is afraid he will get hurt, or get in a fight that could send him to jail.
Taylor is in a rough spot. Jamaal's probation is scheduled to end in less than a month. But if the $307.10 isn't paid off, the judge who set Jamaal's probation won't let that happen. The judge could send Jamaal to the county detention center, where Jamaal won't be playing football or going to class and could meet rival gang members he's trying to avoid.
'Come on man, just show up,' Taylor says, adding that he will find a work crew where other gang members are unlikely to be. But Jamaal insists the work crew is too dangerous.
'We can't keep playing the same old record, brother,' Taylor says. 'You're not a kid I need to see locked up. You're not a bad kid.'
Their stalemate hangs heavy in the late summer air.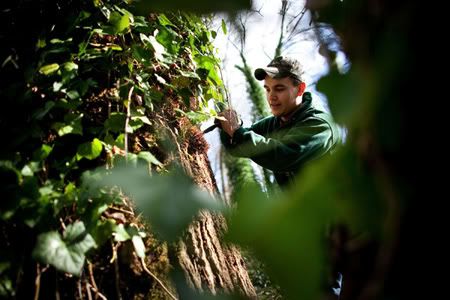 Tribune File Photo: Christopher Onstott • Multnomah County juvenile probationers who owe restitution can earn the money through Project Payback. Here, Padro Martinez works on river bank restoration at Gladstone's Meldrum Bar Park.
Root causes
The issue of detention for probationary youth has been a source of tension between county criminal justice officials and victim advocates for years.
Of the 400 youths on formal probation in Multnomah County, about half committed violent crimes, including robbery and assault. Many of the crimes involved guns.
Ken Chapman, spokesman for advocacy organization Crime Victims United, says those numbers might drop if more of the youths were locked up instead of allowed to be in the community, and if probation officers had more authority to get tough with kids who don't follow all the rules of their probation.
'It's more important to keep detention numbers down than it is to have effective supervision,' Chapman says of the county's philosophy.
Tom Cleary, Multnomah County deputy district attorney, says he regularly argues for detention in the youth cases he prosecutes while county probation officials argue against it. Sometimes, Cleary says, he seeks detention only to be told all the detention beds are full, and the teen can only serve probation.
Christina McMahan, director of Multnomah County's youth services division, says she doesn't believe the county pressures probation officers to avoid sending teens to detention, and she says the county opened an overflow unit this year because it needed more detention beds.
About one in three juvenile probationers in Multnomah County ends up being sent to detention, if only for a weekend, according to county officials. McMahan says those are tough decisions and that there cannot be one philosophy guiding detention policy because the needs and maturity level of each probationer are very individual. The county's probation model emphasizing family-oriented counseling will pay off in the long run, she says, as fewer youths need detention.
'The best way to make sure the community is safe is to get at the root causes so kids don't keep going through a revolving door of juvenile justice and even graduating to the adult system,' McMahan says.
An angel of God
From behind Jamaal a man begins walking toward Taylor, Jamaal and his guardian. The school's football coach happened to see the trio from up near the field.
Taylor explains the situation to the coach, who says he and the other football coaches should be able to find part-time work that will allow Jamaal to earn his $307.10. It will take a month, the coach says.
Taylor says he will recommend at next week's hearing that Jamaal get a one-month extension on his probation, with no punishment for not meeting the deadline for paying his restitution.
Driving away, Taylor considers what might have happened if the coach hadn't seen him talking with Jamaal and his guardian in the parking lot. Detention for Jamaal? Then what? A fight with someone from a rival gang there, possibly. More probation, jail time, no football team, back to gangs. Maybe. Or maybe a few days in the county juvenile detention facility in Northeast Portland would have gotten through to Jamaal and made him see he had to show up and work, despite his fear.
Later, Taylor considers how crucial it was to remove Jamaal from his gang-infested neighborhood and rival gang members who were threatening him.
'This particular kid was really, really hot,' Taylor says.
Then he considers all the kids he oversees who need the same kind of care, but don't get it. They don't have willing family friends in white neighborhoods, or out-of-state relatives willing to take them in.
This afternoon, Taylor is just relieved that in this one case, he seems to be winning.
Referring to the football coach, he says, 'He was an angel of God when he took (Jamaal) on the team.'
This email address is being protected from spambots. You need JavaScript enabled to view it.
---
• Cops' frustration boils over as system breaks down
Three years ago, the advocacy organization Crime Victims United issued a scathing report on Multnomah County's juvenile justice system. Among the most eye-catching elements of that report was a survey taken of 255 Portland, Gresham and Troutdale police officers that showed a high degree of police disapproval for the probation process.
Ken Chapman, the report's author and a longtime juvenile probation officer, says he stands by the main message: that probation officers give juveniles too many second and third chances before resorting to detention, and that cops know it.
Ninety-two percent of police officers surveyed in the report rated the Multnomah County juvenile justice system as poor. More than 80 percent said juvenile probation has little or no credibility 'on the street.'
Christina McMahan, director of youth services for Multnomah County, says changes have been made since that report was issued. In the past year, county criminal justice officials have teamed police officers with juvenile probation officers so each can better understand the other's point of view.
Capt. Kevin Modica, a Portland police officer who has worked extensively with the police bureau's youth services division, says the survey reflects a frustration among officers that he understands, but thinks is misplaced.
Police officers get frustrated, Modica says, when they arrest teens and find them back out on the street the next day. Typical, he says, is an officer arresting a runaway teen for prostitution. The girl, viewed by the officer as a victim of human trafficking, gets probation and is back on Southeast 82nd Street, still being victimized.
Even more frustrating, Modica says, is when officers encounter a recently arrested teen, who has returned to the street and is openly mocking them, defiantly flicking a cigarette or even spitting on the sidewalk, knowing the officer is watching. The officer sometimes calls the youth's probation officer, but spitting on the ground isn't going to get the youth sent to detention.
Modica says such incidents lead officers to think the youth should not have been released in the first place.
But the fact that the teen prostitute and the defiant gang member are not locked up isn't the fault of probation officers, Modica says, and detention probably wouldn't help turn them into more law-abiding adults.
'A lot of that frustration gets articulated as the system doesn't work,' Modica says.
Modica has other concerns about the juvenile probation system. He wishes juvenile probation officers had smaller caseloads so they could have more frequent contact with the youths they oversee. He also says he is concerned about the lack of guidance for the nearly 800 Multnomah County young people on what is called 'informal probation.'
Considered lower risk than the 400 youths on formal probation, these teens, many of whom have been convicted of shoplifting or stealing less than $50, get little oversight from probation officers. But for many, like Jamaal, informal probation can be a first step into the criminal justice system.
- Peter Korn