WELCOME TO THE CLUB
Old Town camp a 'private club' while Occupy poses legal dilemma
With two downtown tent cities becoming more entrenched, the possibility of a legal dispute between two city agencies confronted city officials this week.
The Portland Bureau of Development Services sent a letter Oct. 14 to Portland Parks and Recreation warning about possible zoning violations at the two parks taken over by Occupy Portland demonstrators.
It could be the first time the bureau has sent an enforcement letter to another city agency, according to city officials.
The issue focuses on zoning for the two parks that house between 200 and 400 Occupy Portland campers. Chapman and Lownsdale squares near City Hall are zoned for open space. After complaints to the bureau, a letter was sent to new Parks Director Mike Abbate about possible open space violations.
Another possible violation centers on the illegality of maintaining a campsite in the city, whether in a public park or on private property. The bureau's letter went to the parks bureau shortly after a similar letter was sent to the owner of the property on Northwest Fourth Avenue and Burnside Street, where a Dignity Village-like tent city for homeless people has taken root.
The West Burnside encampment, next to the Chinatown Gate, is organized by nonprofit Right 2 Dream Too, which is leasing the vacant lot from Michael Wright. A spokesman for that organization insists the tent city is not a homeless campground at all.
Mike O'Callaghan, secretary and treasurer of Right 2 Dream Too, says the site, at full capacity with 70 campers, is a private club. All campers are asked to pay a $1 membership fee when admitted, though the fee is waived for those who do not have the money.
'We are a members-only organization that provides a rest area or sleeping area,' O'Callaghan says.
O'Callaghan says most of the campers are couples. That may be because most homeless shelters serve only one gender, O'Callaghan says, so the Right 2 Dream Too site provides an option for homeless couples who wish to stay together.
The Right 2 Dream Too site, like the Occupy Portland site, appears significantly more organized and established than it did a week ago. On Tuesday evening, a volunteer was rolling fresh tuna and avocado sushi for the Right 2 Dream Too campers.
Both sites have makeshift kitchens and information booths. Right 2 Dream Too has installed a portable toilet for its campers.
Tuesday evening, about 100 demonstrators from Occupy Portland marched to support the Right 2 Dream Too camp site. Ibrahim Mubarek, one of the leaders of the Right 2 Dream Too site, was met with cheers when he told the assembly, 'We must not let the city separate us. We're all in this together.'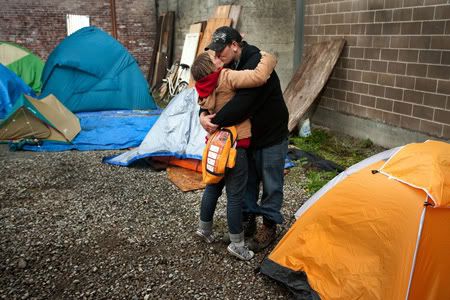 Tribune Photos: Christopher Onstott • "It's a step up from living under the bridge," said Josh Watson after setting up a donated tent with wife Tonya at the new Right 2 Dream Too homeless camp. The camp, called a "private club" by organizers, is providing shelter to a number of couples.
Uncharted waters
The overlap between the two camps highlights the city's dilemma in choosing how to deal with them. While Occupy Portland grew out of the nationwide anti-Wall Street movement, occupants of the Burnside encampment insist they are every bit as politically motivated.
'Everything I do is political,' says O'Callaghan, who has a long history of advocating for the homeless.
The city's two downtown encampments are forcing city commissioners to confront a number of vexing and possibly unique interagency problems. City Commissioner Nick Fish is caught in a particularly difficult situation. He represents a city bureau - parks - being told by another city bureau that it is likely breaking city ordinances by allowing camping on public property.
On the other hand, as commissioner in charge of the city's 10-year plan to end homelessness, Fish works closely with homeless advocates. But Fish says he does not see a clear connection between the two encampments.
'I understand why people are trying to link them, but I think they're separate,' Fish says. 'One is occurring on public property and the other is on private property.'
Regarding the bureau of development services letter informing parks and recreation about possible code violations, Fish says, 'We're in uncharted waters here.'
On Monday, Fish sent on open letter to Occupy Portland saying the group was damaging Chapman and Lownsdale squares. Fish says the parks will require more than $19,000 to repair damage so far caused by campers. But he stopped short of saying Occupy Portland had to be shut down.
'I think we need to begin to work on a peaceful end game,' he says.
The West Burnside encampment for the homeless raises different legal issues, Fish says, calling apparent code violations there 'a purely regulatory matter.'
'My primary focus is on long-term solutions to end homelessness,' Fish says. 'My view is that no one should be forced to sleep outside.'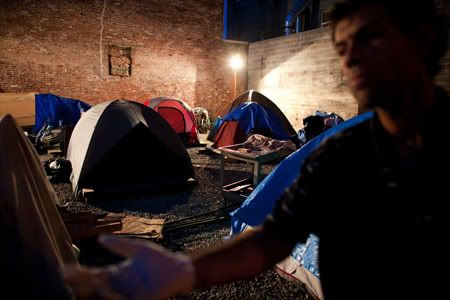 Tribune Photos: Christopher Onstott • Portland officials say the Right 2 Dream Two homeless camp (above) violates Portland's anti-camping ordinances, but have allowed the Occupy Portland campsite on two city parks (below) to remain in place.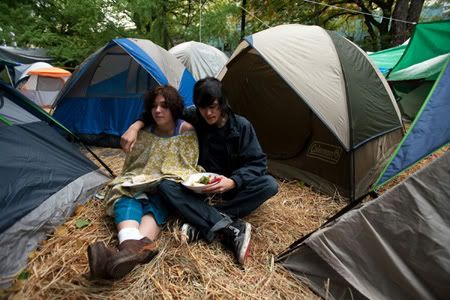 Shoplifting complaints
Portland police say they have received more than a dozen complaints about the Occupy Portland campsite, but none regarding the homeless encampment on West Burnside Street. Police spokesman Sgt. Pete Simpson says that policing the Occupy Portland parks has involved what could be thousands of dollars in officer overtime pay (no official estimate of the cost has been released).
Employees at the 7-Eleven store on Southwest Taylor Street told police that they have noticed an increase of about $6,000 a week in losses to shoplifting since Occupy Portland campers moved in.
In addition, according to Simpson, there have been a number of complaints about illegal drug use at Occupy Portland. On Tuesday, police made their first drug arrest at the site when they took into custody a Tillamook man who had several bags of marijuana in a Mason jar. Simpson says the decision to start enforcing drug and alcohol rules in the Occupy Portland campground will lead to a challenging task given the 'crowd dynamics.'
'We're exercising discretion,' Simpson says.
Also on Tuesday, the Portland Business Alliance's Clean and Safe program sent a two-page letter to Mayor Sam Adams asking that he 'immediately ask the Occupy Portland participants to remove all tents and other camping equipment from the parks, in compliance with the city's camping ordinance.'
Among those who have complained to the city about the West Burnside homeless camp are leaders of the Chinatown community. Louis Lee, a property owner and longtime activist in the downtown Chinese community, says he objects to the Burnside encampment being next to the Chinatown Gate.
'This is really total disrespect to say the least,' Lee says.