The principal challenge
Cleveland's Paul Cook guides a school rocked by cuts, growing needs
Cleveland High School Principal Paul Cook walks into a science classroom and eyes the students' swivel chairs - battered, covered in decades of pencil marks, squeaking so loudly it's sometimes difficult to hear the lesson.
'Good news,' he tells Brenda Gordon. '(The PTA) said yes to your $1,500 request' to buy new chairs.
'That's wonderful,' she says. 'They're falling apart and the kids are afraid to sit on them.'
As principal at Cleveland for 10 years - the most senior (but not oldest) high school principal in Portland Public Schools - 52-year-old Cook has led his school through the good and bad. This year, teachers' PTA funding requests - for an author's visit, new chairs, new textbook sets, computer upgrades - reflect what Cook says is his biggest challenge: finding enough money for basic needs.
He stops in another classroom and delivers some less-than-wonderful news to English teacher Alex Gordin, who'd requested $950 for a new set of 'Crime and Punishment' for his six sections of English classes: 'We can give you half of what you're asking; is that going to be enough to help you?'
Gordin said he understands - 'it's a pie, a delicious tamale pie, and we all want a piece of it.' But he'll have to pick up the difference himself, because the books are desperately needed.
Cook invited him to plead his case to the PTA that night, which could reconsider. In fact, they did, using their $1,000 book fund to cover the request. Later in the school year, the PTA will hand out another $5,000 in teachers' requests. And Cook will use $3,000 from the school's $170,000 budget to help fill in.
But with $25,000 in requests in all, 60 percent won't be funded at all.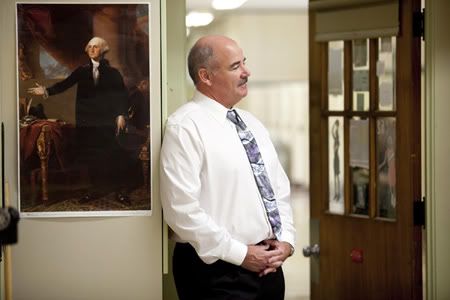 Tribune Photo: Christopher Onstott • Cleveland Principal Paul Cook (left) keeps all three doors to his office - one into the hallway and two into the main office - open at all times. One of his biggest challenges is finding funding to accommodate everyone's needs; the school's PTA and foundation provide a big boost. "We work hard for everything we can get," he says.
Finding a way to split the shrinking pie is just one of the tasks of a school principal; outside the school day, Cook typically attends student performances and athletic events, dances and meetings with district leaders, staff and parents.
This year, he happens to have the unique status of being the only male high school principal in PPS, among his eight female colleagues.
'I was wondering when someone was going to bring that up,' he says, blushing slightly.
While other PPS high schools have undergone major change this year, Cleveland's changes are less visible but still require big adjustments.
Cleveland's enrollment dropped from 1,570 to 1,540 this year, after accepting no transfers from outside the neighborhood.
Cook cut 7 percent of his staff, which increased class size for upperclassmen. Still, he was able to keep all of Cleveland's beloved programs: International Baccalaureate, the arts, band, choir, drama, Spanish immersion and the four-year-old Chinese immersion program, which saw its first graduates last year.
New offerings at Cleveland include a parent-staffed college and career center, an instructional specialist who helps teachers with new classroom strategies, and the AVID program, which prepares middle-of-the-pack students for college.
'Each year another challenge comes along, and I'm up for the challenge,' says Cook. 'Ten years ago, we had more staff, bigger budget, and at that time we thought it was tough.'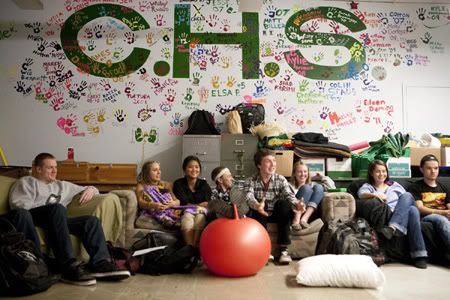 Tribune Photo: Christopher Onstott • Students in Cleveland's leadership class take on a variety of projects throughout the year, including organizing homecoming activities and raising money for fresh water sources in Haiti. Student leaders say they want to shine a light on their successes, which go unnoticed by the public. "We put so much effort into other things and don't understand why it's not highlighted," said one student.
Rolling with the punches
The Tribune spent last Thursday morning at Cleveland, walking in Cook's shoes - and parking in his parking spot - as part of the 11th-annual Principal for a Day event, organized by the Portland Schools Foundation.
More than 100 government, business, nonprofit and other community leaders took part in the event, sponsored by Comcast. Participants spent the morning with principals and superintendents throughout the city. Among the VIPs: mayoral candidate Eileen Brady visited Parkrose High School; Multnomah County Chair Jeff Cogen checked in on his Northeast neighborhood's Grant High; and former gubernatorial candidate Chris Dudley hung out at Jefferson High.
Also at the event, U.S. Bank announced a $120,000 donation to the Portland Schools Foundation's 'Ninth Grade Counts' partnership. The three-year-old initiative aims to reduce the dropout rate by providing extra help to incoming freshmen across the city.
Back at Cleveland, Cook walks through the halls with purpose. If voters had approved the PPS construction bond measure, Cleveland would have been slated for a $90 million modernization project, the largest of any PPS school.
While it may not be visible from the outside, the 1929 building is in desperate need of TLC, Cook says. The plumbing and wiring are old and there's a battle-worn look to just about everything, from the walls to the floors.
But he rolls with the punches.
As a Marshall High School alum who went on to teach industrial education and coach football and track and field there before coming to Cleveland, Cook was affected personally by Marshall's closure. His wife also taught business at Marshall; now she's moved on to Franklin.
'It's tough,' he says of Marshall's closure. 'I got calls from alums: 'How could this be happening?' '
But he steeled himself to help with the students' transition.
Making a statement
Walking around the school last Thursday, teachers and students were focusing not on politics but everyday learning.
In Julia Blattner's modern world history class, students sat on red exercise balls instead of chairs, bouncing gently to the tune of 'What a Wonderful World' as they got an introduction to South Africa, the country they'd be studying during the next few weeks.
In Kendra Gardener's weight-training class, students were busy pumping iron as part of the ever-popular strength and conditioning CrossFit curriculum, which she adopted two years ago out of her personal interest.
'CrossFit brings a real scale of progress to our program; we've got better buy-in,' she says, noting how students constantly record their own marks and then try to beat them.
In Camille Adana's leadership class, students lounged in overstuffed couches lining the walls, eager to give Cook their debrief of the homecoming dance. He asked for an earful, and he got it. On the downside, students told him candidly that they didn't like the music much, because the song list had been filtered several times to prevent inappropriate dancing.
'Teachers should have a request, like Kenny Chesney,' he jokes, referencing a country music star most in the room haven't heard of.
On the upside, 450 students turned out - more than usual - and students appreciated the new accountability system. Each student received a bracelet upon entry, which was cut as a warning for any rule-breaking. If they were caught again, they were sent home.
In the past, students' misbehavior resulted in dances being shut down early, or cancellation of the winter formal. With this year's success, Cleveland decided to use the bracelet system again.
That makes Cook proud - and relieved he won't have to cancel future dances. 'They rose to the occasion,' he says. 'I do not want to go through that again.'
This email address is being protected from spambots. You need JavaScript enabled to view it.