FONT
SHARE THIS
MORE STORIES
---
Candidate Max Brumm refuses to be left out
Details

Jennifer Anderson
College student tries to tap into ideas, not campaign money
Call him young, endearing, naive or goofy -just don't forget to call him.
---
If you're organizing an event for mayoral candidates, that is.
Max Brumm, the 19-year-old Clackamas Community College student with a long family pedigree in local politics, is lodging his second complaint in four months after being squeezed out of a mayoral activity.
This time around, it's the Portland Business Alliance, which chose not to publish his responses to the online candidate questionnaire he received in September and spent several hours completing. The alliance has posted responses from candidates Eileen Brady, Charlie Hales and Jefferson Smith at www.valueofjobs.com.
'I'm a qualified candidate with the state and city auditor's office,' says Brumm, who is filing a complaint with elections authorities because of the omission. 'They're essentially making their own rules for elections. I think that really shows how much corporations are invested in politics in Portland.'
Portland Business Alliance spokeswoman Megan Doern says Brumm did not meet the group's threshold of having $10,000 in campaign contributions. For city commissioner candidates, the threshold is set at $5,000.
'The most legitimate candidates are those who've done the most fundraising or have significant dollars in their campaign,' she explains. 'Candidates do need to fund raise. It demonstrates that people are investing in him as a candidate.'
Regarding Brumm's point about the role of money in politics, Doern cites the campaigns run by former Mayor Tom Potter and former city commissioner Eric Sten, who limited their campaign contributions. 'Portland has a long history of grassroots candidates that are able to do that,' she says.
She denies that the alliance broke any rules. 'We're a 501(c)6, a nonprofit that does advocacy work. It's up to us what candidates we want to publish. His accusations are a little bit inaccurate. We're sorry if we caused him any sort of stress or confusion,' Doern says.
Brumm took a similar action earlier in October when he was not invited to a VOIS (Voice for Oregon Innovation and Sustainability) Alliance fundraiser billed as featuring 'all three Portland mayoral candidates.'
The irony of that situation: the event's organizer, VOIS President Sattie Clark, had been a strong proponent of the city's Voter-Owned Elections system, which Brumm insists would have put him on a level playing field.
If he was mayor, Brumm says, his first priority would be to rally voters to reinstate the system. His other priorities: fire, police, roads, then parks.
It was the Merritt Paulson soccer deal that sparked his decision to run for mayor, he says. The Lincoln High School baseball team had been practicing at PGE Park, since Gabriel Park 'is always flooded.'
'They kicked our team out when soccer came in,' he says. 'I think that's what pushed me over the edge.'
Fast forward a few years, and Brumm has attracted a fair share of attention from bloggers, with seven months to go until the primary. Brumm spent the summer launching his website, printing and distributing postcards, and talking to people at street fairs around town.
In late August, he held a 'Tunes to the Max' fundraising concert that drew 180 people and raised $500.
He's using his youth to his advantage. 'My demographic is 18 to 25, and 60-plus - I'm the perfect grandchild,' he says.
In past weeks, Brumm has become a regular at the Occupy Portland camp, hoping the anti-corporate movement will help fuel his message. 'I'm for the people,' he says. 'My generation thinks about the ideas of the candidates, rather than how much money you have.'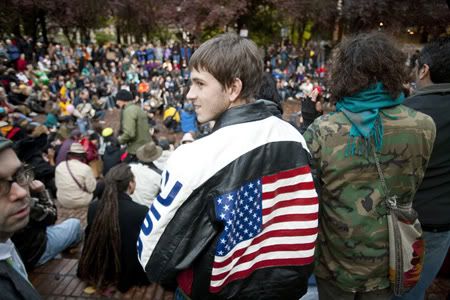 Tribune Photo: Christopher Onstott • 19-year-old Max Brumm is a Clackamas Community College student with a long family pedigree in local politics. He visited an Occupy Portland rally earlier this week.
'A unique perspective'
Brumm's plight has gained support from others who've been left out of the system.
'I think denying Max an equal opportunity to address the issues affecting our city is shortsighted and counterproductive,' says Charles Lewis, executive director of the nonprofit Ethos, who lost the 2008 City Council race to Amanda Fritz.
Brumm worked for Lewis at Ethos for a couple of summers, after doing volunteer work on his council campaign. Lewis says he's impressed by Brumm's commitment and growth in his mayoral bid so far.
'He's quickly getting up to speed on major policy issues and definitely brings a unique perspective to the debate,' Lewis says. 'We face some pretty serious problems as a community in the near future, and I would hope that everyone's voices will be heard - especially serious candidates for our city's top job.'
The question of equal access affects more than just Brumm. Four others are official candidates, two of whom are college students like Brumm: Max Bauske, 22, a Portland Community College student, and Sam Belisle, 22, at Concordia University.
There's also Howie Rubin, a North Portland insurance salesman and foodie who is the 'original Naked Chef;' and perennial candidate Lew Humble.
Portland Police Chief Mike Reese said this week he was contemplating a run, which won't stop others - with and without name recognition and cash - from joining in as well before the filing deadline in March.
Two more candidates are working on their nominating petitions, which involves collecting 100 voters' signatures rather than paying the $50 filing fee to demonstrate their grassroots support.
Just three of the existing candidates chose that route: Brady, Hales and Brumm. Smith plans to do so as well.
Portland has had no shortage of mayoral candidates in the past. A whopping 23 candidates jumped in the mayoral primary in 2004 - enough to break a city record -which pushed Mayor Tom Potter into a runoff with Jim Francesconi.
Four years later, 12 candidates ran, Mayor Sam Adams prevailing over Sho Dozono in the general election.
Seventeen mayoral hopefuls ran in 2000, when Mayor Vera Katz won her third term. Coming in second and nearly forcing Katz into a runoff: the youthful Jake Oken-Berg.
Pacific University political science professor Jim Moore, a longtime elections analyst, says the Oken-Berg run came close to breaking ground but other than that, minority candidates 'have made no difference at all.'
Moore doesn't agree that Voter-Owned Elections would make a difference to the minority candidates in this case. 'These candidates have got to do something in the public eye; they've got to make their own name,' he says. 'Serve on commissions, be a famous blogger, write letters to the editor, do something. But they don't. Then they complain.'
Moore adds that if a large contingent of voters are swayed by the Occupy movement or another issue, the number of minority candidates could split the vote among the Big Three and force a runoff.
Crashing a forum
Nowadays, Brumm schedules 'campaign stuff' into his calendar every day, in between homework, morning classes and afternoon baseball practice.
His family embraces the effort. His grandparents were part of Portland's political machine decades ago; his mother, a financial planner, is his treasurer, and his father, a safety consultant for Oregon-OSHA, is a 'core staff member.'
'They let me bounce ideas off of them, to see how their generation would think about the issues,' Brumm says.
As a kid, he was always politically aware, he says. His nickname on his baseball team at Lincoln was 'Mayor,' since he was always talking politics. He went to Lincoln for the Spanish immersion program despite living within Wilson's boundaries, and was a B student, toying with the idea of running for office one day while pursuing his backup plan: teaching high school history.
When it comes to education, Brumm says 'college is key,' and thinks the city should fund scholarships that include student internships at city bureaus. Other parts of his platform: upgrading the parks so that they can be used year-round, and asking city employees where cuts should be made.
Brumm is happy to talk policy, but also quick to divert to humor. Sporting a slightly scruffy look for his Mad Max Halloween costume this week, he's issuing a 'No-Shave November' challenge to his fellow mayoral candidates. He's also sure he can beat any of the others in a mayoral potato sack race.
Brumm hasn't been invited to any mayoral forums yet, but he has a game plan: 'If I don't get invited,' he says, 'I'm definitely going to crash them,' he says.
This email address is being protected from spambots. You need JavaScript enabled to view it.
---
• No money, no problem: Minority candidates jump into mayor's race for other reasons
Max Brumm isn't the only minority candidate for mayor eager for some of the spotlight.
The Tribune contacted the others and heard from three of them. Among them: Howie Rubin, 57, a native New Yorker who's lived in Portland since 1989 and calls himself 'the original Naked Chef.' And two bespectacled 22-year-old college students: Sam Belisle and Max Bauske, who are plugged into social media but otherwise have no plans to raise money for their campaigns.
'I won't be holding fundraisers or actively seeking donations, and I'm not accepting any money from PACs or businesses,' says Bauske, who's taken shots at Brumm by calling himself the 'real Max for mayor.'
'Unlike Max Brumm, I won't be getting my mom to complain if I'm not invited to a debate,' Bauske says.
Bauske, a Franklin High graduate, works as a grocery clerk at Hawthorne Fred Meyer and is a member of the United Food and Commercial Workers' Local 555, which makes him the only union member running for mayor.
He's at Portland Community College now, planning to transfer to Portland State University to study accounting. He's a live music fan who wants to organize a fundraising concert, like Brumm has.
Policy-wise, he has some bold ideas, including fighting federal regulations and trying to propose a state ballot measure to revise the tax-limiting measures 5 and 50, trying to route residents' property taxes back to their local schools.
'If voters are unimpressed with the three main candidates, I want them to have a credible alternative on the ballot,' Bauske says. 'I think I have a good perspective to add to this conversation, and I don't have to second-guess myself based on what a campaign donor will think of what I'm saying.'
• • •
Also unconcerned with money is Howie Rubin, whose life story includes a bit of everything, like Forrest Gump.
Unlike the Food Network's popular Jamie Oliver -who prepares ingredients simply, hence the name - Rubin had a cable access improv show in the '90s, using the name in a more literal fashion.
'I was naked,' he says. 'I wore a little apron. Grease splatters. I had some plants (as props), a chair. ... It was comical and to be quite honest, when I walked around Portland, people would say, 'I know you, you're the Naked Chef.' '
The show lasted four years, until BBC contacted him about his trademark and copyright for the Naked Chef name. They were promoting Oliver, an up-and-coming young British chef, who's since built an empire on the Naked Chef name.
Get Rubin talking and he can share stories like that all day. An insurance salesman who lives in North Portland, he's running on a platform of 'common decency' and customer service.
Besides the TV stint, he's been a teacher and a counselor, a school bus and truck driver and started an organic food co-op in New York City before most people knew what the term meant.
When friends in Portland raved about his lasagna, he started working with Oregon State University's Food Innovation Center and co-created an event called the American Food Fight in Portland, which helps local food entrepreneurs commercialize their products.
Rubin also started a garden center in his neighborhood years ago, and is hoping his neighbors and local businesses will support efforts to put up a few signs.
He's well aware that he has no following, funds or Facebook page to make inroads. But he has a Segway, and a story to tell-many, in fact.
'People are tired,' he says. 'I'm fed up. I'm a working guy. I'm tired of listening to all this stuff. When I get my foot in the door, I create change.'
• • •
The other student in the race, Sam Belisle - no relation to Portland School Board member Greg Belisle - moved to Portland five years ago after high school in Alaska. He's been married for nearly a year, taking classes at Concordia University while working as a manager at Red Robin.
When pressed about his platform and differences between his views and those of other candidates, Belisle says he's for East Portland, helping small businesses and listening to individuals, not organizations.
On his Facebook page (sambelisleformayor2012), he issued a plea this week: 'I need questions that Portlanders need answered!'
Yes, he's been told he's crazy and in over his head. He shrugs it off. 'Anyone who's going to try and assume leadership of Portland is in many ways getting in over his head.'
This email address is being protected from spambots. You need JavaScript enabled to view it.
---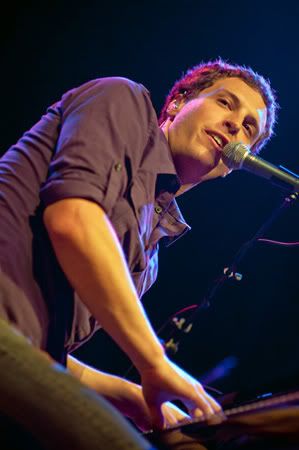 Courtesy of Inger Klekacz • Former mayoral candidate Jake Oken-Berg, who gave Mayor Vera Katz a run for her money 11 years ago, is finding success in music rather than politics these days. He just released the solo album, 'It's Me,' with a crowd of 600-plus fans at his release party at the Aladdin Theater last month. Making a name for himself as a candidate might have boosted his musical career, at least.
• Oken-Berg still feels a political passion
Max Brumm isn't the first 19-year-old Lincoln High School graduate to run for mayor of Portland. In 2000, Jake Oken-Berg, an avid musician and self-proclaimed lifelong watcher of C-Span, ran against Vera Katz and finished second, snagging 27 percent of the city vote and nearly pushing Katz into a runoff.
Oken-Berg says he joined the race that year because he wanted to make sure the city had the opportunity to have a 'good debate' and an alternative candidate to the incumbent mayor.
'I knew it would be very tough to run a major campaign and get any significant amount of votes, but I'm still humbled by the process,' Oken-Berg says. 'There's nothing like going out seven days a week for eight months and meeting thousands of Portlanders, getting their feedback, suggestions and encouragement.'
Although he believes the campaign was one of the hardest things he's done, Oken-Berg says in no way did the process discourage him. In fact, how he spends his time today is very similar to his work 11 years ago: playing music and working in politics.
'I knew I was going to find a way to do work in both fields before I ran for mayor and after I ran for mayor,' Oken-Berg says.
He just completed his latest solo album, 'It's Me,' which was celebrated with a release party at the Aladdin Theater that attracted more than 600 people. When he's not recording or performing, Oken-Berg is consulting on a range of political issues for Gov. John Kitzhaber and the Oregon Business Council, among others.
Oken-Berg says the political landscape was much different when he ran because he was the clear alternative choice. Brumm, who is not running against an incumbent mayor, is one of many. Still, Oken-Berg says he enjoys Brumm's enthusiasm and hopes he will continue to learn from the experience.
'There's no perfect model for running as a young person, but I would just encourage him to keep digging deep and meeting with as many people as possible so that he can have even more to say on the range of city issues,' Oken-Berg says.
- Reed Jackson