FONT
SHARE THIS
MORE STORIES
---
Beaverton Transit Center serves as political battleground in 1st District race
Democratic frontrunners for Congress crossed paths Election Day
Oregon state Sen. Suzanne Bonamici zipped past Oregon Labor Commissioner Brad Avakian on an eastbound light-rail train Tuesday morning.
---
Avakian was busy greeting voters at the Beaverton Transit Center during the morning commute.
Bonamici was similarly visiting with voters on a ride from the Hatfield Government Center MAX Station in Hillsboro to Pioneer Courthouse Square in Portland.
Both Democratic hopefuls in the 1st Congressional District primary race to replace Congressman David Wu were encouraging folks to vote on Election Day and drop their completed ballots off at official collection sites before the 8 p.m. deadline.
It will be a busy day for both Avakian and Bonamici.
Avakian plans to return to the Beaverton Transit Center to talk with constituents during the evening commute.
Meanwhile, Bonamici will be calling voters from her Beaverton campaign headquarters on Southwest Millikan Way before heading to the Cornelius Pass Roadhouse in Hillsboro to watch as election results are tallied.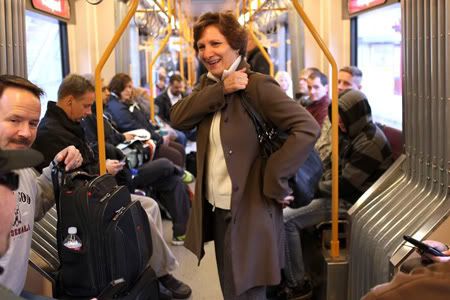 Pamplin Media Group: Jaime Valdez • State Sen. Suzanne Bonamici held court Election Day morning on an eastbound light-rail train heading to the Sunset Transit Center, where she changed trains to head into downtown Portland.