River City's pipe dream
• Big Pipe keeps sewage out of Willamette, but will it be enough?
It wasn't cheap to keep human waste and other raw sewage from spilling into the Willamette River and Columbia Slough when it rained.
But after 20 years, $1.4 billion and a fivefold increase in residential sewer bills, the Big Pipe project is history.
Days before a state-imposed Dec. 1 deadline, the city of Portland will wrap up its Combined Sewer Overflow project. It's the biggest public works project ever done by the city - and the most ambitious environmental cleanup.
For decades, rainy weather overwhelmed the city's sewer system, sending billions of gallons of runoff and sewage directly into the Willamette River and Columbia Slough, a waterway south of the Columbia River.
Now, the stigma caused by decades of neglect of the Willamette is starting to lift, bringing new vitality to the river running through the heart of the city. Along the way, the city's old-school sewer agency morphed into the national leader for green approaches in the field.
'This is a new day in Portland's history,' says Dean Marriott, the Bureau of Environmental Services director who has spearheaded the Big Pipe project since 1994.
'People are swimming in the Willamette,' says City Commissioner Dan Saltzman. 'That used to be unheard of.'
Before Portland built its lone sewage treatment plant in 1952, all sewage was routinely dumped untreated into the rivers. Even after that, because the city used the same system of pipes for storm sewers and sanitary sewers, rainfall massing on Portland streets overwhelmed the system more than 100 days a year. Annually, 10 billion gallons of storm runoff and sewage plunged from dozens of outfall pipes into the river and the slough. About a fifth of it was untreated sewage and the rest was stormwater, Marriott says.
Tribune file photo: Christopher Onstott • Craig Kolell of Jacobs Associates explains the drilling process for tunnels built to prevent sewage overflows into the Willamette River.
Sometimes the untreated sewage appeared as faint grayish matter, and sometimes it was largely invisible. Sometimes it was stomach-churning 'floatables,' such as human feces and used syringes, says Nina Bell, the executive director of Northwest Environmental Advocates, whose 1991 lawsuit forced the city to clean up its act.
The sewage brought E. coli and other pathogens into the water, rendering it unsafe for human contact the next two days by anglers, boaters and others.
'We used to say to people, 'It's wintertime, there's probably going to be sewage in the water,' Marriott says. 'We had a blanket notification, 'Hey, assume the worst.'
'Now we're going to assume the best.'
After construction of a complex series of tunnels, giant pipes, sumps, a pump station and other elements, all that's left is final debugging and testing, says Paul Gribbon, the bureau's chief engineer in charge of the project.
But there still will be occasional sewage overflows.
Oregon's Department of Environmental Quality required the city to prevent 94 percent of the untreated sewage and stormwater from entering the river and 99 percent from entering the slough.
Sewage overflows are still expected during intense rainfall, but for no more than four days each winter and once every three years during the summer. Most of those spillages will occur during unusually stormy weather, when there's little active use of the river.
The city hasn't had any sewage spills into the slough since associated improvements were completed in 2000, Marriott says. And future spills in the Willamette should be less frequent than the allotted amount, he says.
Some regrets
'It's a huge improvement, there's no question, and it's been a long haul,' Bell says.
During the 1970s and 1980s, after the passage of the landmark Clean Water Act in 1972, the Bureau of Environmental Services made improvements that kept 4 billion gallons a year of untreated runoff and sewage from entering the Willamette and the slough.
But by 1990, Bell recalls, little was being done about the remaining 6 billion gallons. 'What's truly shocking is that DEQ hadn't done anything about it,' Bell says.
Most of the public didn't even realize that untreated sewage was getting into the river, she says. Bell organized regular tours for journalists to show them floatables in the river just a stone's throw from downtown.
Prodded by her group's lawsuit, the city began working with DEQ and its oversight panel, the governor-appointed Environmental Quality Commission, on a plan to end the sewage overflows.
Despite her success, Bell has mixed feelings. She regrets that the city didn't totally separate its sanitary sewers from storm sewer pipes, to solve the entire problem permanently. As a result, she says, the city won't be well-equipped to meet the next generation of challenges in the field, such as removing pesticides, pharmaceuticals and other toxic substances that are harmful to human health and aquatic life.
'I think they have a very shortsighted view of what needs to get done,' Bell says.
Others have a more charitable view of the Bureau of Environmental Services effort.
Tribune photo: Christopher Onstott • Catherine Dunster leads a Camp Fire Club troop on a bird-watching trip to Whitaker Ponds Nature Park along the Columbia River Slough Watershed. No untreated sewage has spilled into the slough since 2000, thanks to the city's $1.4 billion Combined Sewer Overflow project, also known as the Big Pipe.
More people wading in
Portland is a river city, and the Big Pipe project removes the 'specter' of bacterial contamination that kept people from using the river, says Travis Williams, executive director of Willamette Riverkeeper. Public use and appreciation for the river is going to be 'orders of magnitude different,' Williams says.
To change the river's past reputation as no place to dip your feet or hands into, Willamette Riverkeeper promoted this summer's Big Float, when hundreds of people took inner tubes across the river. More recently, volunteers started fixing up the bowl north of RiverPlace, to turn it into a modest swimming beach.
Saltzman, who oversees the Bureau of Environmental Services, says the Big Pipe project was completed on time and slightly under budget, no small achievements for complex engineering projects.
'How many projects of this magnitude turn out to be ongoing nightmares?' Saltzman asks.
Kent Craford, director of The Portland Water Users Coalition, says the city missed an opportunity about a decade ago to scale back the big pipe planned on the east side of the river and substitute more environmentally friendly methods to reduce storm water. However, Craford and other business leaders credit Marriott with solid management of the project.
'Obviously, it needed to be done for the health of the river,' says Tom Fahey, human resources and communications director for Siltronic Corp., the chipmaker that is the largest user of city water.
There were multiple efforts to rethink the project along the way. In 1991, the Environmental Quality Commission passed a strict order requiring the city to eliminate all sewer overflows. When the Bureau of Environmental Services began plotting out engineering solutions, it realized it would cost an extra 30 percent to get from 96 percent compliance to 100 percent.
In response, the Environmental Quality Commission revised the order in 1994, settling on the current requirements.
Though some complain about the lowered level of expectations, meeting the 100 percent threshold would mean digging up many more streets around the city, just to prepare for the occasionally powerful storm.
Settling for less than a 100 percent solution is routine around the country because of the high incremental costs of handling extreme weather events, says Nathan Gardner-Andrews, general counsel ofthe National Association of Clean Water Agencies.
Around 2000, after the bureau finished the slough improvements, Saltzman and others proposed a rethinking of the Big Pipe scheme, billed as the Clean River Plan. It called for relying more on Mother Nature to absorb storm runoff, instead of funneling it all underground through a vast system of pipes and tunnels.
Craford says it would have saved money, and business groups lobbied for it. But it would have delayed the cleanup.
'The rub was, I think they wanted another 10 years,' Williams says. The Environmental Quality Commission turned down the idea.
The bureau wound up doing a 'belt and suspenders' approach, Craford says, combining the big pipes with greener methods.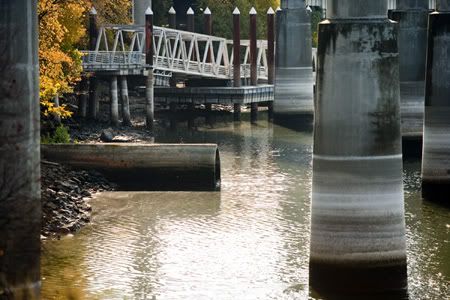 Tribune photo: Christopher Onstott • A sewage overflow pipe spits into the Willamette River just south of the Steel Bridge. Dozens of pipes once spewed untreated sewage into the Willamette about 100 days a year. The Big Pipe should reduce that to no more than four times each winter and once every three summers.
Going green
One of those methods was the bureau's 'downspout disconnect' campaign, aimed at convincing homeowners to eliminate systems that funneled rooftop rainwater directly into the sewer system. By offering $53 a pop, the city coaxed 56,000 homeowners to disconnect their downspouts and let the water be absorbed in their lawns.
That eliminated 1.2 billion gallons of the 6 billion spilling into the river and slough, at a bargain price.
The city also updated its codes for new development, encouraging projects such as bioswales, clusters of plants that absorb runoff on parking lots and elsewhere. Similar plantings were used in the city's 'green streets' program, to absorb street runoff. More recently, the bureau began offering subsidies for businesses and homeowners to install rooftop plantings, called eco roofs, which also keep runoff on site.
Such green projects, while controversial in some quarters, often provided cheap ways to keep rainwater from overwhelming city sewers and requiring expensive sewage treatment.
Across the nation, more than 700 other cities have combined sewer overflow problems, largely communities that developed a century or more ago, like much of Portland.
Portland was one of the earliest cities to fully tackle its problem, and blazed a trail with its green alternative approaches, Gardner-Andrews says.
'I think Portland has been really viewed as a pioneer in this whole process,' he says. 'Portland was far and away the first to embrace it aggressively.'
In addition to saving money, green improvements tend to beautify a community, certainly more than underground pipes that nobody sees.
Stiff sewer rates
To pay for the $1.4 billion combined sewer overflow remedies, Portland has jacked up sewer rates to among the highest in the nation.Average residential rates that were $11 a month in 1991 have ballooned to more than $55 a month. Only a handful of big cities have higher rates.
Marriott says that's partly because Portland acted earlier to remedy its sewer overflow problem, and other cities will be surpassing Portland's rates.
Gardner-Andrews concurs. A long list of big cities are 10 to 15 years behind Portland, or are just getting around to tackling their combined sewer overflow problems. Those cities include New York, Chicago, Philadelphia, Washington, D.C., Boston, San Francisco, Cleveland and Honolulu.
'A lot of cities have a lot of envy for where Portland is,' Gardner-Andrews says.
Despite the looming completion of the Combined Sewer Overflow project, Portland residents and businesses won't see any reduction in their sewer rates.
Improvements were funded with bonds that take 20 years to pay off. About 30 percent of the city's sewer pipes are more than 80 years old, Marriott says, so the bureau will now focus on replacing century-old pipes.
Recent annual rate increases of 5 percent to 7 percent should fall to about 4 percent to 4.5 percent a year, Marriott says.
With the Big Pipe finished, attention will shift to the other major environmental challenge in the Willamette, the Superfund toxic pollution site downstream from downtown. A feasibility study on how to clean up the polluted river bottom, due to century-old industrial practices, is expected early next year.
Marriott's staff also will closely monitor the Big Pipe system, which has yet to be tested by a major storm. That will come when the city gets well more than 1 inch of rainfall in a 24-hour period.
Until that occurs, it's safe to go in the water again.
---
CLOSE TO THE TOP
Portland's sewer rates are among the highest in the nation, partly due to the cost of keeping raw sewage out of the Willamette River and Columbia Slough.
AMONG 50 LARGEST CITIES
Portland has the fifth-highest sewer rates in the country, only surpassed by Honolulu, Atlanta, Seattle and Baltimore, according to the 2009/2010 Water/Wastewater Rate Survey by Black and Veatch. That's based on everyone using 3,750 gallons of water a month. Portlanders use less than that, so the city should be a few notches lower, in reality, according to the Bureau of Environmental Services.
The bureau's internal surveys, based on each city's average sewer use, still show Portland's monthly rates are relatively high, both locally and for the West Coast.
Monthly sewer rates as of July 2011:
Portland-area:
Lake Oswego $68.57
Portland $56.52
McMinnville $48.34
Vancouver $46.35
Milwaukie $44.01
Tigard $43.25
Eugene $42.15
Beaverton $42.13
Wash. County $41.25
Tigard $41.21
Salem $37.69
Corvallis $36.48
Gresham $34.25
Other West Coast Cities:
Seattle $78.32
Tacoma $58.05
San Francisco $53.06
San Diego $51.62
Sacramento $48.05
Spokane $47.25