FONT
SHARE THIS
MORE STORIES
---
Bus driver still rolling despite complaints
Hell on wheels? Years of discipline don't derail Line 57 operator
The TriMet bus driver who berated a mother with a crying child in late September, forcing the woman off the Line 57 bus, received a 10-day suspension and is still behind the wheel despite an extensive history of complaints and infractions that agency investigators called 'confrontational and inflammatory.'
---
Disciplinary records obtained by the Tribune show that driver Claudeen Hendren has a pattern of leaving her seat to confront bus passengers and of speaking abusively to riders.
Hendren, a lightning rod for customer complaints, at one time in her 10-year tenure was TriMet's most complained-about driver. In total, 209 complaints have been filed about her, 48 in one year alone. TriMet policy expects drivers to have fewer than five complaints in a year.
The Sept. 29 incident in Hillsboro occurred at about 7:30 p.m. when she stopped the bus near Baseline Road and Adams Street and walked to the back of the bus, telling the young mother that she had to quiet her child or leave the bus. When the child did not stop crying, the young woman left the bus, prompting a protest by other passengers, who also got off a short distance later.
TriMet investigations of Hendren began within a year of her employment in March 2001 and found, among other things, that Hendren 'bumped' a pedestrian in a downtown crosswalk, and that on a number of occasions she refused to stop for passengers waiting at bus stops.
Complaints against the Line 57 driver include:
• 'Operator humiliated and embarrassed a customer… yelled at her not to ever get on her bus again.'
• 'Operator was screaming and yelling at customers … and had a child crying.'
• 'The operator yelled and yelled at customers and made a little girl cry.'
• 'The operator made all the customers pay again.'
The Line 57 driver's disciplinary files raise serious questions about TriMet's ability to dismiss bus drivers. But an official for the Amalgamated Transit Union Local 757, who represented the Line 57 driver at multiple hearings, says the problem is not with Hendren, but with TriMet's administration, which does not adequately investigate complaints and, as a result, cannot adequately discipline drivers.
'I've seen so many complaints come in against operators, and the bottom line is, how do you know what really happened?' says Jeff Ackerson, Amalgamated Transit Union representative. 'The only thing we have available is their word against our word.'
Nevertheless, TriMet investigators substantiated many of the complaints against the Line 57 driver.
In mid-October, TriMet completed its investigation into the latest incident, faulting Hendren for stopping the bus, leaving her seat and 'responding unreasonably to the crying child.'
According to TriMet's investigation, after the woman and child left the bus, other passengers upset by her actions swore at Hendren, who told them they could leave. All the passengers exited the bus one stop later.
After completing its investigation last month, TriMet reported only that Hendren had been 'appropriately disciplined.' Disciplinary records obtained by the Tribune show that she was given a 10-day suspension without pay.
---

---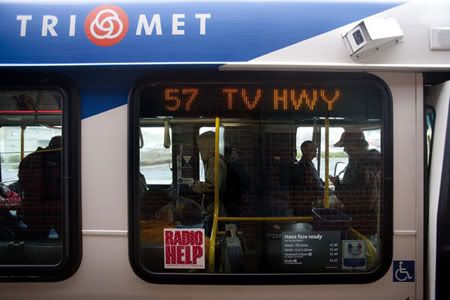 Tribune Photo: Christopher Onstott • Despite numerous customer relations workshops and training sessions, complaints have increased about Claudeen Hendren, driver of the Line 57 bus involved in a late September incident. So far in 2011, 40 complaints have been received by TriMet about that driver.
System needs improvement
Hendren's 10-year disciplinary records read like a broken record of complaints, infractions and ineffective, light consequences with threats that the behavior must not continue. In 2007, Hendren was issued a five-day suspension after repeated 'inappropriate conduct' that a TriMet report says was similar to the most recent incident.
The Line 57 driver, as a result of complaints, was required to go to counseling about 'customer service skills' in February 2006, May 2006, November 2006, March 2007, May 2007, June 2009, September 2009, February 2010, January 2011, March 2011, April 2011 and July 2011. In addition, improvement plans were established for her in April and October 2005.
Despite all that, complaints about the Line 57 driver increased in recent years without an apparent change in attitude. At an Oct. 14 hearing on the latest incident, Hendren told TriMet investigators that she had done nothing wrong and that she wears cotton in her ears and keeps the bus fans on high to dampen the distraction of noise in her bus.
TriMet spokeswoman Mary Fetsch says Hendren's latest discipline is 'a serious suspension' and comes with the understanding that any future incidents could lead to Hendren losing her job.
'She has been given one last chance to meet our customer service standards,' Fetsch says.
Still, Fetsch says the Line 57 case shows that TriMet has work to do.
'We know the process of dealing with operators with many complaints needs to be improved,' she says.
According to Fetsch, since the Sept. 29 incident TriMet has added another trainer to its staff and has focused more of its unannounced observers on drivers who have received the most complaints.
Fired drivers
Fetsch says TriMet has fired a number of bus drivers and MAX operators in recent years, including one driver who was videotaped reading a Kindle while driving and another who hit five people in an Old Town crosswalk, killing two, in 2010.
'We do take disciplinary action, we do suspend people and we do terminate people when it's appropriate,' Fetsch says.
As for the Line 57 driver's voluminous record of complaints, Fetsch says complaints cannot fully drive the disciplinary process because they are not always reliable.
'It (bus driving) is one of the hardest jobs,' Fetsch says. 'Anyone's bad day, they're taking it out on the operator.'
Ackerson, who has served as the union representative for the ATU at a number of hearings for the Line 57 driver, agrees with Fetsch that customer complaints are not always reliable.
Tribune Photo: Christopher Onstott • "The (drivers) that enforce the rules are the ones that get the most complaints, and she's one of them," says Jeff Ackerson, a transit union representative, about the Line 57 driver.
Stressing that he was not speaking for the union, Ackerson, a bus driver himself, says the Line 57 driver is the subject of complaints because she does her job well. 'I don't enforce a lot of the rules. The majority of our drivers don't,' Ackerson says. 'The folks that enforce the rules are the ones that get the most complaints, and she's one of them.'
Ackerson says Hendren's suspension was too punitive and the result of TriMet overreacting to public pressure. 'I know they've trumped this up because it's in the press,' he says.
In Ackerson's view, TriMet's entire disciplinary process is flawed because investigators are unable or unwilling to substantiate most complaints.
'Our entire customer service program is broken,' he says.
This email address is being protected from spambots. You need JavaScript enabled to view it.
---
SECOND, THIRD AND FOURTH CHANCES
(Excerpts from the Line 57 bus driver's TriMet disciplinary record)
• April 20, 2005: Meeting to discuss customer complaints that driver did not stop for passengers results in work improvement plan.
• Oct. 20, 2005: Second work improvement plan following 10 customer complaints within five months, including one that stated, 'Operator was screaming and yelling at customers.'
• Feb. 2, 2006: Complaint that driver failed to make required announcements results in 'general counseling.' Customer service intervention meeting following 'urgent complaint' that driver failed to pick up passengers.
• May 5, 2006: Written reprimand after driver's bus hits a pedestrian in crosswalk.
• Aug. 11, 2006: Verbal reprimand for passing up passengers.
• Nov. 1, 2006: General counseling provided after substantiated complaint that driver drove off route.
• May 9, 2007: Conflict resolution class required after continued customer complaints. Paid administrative leave during investigation of new complaints that driver refused to open front door of bus for people waiting to board. Report calls driver's actions 'pattern of irresponsible and unprofessional behavior.'
• May 25, 2007: Five-day suspension without pay ordered for 'unprofessional customer service relations.' Report states that driver has had most customer complaints (49) during the past two years.
• Feb. 13, 2010: Driver stops Line 20 bus to confront a group of girls in back who were 'laughing and talking loudly.' According to TriMet investigation, 'Passengers became threatening and potentially volatile.'
• June 24, 2011: Meeting about 48 complaints against driver in past year results in driver being required to take customer relations workshop.
• Sept. 29, 2011: Incident in which driver tells passenger with crying child the bus would not move until the child was quiet. Mother and child leave the bus. Other passengers, who raised their voices in protest, also disembark.
• Oct. 14, 2011: Meeting with TriMet and union officials regarding Sept. 29 incident results in 10-day suspension without pay.
• Currently: Driver still on duty.
---
EDITOR'S NOTE: While negotiating for the past month to obtain disciplinary records for this TriMet bus driver, the Tribune agreed not to release her name to the public. We upheld that agreement when reporter Peter Korn obtained the personnel records, which is why early versions of this story did not include the driver's name. However, other media outlets published the driver's name. The Tribune received permission to also publish her name.