FONT
SHARE THIS
MORE STORIES
---
Bonding with voters
Details

Jennifer Anderson
Portland school leaders go back to drawing board for facilities plan
Just 587 votes: That's how many more Portland Public Schools needed to squeak by with a win for the $548 million school modernization bond measure in May.
---
Instead, voters narrowly rejected the measure by a margin of 50.24 percent to 49.76 percent. Bond supporters largely blame the economy in addition to their own faulty public process, which most agree lacked genuine support from the community.
---
EDITOR'S NOTE: An early version of this story - and the story published in the Dec. 1 Tribune - incorrectly listed the election margin for the PPS bond measure. The results listed were from the district's levy victory, not the bond measure defeat. The Tribune regrets the error.
---
All of that is water under the bridge - to a point.
PPS leaders, parents and supporters are quietly gearing up again, six months later, to pick up the pieces and look to what's next.
This time, however, Superintendent Carole Smith and board members want to learn from their mistakes, which they heard about during the summer through dozens of 'listening sessions' with a wide range of both supporters and foes. A common refrain: more public involvement on the front end, please.
'I want to ensure the district does a really good public process,' says Scott Bailey, a Northeast Portland schools activist who worked to push the May bond. 'To me, that's the one ingredient that was missing and within their control.'
To spearhead those efforts, PPS has tapped Rhys Scholes, a longtime campaign and schools activist, to lead the district's community engagement process. The district is borrowing Scholes from his tax and legislative work at Multnomah County for the rest of the school year, through an intergovernmental agreement.
This time around, the plan is to start with a public process to update the district's long-range facilities plan, which has been on the books since 2002 and last updated in 2007.
Which begs the question: Why was this work not done before the bond measure went to voters in May?
Says CJ Sylvester, the district's chief operating officer and point person on the school modernization effort: 'We moved quickly, based on survey results, to a ballot measure. The hard data (about building conditions) existed, but the public process about identifying priorities and trying to seek consensus did not occur.'
This time around, she says, 'We want a successful plan. The last plan was strong, fully formulated. But what we need is something that, given the environment in which we're working and the severity of the needs, is going to be acceptable to the community.'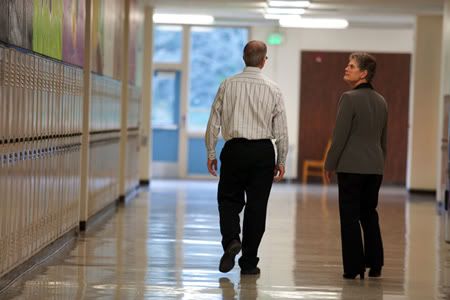 Tribune Photo: Christopher Onstott • Superintendent Carole Smith, shown walking the halls of Jackson Middle School with Principal John Ferraro, is launching another public process to look at the district's aging buildings.
On Dec. 6, Sylvester and Tony Magliano, the district's facilities director, will present a public talk at Benson High School called 'Buildings and Learning 101,' at 7 p.m.
'We want them to really understand why a building is important to teaching and learning, and to understand what the current need is,' Magliano says, citing how poor lighting, bad acoustics and loud steam-generating heat systems in the schools, for example, impact the classroom environment.
The long-range facilities planning will be a supercharged process, district officials promise: meetings will be held in the schools, videotaped and broadcast on Comcast Channel 28, with time for public comment at each meeting.
'I think for people who want to dig in, this will be an early opportunity for a thorough vetting of the issues that underlie the bond,' Scholes says.
Adds Sylvester: 'This is as much about the public process as it is about the content.'
Smith is expected within the week to name an advisory committee of about two dozen parents, business leaders, design and construction industry representatives, local government leaders and community members to shape the process.
The group is set to begin meeting this month and continue for several months. It will propose an updated long-range facilities plan to Smith in the spring, who will then recommend action to the board - all in the midst of a deep and broad-based public process, leaders say.
The resulting long-range facilities plan would be the basis for the district's next capital bond measure, helping to determine its size, scope, cost and timing.
Theoretically, the district could go to voters with another bond measure as early as November 2012 or May 2013.
But none of that's on the table right now.
The advisory committee must first dig into the dense portfolio of PPS facilities: everything from enrollment and capacity issues to building conditions, accessibility, seismic readiness, historic preservation and financing alternatives for capital investments.
The process will also fold in past reports on district building conditions, including one done by Magellan Consulting Inc. in 2008.
A new crop of energetic parents is ready to get involved, seeing the needs in the buildings as urgent.
'I heard loud and clear that there would be deep support in the community for a bond package that is based on a strategic plan which flows from a community-owned educational vision,' says Sarah Granger, a parent at Northeast Portland's Rigler School, who talked with fellow parents this summer about the issue.
Linked to a plan
Not everyone has faith this round will result in a more meaningful public process.
'I think it's more window dressing and a charade than meaningful input,' says Lainie Block Wilker, who led the 'Learn Now, Build Later' campaign this past spring - the only formal group to actively and vocally oppose the bond measure.
Block Wilker says she met with Smith and two board members, Greg Belisle and Bobbie Regan, in August and offered herself and her group members as a resource.
'We suggested putting a team of parent representatives from each cluster,' as well as another group of experts. She proposed a short list including former city Auditor Gary Blackmer (now with the secretary of state's office) and Multnomah County Auditor Suzanne Flynn, as well as representatives from the Port of Portland, Intel, Oregon Health and Science University and Portland State University.
The list, she says, 'has been effectively ignored,' and PPS in her view seems to be 'relying on the same advisers who have rubber-stamped past PPS mismanagement.'
She adds: 'PPS seems to only be interested in collaborating with the usual suspects who have been drinking the Kool Aid too long to be effective, and have lost the objectivity to ask tough questions and look for innovative ways of doing better for our students.'
Finally, Block Wilker reflects many critics' thoughts when she says the biggest problem with the first bond proposal was that it wasn't linked to an 'educational plan to provide full education programs to kids within these buildings.'
'There was a lack of strategic planning,' she adds. 'The primary objective should have been to control costs, see how many schools we can operate.'
Instead, she says, the bond measure went out before the new high school framework was finalized. Also, an effort to balance enrollment at a half dozen K-8, middle and elementary schools is still underway.
District leaders admit the process was flawed, and put on hold as the school board shifted its attention to redesigning the high school framework.
But that's why they want to bring all of the facts and people to the table this time around.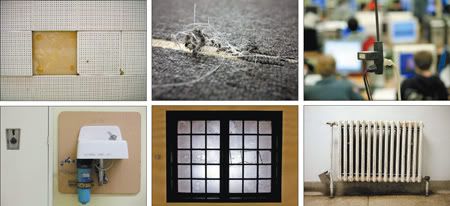 Tribune Photos: Christopher Onstott • Unsafe and outdated conditions at Cleveland High School - pictured here with closeups of the tile, carpet, electrical, plumbing, window and heating - would have been fixed if voters had approved a May school modernization bond. Such problems are persistent across the district. PPS will lay the groundwork for a deeper, more public look at the aging facilities.
Figuring it out
To empower people with the data they need to be informed participants in the long-range facilities process, Scholes says they'll soon distribute fact sheets and posters, and try to rally everyone to the table to shape the discussion together.
'Everybody wants to know what the secret plan is for the bond,' he says. 'I've looked - there isn't one.'
When it comes to feedback from the last bond effort, 'I haven't heard anyone say we don't need to fix the schools,' he says.
Scholes, a Cleveland High School parent, is no stranger to school funding campaigns - he managed the PPS local option levy campaign in 2006 and volunteered for every school campaign since his son started school at Buckman Elementary.
As a canvasser for the May capital bond measure, he recalls hearing about residents' tough financial situations, and he knows the economic climate will be a major challenge.
'We have to take that into consideration when we put something in front of voters,' he says. 'But that doesn't mean we can stop educating our students. We can do the best we can.'
Bailey, the Northeast Portland schools activist, also wants to see focused outreach to the people who don't show up at those meetings - 'just about anybody who isn't white middle-class and upper-middle class,' he says.
The nonprofit advocacy group Community and Parents for Public Schools, which Bailey cofounded, recently attracted 300 parents to its annual parent leadership conference from all walks of life, he says. He imagines that CPPS could be part of the bond outreach process, along with other community groups that have reach into demographics of the city that aren't traditionally at the table.
'The need is huge and overwhelming,' he says. 'Parents who are in the buildings know it's in lousy shape. We need to get more community members into the buildings.'
The latest public process, Bailey says, should mobilize residents who don't have kids in schools, through efforts like hosting business association meetings at the schools, offering 10-minute walking tours, and saying, 'Help us figure this out.'
This email address is being protected from spambots. You need JavaScript enabled to view it.
---
• District takes on energy-saving projects in schools
While Portland Public School buildings are an average of 65 years old, and two schools - Richmond Elementary and Jefferson High - are at least a century old, district leaders have made piecemeal upgrades in the most sorely needed spots.
District leaders have leveraged partnerships with public and private entities to build new fields at Roosevelt, Benson and Lincoln high schools; efforts are underway at Grant, Madison, Franklin and Wilson.
Also underway is an effort to replace the remaining oil-fueled burners in school furnaces with natural gas burners at 43 schools, half of the district's buildings. The work is estimated at $6.8 million, but would bring a savings in fuel costs of about $1.7 million per year - meaning the project would pay for itself within five years.
PPS may borrow money to take on that effort; officials are doing more analysis. They're also deep into a slate of 'Recovery Zone' bond program projects throughout the district, which fund energy and water conservation projects.
Some of the completed work includes upgrading energy management systems at 32 schools; building four irrigation systems to replace old and leaky ones; upgrading plumbing fixtures at 83 schools; replacing 15 kitchen ovens and 67 food warmers with energy-efficient ones; and replacing 2,640 incandescent exit lights with LED retrofits.
Estimated savings: at least $1 million in energy costs each year.
Seeing voters smile: priceless.
- Jennifer Anderson