A year to feast on tasty eats
• Local chefs add a bit of spice with some new Portland-area dishes in the past year
One inclement night last winter, I shared a cassoulet à la bouvier with an old friend. Served in a big cast iron skillet, it was smoky, hearty, charred and sweet, with tender red beans and huge chunks of chicken, ham and sausage. I'm still thinking about it.
We were at Tasty n Sons (3808 N.Williams, Suite C, www.tastynsons.com), which at the time had just expanded from brunch into dinner service.
I sometimes wonder if there is an incomplete overlap between the dishes we enjoy the most while we're eating them, and the ones we remember the most vividly later on. I've had several other very good meals at Tasty n Sons - enough to call it, confidently, one of my top five favorite restaurants for 2011 - but nothing sticks in my mind like that cassoulet. And yes, it's still on the menu.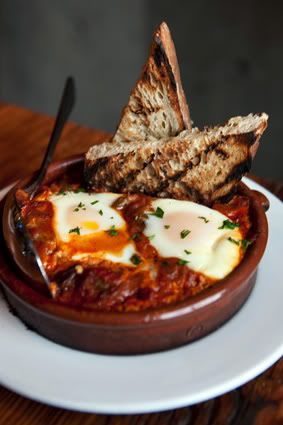 Tasty n Sons, a new favorite in town, offers up a shakshuka, red pepper and tomato stew with baked eggs and merguez sausage at their North Portland location.
Another spot that I reviewed enthusiastically at the beginning of the year was Little Bird (219 S.W. Sixth Ave., 503-688-5952, www.littlebirdbistro.com). It was the first of a flurry of French restaurants to open in 2011, and, in my experience, the best. I loved the cocktails, I loved the duck confit, and I loved the desserts.
Little Bird is very different from Tasty • Sons in style, but it contributed in equal part to idea that has been evolving in my head over the course of the year. It has to do with what makes a Portland restaurant truly a Portland restaurant, and it has to do with generosity. This was conveyed to me at Little Bird in the form of a huge, beautiful, delicious butter lettuce salad. The size of the salad wasn't the main thing - it was the sense that behind its composition was someone who really cared, a hospitable and discerning host who selected an excellent blue cheese and then crumbled it over the salad unstintingly.
TRIBUNE PHOTO: CHRISTOPHER ONSTOTT • Little Bird is a new French bistro created by Le Pigeon chef Gabriel Rucker, with daily specials including the roasted marrow bones.
Fleshing out my theory were a couple of straightforward yet celebratory meals at Olympic Provisions NW (1632 N.W. Thurman St., www.olympicprovisions .com). Olympic Provisions is taking the artisan charcuterie world by storm, and they've also created a cozy dining room in industrial Northwest Portland where rotisserie chicken vies with a Italian-inspired specials created by chef Erin Williams.
A simple pasta dish was every bit as good as more pungent dishes bolstered by the house salamis, and it's nice to see a female chef who is breaking some ground in a field that is still mainly populated by men.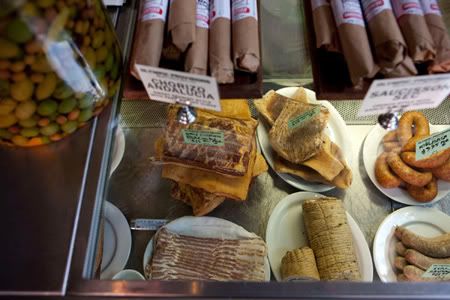 TRIBUNE PHOTO: CHRISTOPHER ONSTOTT • Olympic Provisions NW has taken the artisan charcuterie world by storm, with a cozy dining room in industrial Northwest Portland rated one of the best new restaurants of 2011.
Breaking new ground in a different way is Natural Selection (3033 N.E. Alberta St., www.naturalselectionpdx.com). Here, chef Aaron Woo has found a way to make seasonal dining even more seasonal by cutting out those predictable mainstays, meat and dairy. I ate at Natural Selection in late summer, when corn, tomatoes and melon were front and center. Now persimmons, sunchoke and Brussels sprouts are on the menu, and are being turned, I'll wager, to equally good account.
This restaurant has made a final break from health-food vegetarianism, and entered the world of indulgence, including a nice wine list and a series of elegant cocktails.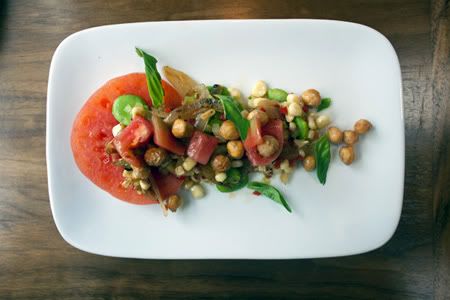 TRIBUNE PHOTO: BECCA QUINT • Natural Selection, a new restaurant on Northeast Alberta Street with a focus on fruit, nuts and grains, offers tomato, corn and favas as part of a four-course, fixed-price dinner.
Of course, cocktail worship is rampant these days. Central (220 S.W. Ankeny St.) started out as a cocktail bar, but more recently, it has gotten serious about food. I was first impressed by a drink called a spiced New York sour, and then by ahi wrapped in brioche. The atmosphere is dark and clandestine. Dishes are delicate and meticulously composed, but with assertive flavors that, in their way, deliver that sense of openhandedness that I have been looking for - and often finding - this year.
Central's chef is Jake Martin, who left Carlyle when it closed in February 2010, and moved on to the even more elegant Fenouil, which closed this April. He's an emblem of how poorly fine dining has fared in recent years, and how the restaurant world has adapted.
TRIBUNE PHOTO: CHRISTOPHER ONSTOTT • Central is a classy cocktail bar-turned-restaurant on Southwest Ankeny with chef Jake Martin - formerly of Carlyle and Fenouil fine-dining restaurants - offering up plates such as the ahi tuna, which is wrapped in brioche and arranged on a trio of purees.
So, looking ahead at 2012, I am going to play it safe. The three new ventures that I am most excited about are all from well-established local chefs.
Cathy Whims of Nostrana has opened Oven and Shaker (1134 N.W. Everett St., www.ovenandshaker.com) in the Pearl District. She's working with Ryan Magarian to make sure the cocktails are as innovative as the pizza is traditional.
Oswaldo Bibiano of Authentica has opened a second Mexican restaurant, Mextiza (2103 N. Killingsworth St., www.mextiza.com). Just reading the menu makes me hungry: prawns in mole, chorizo with black eyed peas, rotisserie pork. Mextiza also offers a traditional Caesar salad, and I'm hoping that it will overcome the curse that makes it so difficult for a Portland kitchen to turn out a decent Caesar.
Finally, I can't wait to try Interurban (4057 N. Mississippi Ave.), a collaboration between Prost's Dan Hart and Tasty n Sons' John Gorham. Before I return to the cast iron cassoulet, I have to visit this new spot from the same chef, which will highlight, among other things, rotisserie meats and a corn dog based on a hot dog from Olympic Provisions. I should also mention that both Interurban and Oven and Shaker are backed by ubiquitous restaurant kick-starter Kurt Huffman.
The watchword for 2012 is collaboration, a natural outgrowth of generosity.
This email address is being protected from spambots. You need JavaScript enabled to view it. and on Facebook at Bread and Brew