FONT
SHARE THIS
MORE STORIES
---
Churchs shelter overflows with need
New city camping proposal could ease burden on groups
They just keep coming - single women, with toddlers, no longer able to pay the rent, mothers and fathers with children who have been sleeping in the family car for weeks.
---
Their destination: Eastminster Presbyterian Church on Northeast Halsey Street.
This is not what pastor Brian Heron and the faithful at Eastminster anticipated when they decided to turn their Sunday School rooms into the city's eastside homeless shelter for families. But this is what they've got.
Last year, elderly members of Eastminster (the average age of the congregation's 30 or so regulars is about 80) answered a desperate call from Human Solutions, the nonprofit charged with operating the city's eastside family shelter. The nonprofit had no space for an eastside family shelter. Human Solutions staff made more than 200 calls to churches, synagogues and mosques, begging them to host families.
Eastminster finally came forward, and last winter, most nights 35 to 40 people slept on cots in unused Sunday School rooms and ate a dinner provided by volunteers, some from other churches. When the shelter opened this year on Nov. 1, nine people showed up. By the end of November, the nightly counts had reached 70, and occasionally more.
Last week, 90 people a night began coming to Eastminster, some parking their cars in the church lot hours before the 7 p.m. opening time. About half are children who have no place to live, and most of the children are under age 5.
Eastminster has responded by opening its fellowship hall. The families can't enter the hall until 9 p.m., after a local Girl Scout troop has finished its weekly meetings, or a prayer class has concluded, depending on the day of the week.
The families must be gone by 7 a.m., with the hall restored to its normal state.
The Sunday School rooms have permanent cots set up and storage areas, so families can leave belongings during the day. But those sleeping in the fellowship hall have to move out their cots and belongings before leaving.
Though Eastminster is designated as a warming center for families, last winter Human Solutions also allowed a number of single homeless women to stay the night. Last week that changed too - single women are now told they must look elsewhere.
According to Heron, the fire marshal says no more than 102 people can stay overnight in the church. Jean DeMaster, executive director of Human Solutions, says if the numbers continue to grow, the group will not redirect families somewhere else. They will simply have to turn families away.
'Everybody's full. There's no place else,' DeMaster says.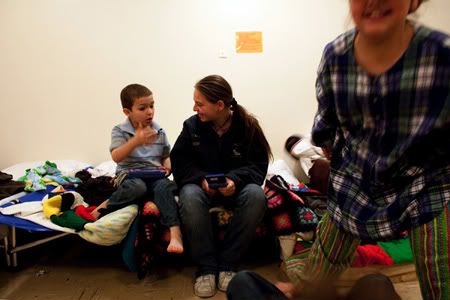 Tribune Photo: Christopher Onstott • Mari Beth Smith spends time with son Jeremiah and her three other children before the lights go out at the Eastminster Presbyterian Church homeless shelter. Overnight guests are required to leave the church by 7 a.m. each morning.
Ministering to the poor
On Tuesday, about 30 representatives of the faith community and other organizations met at Congregation Beth Israel in Northwest Portland to discuss how they can help the homeless. Paul Schroeder, coordinator of the New City Initiative at nonprofit JOIN, had a more specific agenda: He asked Portland-area churches, synagogues and mosques to help with the unexpected overflow at Eastminster.
Calling his initiative the Covenant of Hope, Schroeder appealed to religious leaders to each commit their congregations to sponsoring a homeless family through the winter. For $2,400, a congregation would pay three months' rent and utilities for one of the Eastminster families. Volunteers could also invite their sponsored families to congregation events and provide extras such as occasional transportation needed by the families.
Schroeder hopes to find 10 congregations to start sponsoring families in January. If each took on one family, that would reduce the load at Eastminster by 30 or 40 people.
'What we're trying to do is help people approach this from a place of abundance, saying, 'God has blessed us, surely we have something to share, especially at this time of year,' ' Schroeder says.
Schroeder left Tuesday's meeting with commitments from two churches to sponsor families - First Congregational United Church of Christ and St. Andre Bessette Roman Catholic Parish, also known as the Downtown Chapel.
In addition, representatives of two other congregations told Schroeder they were working toward securing commitments. Others say they would explore the possibility of sponsoring homeless families.
Anton DeWet, minister at First Congregational Church downtown, was the first to step forward.
DeWet, who arrived in Portland 18 months ago from South Africa, says downtown churches must engage the homeless if they are to stay 'relevant.' DeWet called Schroeder's idea 'brilliant.'
'We've become so middle class and upper middle class that we've forgotten that the entire foundation of our faith tradition is based on Jesus, who absolutely ministered to the poor,' DeWet says.
In addition, next week City Commissioner Nick Fish will introduce a city resolution to allow vehicle camping on church property within the city, according to his chief of staff, Betsy Ames. The measure is modeled after a program in Eugene, which allows vehicle campers to stay overnight in church parking lots.
David Leslie, executive director of Ecumenical Ministries of Oregon, has been pushing for the new ordinance. Leslie says he thinks he can line up a number of churches willing to host the homeless campers if the measure passes.
---
• Families in shelter need food for dinner, volunteers
Human Solutions, which runs the overnight family shelter at Eastminster Presbyterian Church, says it desperately needs help. Most nights, the families at the shelter have nothing to eat for dinner.
Human Solutions is looking for organizations or people to choose one night a week to bring in dinner - from homemade casseroles to take-out pizza - for the 90 or so parents and children staying the night.
In addition, Human Solutions needs volunteers willing to stay overnight as hosts in the church fellowship hall, from 9:30 p.m. to 7 a.m.
An overnight host can sleep on duty, but must be present to assure the safety of the families sleeping in the hall.
To volunteer, call Michael Lodge at Human Solutions, 503-863-7925.
- Peter Korn