Schools career program plants seeds of change
Madison garden breaks ground in higher learning
Like most teens, Kristopher Campbell used to eat anything he could get his hands on, no matter how much it was processed, where it came from or its nutritional value.
After watching 'Food Inc.' - the 2008 documentary on U.S. corporate farming - he's cut back, way back.
'Before, I didn't even know what the word sustainability was,' says the 16-year-old Madison High School junior. 'Now I told my mom I want to eat more produce. I used to eat all burgers, steaks. Now I'd rather eat a fruit.'
His classmates have similar stories after their first semester of Madison's three-year-old sustainable agriculture class, a science elective that paves the way for career pathways in the emerging areas of environmental science and other food-related ventures.
The class is part of a new effort to develop a career technical education (CTE) program in sustainable agriculture, much like the various CTE programs scattered throughout Portland Public Schools and focused at Benson Polytechnic High School.
'Our food system is changing so fast, I think a lot of jobs in this industry don't particularly exist yet,' says Susan Wiencke, the district's garden coordinator, who leads a segment of the Madison class from the school's outdoor classroom and garden. 'My dream is that they create the kind of jobs we need.'
The Oregon Department of Education last year approved Madison's CTE application; now a Madison-based CTE advisory committee for the program is working to build connections to Portland Community College and local leaders in horticulture, agriculture and related fields.
At the same time, the school district's blue-ribbon task force on career learning is preparing to reconvene in late January.
Career pathways coordinator Jeanne Yerkovich says the goal is to help students explore what they're interested and not interested in, in order to pursue a high-demand, high-wage job.
'We're helping them go deeper,' she says. 'This is not the old vocational ed model, kids that are not college bound. … Research shows that they need some post-secondary after high school in order to have a family-wage job. But it doesn't all have to look alike.'
The district's career learning task force will try to come up with a short-term plan for district offerings by the end of the school year, and a five-year plan by the fall, Yerkovich says.
As part of the district's new high school framework, each high school for the first time has a career coordinator on campus, to help support their goals.
Yet the district's CTE programs must share the same pot of federal Perkins money to support everything from classroom learning to professional development.
According to the state Department of Education, PPS will receive $482,652 for its CTE programs in 2011-12, $6,000 of which will go to Madison. They'll spend $3,500 on their curriculum development, $900 for reference materials and $1,600 for tools.
Beyond that, schools must seek grants and partnerships to support their efforts, says Pat Thompson, the district's CTE coordinator.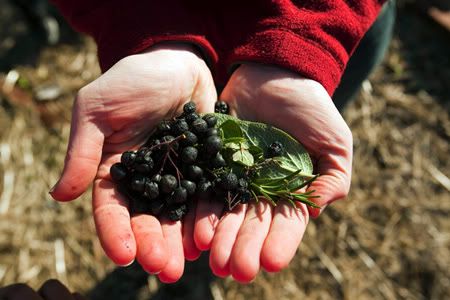 Tribune Photo: Christopher Onstott • PPS garden coordinator Susan Wiencke and Madison teacher Rachel Stagner lead the district's first sustainable agriculture course at Madison's outdoor classroom and garden. The program is on its way to becoming the latest career-technical education offering at Portland's high schools.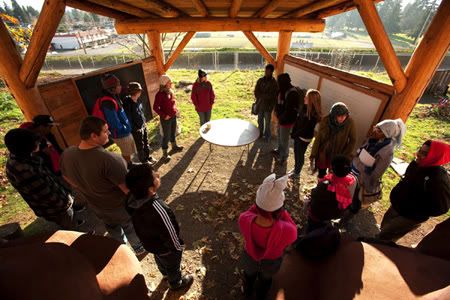 Scouting garden plots
In Rachel Stagner's sustainable agriculture class at Madison on Tuesday, students reviewed what they've learned about the food cycle, from field to plate.
Ironically, one student who just came in from lunch was finishing off a fast-food taco. His classmates sarcastically ribbed him a bit: 'Look at him, eating that healthy food over there, all that fake meat.'
'It's healthy - it has lettuce, cheese,' the boy said in defense. 'Tastes healthy, too - 49 cents.'
On a campus of high-need students, organic produce is out of reach for most: 'Students went to a grocery store, looked at the prices and said, 'We can't afford this,' ' Wiencke says. 'It's a social justice issue.'
That's why learning about cover crops, plant and seed types is about economics as well as health and the environment, Wiencke says. 'If you can learn the skill of growing your own food, you have it for your whole life,' she says. 'Once you have the infrastructure, it's cheap.'
The Madison garden broke ground in 2007, and consists of annual beds for classroom use, an outdoor classroom, a food forest with perennial food sources and a storage shed. An Anne Morrow Lindbergh grant funded the garden's upstart with $10,000; another grant funded a small greenhouse, and hundreds of volunteers organized by the City Repair Project built the outdoor classroom.
On Tuesday afternoon, students spent the second half of their 90-minute period cheerfully scouting their garden plots to see how the plants they've been tending were preparing for winter.
'We put hay over (the beds) so stuff won't grow through,' says Campbell. 'We're continuing the generations of the garden; it's cool.'
Cinderella pumpkins
When the CTE program becomes official, students may apply to it after completing their freshman biology class.
The introduction to sustainable agriculture class will involve field trips to PCC as well as Clackamas Community College and Oregon State University to explore related career and college paths.
Other students interested in food who aren't in the program may also get involved through extracurricular activities such as the lunchtime Compost Crew, which maintains the school worm bins and converts cafeteria waste into compost.
The after-school garden club organizes the annual campus-wide Food Week in the spring, which involves guest panels, cooking classes, garden classes, films and composting demonstrations.
Since Portland's comprehensive high schools enroll just their neighborhood students, Madison's program isn't available to students in other parts of the district - for now.
There's been some talk about allowing upperclassmen to shuttle back and forth for part of the day to take advantage of a CTE program at another school, but no planning around such an initiative has begun.
In the future, Wiencke would love the school to offer a plant production class - a business class about how to market and sell food.
But there's a long way to go. When the class made a curry pumpkin soup this fall with the huge Cinderella pumpkins the students had harvested, they had to scramble to use the oven in one classroom and the burners in another, since there's no fully equipped kitchen they can use.
That doesn't mean it wasn't a memorable experience.
'The entire team came in and feasted on it,' Wiencke says. 'They said, 'Wow, this is so good; I don't even know what it is.' It was so cool - these were students that wouldn't normally hang out together, but food brought them together.'
---
• High schools offer career training programs
Career Technical Education programs are offered at five of the seven PPS comprehensive high schools, one alternative school and one of the two focus-option high schools:
• Alliance High School: design and applied arts; mechanical systems/automotive; natural resources; manufacturing technology
• Benson Polytechnic High School: arts and communications (graphics and radio broadcasting); building construction; electrical engineering/technology; health services; manufacturing and transportation technology
• Cleveland High School: accounting and financial services; marketing and management
• Franklin High School: accounting and financial services; business marketing and management; building construction; metals and manufacturing
• Madison High School: health services; sustainable agriculture
• Roosevelt High School's Power Academy: health services
• Wilson High School: digital media and design production (just started this fall)
• Lincoln and Grant high schools and Jefferson Middle College: discussions are underway.