FONT
SHARE THIS
MORE STORIES
---
That's so Portland!
The Rose City made a few unusual waves as it floated through a turbulent and eventful 2011
On the surface, 2011 was the year that Portland went mainstream, thanks in large part to two network TV series.
---
'Portlandia' on IFC pokes gentle fun at our foodies, bike fanatics, old-school feminists and even Mayor Sam Adams - or a reggae bass-playin' version of Sam Adams.
NBC's fantasy/cop drama 'Grimm' showcases the region's breathtaking scenery, older buildings and Craftsman-style houses we almost take for granted.
Our fame is now so great that 'Leverage,' the TNT series filmed here for several seasons but set in Boston, is officially moving its fictional crew of lovable grifters to Portland next season.
Look closer and you'll agree that Portland is still weirder than even The New York Times - which seems obsessed with us as the 'New Brooklyn' - understands. And the number and variety of stories we covered in the past year makes it clear that the city cannot be easily classified.
See if you don't agree after reading our year-end roundup.
Portland stays weird in 2011
• Inner tube party on the river
Hundreds of Portlanders grabbed inner tubes and paddled across the Willamette River on July 31, in an event billed by organizers as The Big Float. Organizers Will Levenson and Travis Williams, both leaders of the Willamette Riverkeeper group, wanted Portlanders to think of the once-heavily polluted river as a place to swim again.
• Not-so-happy meals
Short of revenue for its inspection teams, Portland, like many cities, relies on a complaint-driven system. City code violations are only investigated once a citizen complaint is filed. Turns out, more than a few people have begun using the complaint-driven system to carry out personal grudges and - who would have thought that? - gain a little business advantage, as the Tribune showed in its Snitch City series this fall.
Nothing says Portland better than food carts, and complaints against food cart operators and the properties on which the carts sit have become common. A number of the carts have some code violations, a fact that competing carts and nearby property owners have been more than happy to exploit using the city's system.
• Goin' green while greenbacks are tight
Despite a lingering economic slump that squeezed public funds, Portland kept its reputation for green innovation.
The Rose City finally finished the $1.4 billion Big Pipe project, which could help clean the Willamette River. Portland banned big, single-use plastic bags at major grocery stores, while Multnomah County enacted the state's first restrictions on products laced with bisphenol A, or BPA.
Portland expanded curbside composting to include kitchen waste, and forced residents to make do with garbage pickup every other week instead of weekly. The Oregon Zoo made progress on its goal of becoming the nation's most sustainability- minded zoo. Getaround, a new carsharing service, came to town, and the city snared funding for a bike-sharing program. And Portland continued making improvements to its nationally praised bikeway system, including projects east of 82nd Avenue.
• On our honor
Maybe there's a city out there that lets public transit riders hop on and off its downtown trains without paying. But we doubt there's another one that relies on the honor system to keep riders outside of downtown honest. Or one that says streetcar fare inspectors are really fare assessors, authorized only, according to transportation officials, to explain the honor system to non-paying riders and show them where they can buy tickets. It's Portland's version of 'concierge service,' according to the city's transportation bureau.
That's what the Tribune revealed in a series of stories in February and early December. Transit officials said this month that the honor system and the free-ride zone for the streetcar may soon end, a victim of city budget woes.
Tribune Photo: Christopher Onstott • 'Mental illness, alcoholism, trouble with the law - sounds vulnerable to me,' joked 50-year-old David (left) in assessing his chances to be rated one of Portland's 130 most vulnerable homeless. In June, Daved became one of the first to be offered an apartment in Bud Clark Commons. By September, all the building's apartments were rented to those among the chronically homeless judged to be most vulnerable.
• Whoop whoop
Housing officials in New York say they'd never try it, but Portland's largest public housing project - the $47 million Bud Clark Commons - opened in June with an unusual population of residents. Housing officials tested the city's chronically homeless to determine who had the highest vulnerability - basically assessing who might die or get assaulted first if left on the street. Those with the highest scores were invited to live in one of the Old Town building's 130 apartments.
Housing representatives in other cities voiced concern about having one building full of people with drug and psychiatric problems, fearing they might not get along. But so far, according to the city's housing authority, there have been no major problems at the Commons, though four residents have had to be evicted.
One unfortunate and hard-to-explain outcome that housing officials said might result from housing a population of people accustomed to living on the street was that some, in the comfort of their new apartments, might pass away.
That, sadly, has happened, with four residents dying within months of moving into their apartments.
• Speak up, we can't hear you
For those of you thinking of complaining to TriMet about the behavior of a bus driver, don't bother. In November, the Tribune won a public records appeal because we wanted to know what happened to the bus driver who forced a mother and child off her bus in Hillsboro when the child would not stop crying. TriMet only said the driver had been 'disciplined.'
But the driver, Claudeen Hendren, had a personnel file filled with 209 complaints from riders during the past decade. She also had a history of stopping her bus to confront noisy passengers, and had once demanded that all her riders come up and pay their fares again, apparently for no good reason.
Yes, she's still driving a bus. TriMet decided to give Hendren one last chance at improving her, ahem, customer-service skills.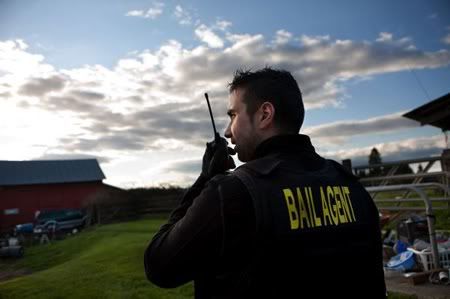 Tribune Photo: Christopher Onstott • Vancouver, Wash., bail bondsman David Regan searches for a client who failed to appear in court and defaulted on his bail. If he cannot bring the client to court, Regan will owe the court the full default amount. Bail bondsmen such as Regan are not allowed to operate in Oregon and claim their fugitives move to Oregon for precisely that reason.
• Oregon: a great place to hide
One unintended consequence of having a state that bars bail bondsmen from operating within its borders is that crooks tend to skip to Oregon to get away from bondsmen hot on their trail.
According to bail bondsmen in Vancouver, Wash., and Idaho, who were interviewed for a Tribune story in April, some people who jump bail head to Oregon - Portland especially - knowing they can hide out and bounty hunters can't come after them. Oregon is one of four states that don't allow bondsmen or bounty hunters.
There's a reverse effect, too, according to the Tribune's story. Because of budget cuts, warrants served on Oregon offenders who don't show up for trial are usually not sent to out-of-state jurisdictions. Seems we don't want to have to pay to bring back and jail small-time criminals who are happy living somewhere far away.
Top 5 stories of 2011
• It's been real
Saying he didn't want to 'phone it in as mayor' during a difficult re-election campaign, Mayor Sam Adams opened the floodgates to new (and not-so-new) candidates looking to chart the next course for Portland.
His late-July announcement, surprising to many, made way for a bevy of young, aspiring politicos as well as the three heavy hitters vying for a May primary election runoff or win.
Businesswoman Eileen Brady, former City Commissioner Charlie Hales and East Portland state Rep. Jefferson Smith are in a scramble for endorsements, fundraising and ideas that will stick.
Tribune Photos: Christopher Onstott • Protesters held their ground Nov. 13 as police tried to evict between 200 and 400 Occupy Portland campers at Chapman and Lownsdale squares near City Hall. They had been camped out since Oct. 6.
• Occupy the news cycle
Occupy Portland made a lot of news in 2011, but what it accomplished is a matter of debate.
Supporters say the occupiers helped focus public attention on the issue of growing income disparity between the top 1 percent, the nation's wealthiest people, and the remaining 99 percent of the population. They also closed a handful of downtown bank branches during a Nov. 17 demonstration that generated a news photo of a young female protester being pepper-sprayed in the face by Portland police.
Detractors note that nothing fundamental has changed at the local, state or national levels. And the Portland Parks Foundation has raised less than half the $85,850 it will take to restore Chapman and Lownsdale squares after the nearly six weeks of Occupy Portland camping in the two downtown parks.
Occupy Portland members have volunteered to help clean and restore the parks.
Courtesy of Natalie St. John • After delivering a brief eulogy on behalf of Yashanee Vaughn's older brother (who was unable to attend), family friend Allen Bell pauses to say a more personal goodbye to Yashanee at her funeral service in July.
• Shocking murder mystery
Even during a summer of growing gang violence, the murder of Yashanee Vaughn was exceptionally horrifying because she was only 14 when allegedly killed by her boyfriend, Parrish Bennette Jr., who was 16 years old. Although Bennette has not been convicted of shooting Yashanee to death on March 19, the evidence presented at his July bail hearing was overwhelmingly against him. It included a cell phone photo Bennette took of himself flashing gang signs and holding the gun prosecutors said he used to kill Vaughn in his bedroom.
Bennette reportedly led investigators to Vaughn's body on Rocky Butte after he was denied bail.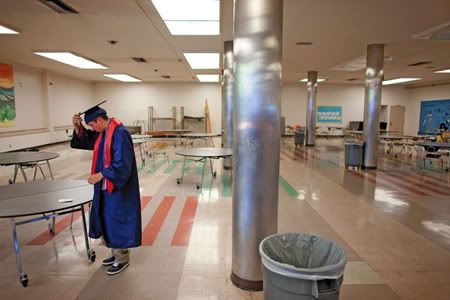 Tribune Photo: Christopher Onstott • In June, Portland's Marshall Campus graduated its last class of students to end its 51-year history. Here, graduate Arron Roy adjusted his tassel just before the small graduation ceremony for Marshall's BizTech High School. The bulk of students from BizTech and the two other small schools were reassigned to Madison and Franklin high schools, while a smaller number went to Cleveland.
• More drama for the mamas
Another year, another school closure. In June, Portland Public Schools said goodbye to 51-year-old Marshall High School - with much of the community still confused about what, exactly, prompted the action.
The ever-changing Jefferson High School, meanwhile, was redesigned once more, with much optimism.
The school district asked voters for money in dire budget times and got a mixed bag - renewal of the local-option levy to support teachers, but no funds to upgrade aging facilities. Citizens blamed a faulty public process.
Now it's onto boundary discussions again, which stalled last year when parents put up a fight. No surprise, new protests have already started.
Tribune Photos: Christopher Onstott • The Portland Timbers enjoyed their inaugural season in Major League Soccer, with plenty of support from the community, including fans such as Filly Afenegus.
• Soccer City, U.S.A.
An army of established Timbers fanatics gained reinforcements galore in 2011 with the long-awaited arrival of Major League Soccer.
The city made it possible by agreeing to kick in $31 million for renovations to PGE Park - now Jeld-Wen Field. That meant the end of more than 100 years of minor-league baseball and the abrupt departure of the Portland Beavers. But to soccer fans, it was a home run.
While the expansion team failed to be one of 10 clubs out of 18 to make the playoffs, the Timbers came close -and whetted their fans' appetite with a fast start at home and glimpses of greatness, including a win over the eventual league champion Los Angeles Galaxy.
Portland's pro soccer presence, which began in 1975 with the smashing success of the North American Soccer League Timbers, gained more recognition than ever, and the MLS club sold out every game at Jeld-Wen Field. The Timbers ranked sixth in the league with an average home crowd of 18,827.
Top 5 non-stories of 2011
• Who's not running for mayor
Speculation about who's not running for Portland mayor has generated almost as many headlines as the race itself.
In the days after Sam Adams said he would not run for re-election, Congressman Earl Blumenauer, Multnomah County Chair Jeff Cogen, Commissioner Dan Saltzman and former Commissioner Jim Francesconi were all named as potential candidates. They all took themselves out of contention. Elements of the downtown business community were rumored to be behind Police Chief Mike Reese's short-lived interest in the race.
Then, shortly after the Portland Business Alliance endorsed Eileen Brady, a coalition of labor unions announced they aren't satisfied with the field and urged more candidates to file. With Brady already raising close to $400,000, that seems like wishful thinking.
• It ain't snow, it ain't snow, it ain't snow
No, it still isn't snowing. Last January, the Tribune published a story showing that people here are much too focused on snow, because for the past 10 years the average snowfall has been a grand two inches per year.
Maybe it's our long memories that have us so wistful for the white stuff, because the average in the 1870s was 20 inches, and in 1871-72 it snowed 50 inches in Portland. In 1892-93, a whopping 61 inches hit the ground here. But all those school kids praying for a snow day? They're living in the past.
• Construction delays continue
Few major construction projects, stalled by the recession, showed any sign of life in 2011. Some even became further bogged down with other problems. For example, Tom Moyer's family is fighting in court while the family company's downtown Park Avenue West project lingers. The developer chosen to renovate Centennial Mills is suing the city for $7.1 million for unexpectedly changing the purpose of the project. The Portland Trail Blazers backed away from a plan to redevelop the Rose Quarter after new goals for the area were announced. And the Sustainability Center proposed by the city and Portland State University still faces an uncertain future in the tightfisted 2012 Oregon Legislature.
• Never-ending investigation
When the U.S. Department of Justice declared with a lot of fanfare in June that it was investigating the Portland Police Bureau for civil rights violations, it seemed like big news. But the year is ending without further announcements from the justice department, suggesting the investigation may simply go away. That is what has happened to previous federal investigations into police-related deaths of minorities, including José Mejía Poot and Kendra James.
• Neglected streets still neglected
More than four years after then-Transportation Commissioner Sam Adams highlighted the poor condition of many Portland streets, they are still not repaired.
Adams held a series of Town Halls in the summer of 2007 to build support for a street maintenance fee to fix the many miles of roads in poor condition. But he dropped it after a threatened ballot referral drive and with no other funding source found.
In fact, the Portland Bureau of Transportation, which Adams oversees, has proposed limited routine maintenance only to major thoroughfares that carry automobiles, freight trucks, bicycles and pedestrians. At the same time, many Portlanders are upset that the city has pursued and secured dedicated funds for Portland Streetcar and bicycle projects.
Ways in which Tribune stories made a difference in 2011
• Mr. Smith runs for mayor
A series of articles shined a spotlight on humble East Portland, the sprawling area east of 82nd Avenue that's home to more than one-fourth of the city's population yet often gets snubbed by City Hall - despite high poverty and a growing concentration of racial minorities and immigrants. State Rep. Jefferson Smith, who represents much of the area, says the continuing news coverage helped propel his decision to run for Portland mayor.
'The ongoing work of the Tribune was a big part of what spurred me to run,' he says.
• Rethinking 'Lottery Row'
Call it unfinished business, but Oregon State Lottery officials vowed to seek new state regulations in response to coverage of 'Lottery Row' in Jantzen Beach. The tiny strip center is home to a dozen small shops, each generating much of its money by hosting state video lottery terminals.
Retailers subdivided their shops to create clones next door, effectively evading the state limit of six electronic slot machines per site. The seedy strip center has a casino-like atmosphere, becoming a vice and crime magnet and attracting throngs of Clark County residents who cross the state line to gamble and buy cheap cigarettes.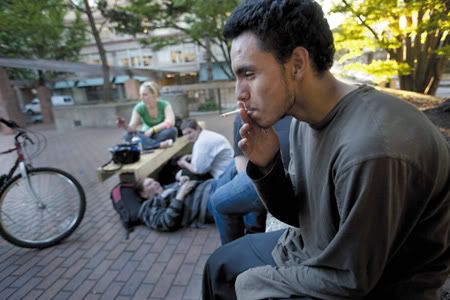 Tribune Photo: Christopher Onstott • Estevan, 15, who had his first cigarette at age 8, smokes with friends on a Friday evening in O'Bryant Square. Federal statistics show that Oregon is one of the easiest places in the country for youth to illegally buy cigarette, but changes following a Tribune story might help bring that number down.
• Are you old enough to light up?
In August, a Tribune investigation revealed that Oregon had stopped enforcing laws outlawing sales of tobacco to minors. The state still used inspectors who work with teenagers (working undercover, of course) to make illegal cigarette buys at stores. But the inspectors, after successful illegal buys, had stopped citing and fining the store where the buy was made. Instead, they kept a record of how many successful buys occurred in order to meet federal reporting requirements.
That's likely to change, according to state Rep. Carolyn Tomei, D-Milwaukie, who will introduce a bill in February to allow OLCC inspectors to perform the federally mandated teen tobacco stings with the authority to enforce state laws outlawing the sales, including fines up to $720 for each buy made.
• Sidewalk's herbal remedy
Morteza Aleali runs a small herb shop on a mostly deserted stretch of Northwest Couch Street in Old Town. The location isn't the best for a guy who depends on walk-in customers. It became worse once the city required owners of the historic Sinnott House, at the corner of Couch and Third Avenue, to block off the sidewalk on Aleali's side of the street.
After about a year and a half of blocked sidewalk and diminishing business, Aleali asked the Tribune to look into the matter. The city, it turned out, had required the sidewalk blocked because plaster had been falling from the exterior of the Sinnott's upper floors and officials were afraid a pedestrian might get brained.
A couple of news stories later, the Portland Bureau of Development Services began fining the Sinnott's owners. In April, the sidewalk was reopened with scaffolding to protect pedestrians.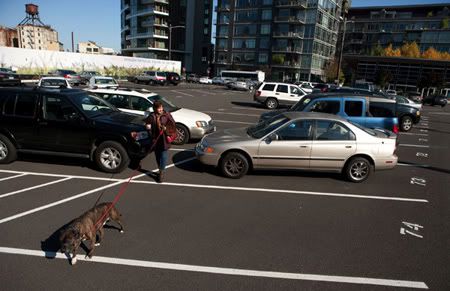 Tribune Photo: Christopher Onstott • This parking lot on Northwest 11th Avenue at Overton Street, has been paved and sells monthly parking permits despite a central city moratorium on new parking lots. Last week a city hearings officer told the property owner, Hoyt Street Properties, to eliminate the parking lot or face a $30,000 a month fine.
• No harm, little foul
In the category of 'Ask for forgiveness rather than permission,' we list Pearl District developer Hoyt Street Properties. A Tribune story in early November revealed that the company has for three years operated an undeveloped piece of property between Northwest 10th and 11th Avenues as an illegal, un-zoned parking lot. Monthly rate for a parking space? One hundred dollars.
Last week, city Hearings Officer Gregory Frank listened to the Portland Bureau of Development's case against Hoyt Street Properties. Tiffany Sweitzer, Hoyt Street's president, conceded on virtually every point: Hoyt Street had no right to pave its property or park cars there, and it had ignored notification as far back as 2008 about all that from city inspectors.
Frank ruled the city's complaint valid. In his decision, Frank didn't base the penalty on an estimate of how much revenue Hoyt Street has generated running its illegal parking lot. Not even close.
Frank followed the bureau of development services recommendations: that Hoyt Street pay $1,475 as the cost of city inspections, as well as a $5,500 civil penalty, estimated at half of one month's parking revenue. And, again following the city's recommendation, Frank said he'll suspend a $30,000 monthly fine for aggravating circumstances if Hoyt Street gets rid of the cars, puts up a fence, and basically, promises to just quit it.
• Let's not get cell-fish
Residents of Portland's Concordia neighborhood woke up Aug. 5 to find the first stages of what appeared to be a cell phone tower being constructed on private property on Northeast Prescott Street. They claimed they hadn't been notified, and that city code requires cell towers in residential neighborhoods only if other alternatives aren't available.
The neighbors called the Tribune, which called city Commissioner Dan Saltzman's office, because Saltzman oversees the city's Office of Community Technology. Within hours, city workers were at the site telling the construction crew it had to halt work.
Turns out T-Mobile was working on a permit that had expired years ago. The company and the neighborhood are still tussling on the matter.
Tribune Photo: Christopher Onstott • The early hours around sunrise are when drug dealing and drug use reach their peak in the section of Old Town known as Crack Alley. Following a Tribune series on the Old Town drug trade, Portland Mayor Sam Adams instituted a set of policies, including a modified drug exclusion zone, to help combat the problem.
• Alley is cracking up
In the hours before sunrise, Portland police officer Daryl Turner, also president of the Portland police union, took a Tribune crew to what officers call 'Crack Alley.' A group of 10 to 15 drug dealers and users was gathering at Northwest Flanders Street and Sixth Avenue, brazenly plying their trade at an open-air market.
Old Town residents in the stories that resulted talked about an increasingly aggressive and confrontational breed of drug users and sellers who were terrorizing them. The neighborhood association subsequently wrote a letter to Mayor Sam Adams asking the City Council to reinstate Drug and Prostitution Free Exclusion Zones that had expired in 2007. Turner and other police officers felt the zones gave them a valuable tool in helping drive drug dealers out of the neighborhood.
In April, Adams announced the institution of new measures to fight the neighborhood drug trade, including a new version of drug-free zones called drug impact areas that allow judges to exclude convicted users and dealers from re-entering the neighborhood in which they were arrested.
In addition, Adams announced added police presence in Old Town and money that would allow the district attorney to prosecute more drug crimes.
Ways history repeated itself in 2011
• Lost Portland-based companies
Tazo Tea, a Portland-born and nurtured company purchased by Starbucks in 1999, was picked up by the giant coffee shop chain and moved lock, stock and zesty teabag to the Seattle area.
McCormick and Schmick's Seafood Restaurants, a premiere national chain of upscale eateries that also was born and based here, was bought by Houston-based Landry's.
Kettleman Bagel Co., which makes its own bagels and sells them at five shops, was snapped up by The Einstein Noah Restaurant Group Inc., based in Lakewood, Colo.
Rejuvenation Inc., a locally owned and based institution known for its vintage lighting, hardware and furnishings, was purchased by Williams-Sonoma Inc. of San Francisco. In that case at least, the purchase may bring new jobs to town, rather than moving them out of Portland.
In past years, Portland companies have been ripe acquisition targets, reducing the number of corporate headquarters here and thinning the ranks of CEOs among the city's civic leaders. The list includes U.S. Bank, Fred Meyer, Willamette Industries, PacifiCorp and Payless Drugs.
• Paper industry shredded
Speaking of lost companies, a century-old paper mill was shuttered when Oregon City's Blue Heron Paper Co. closed its doors for good in February. Blue Heron, owned by its workers, relied on buying recycled paper to make newsprint.
But China is bidding up the price so high that much of the recycled paper that Portlanders put out on the curbside is getting shipped to China, depriving local mills of raw material.
One of the other surviving paper mills in the greater Portland area, SP Newsprint in Newberg, may be next. Its parent company filed for bankruptcy in November. A decade ago, the pulp and paper industry accounted for 6,300 family-wage jobs in the Portland area. Now that's closer to 3,200.
Tribune Photo: Christopher Onstott • Aaron Saurano, 8, climbs a fence while hanging out with other neighborhood boys at the Wood Village Green. It's one of three mobile home parks in the community, where many Latino families have managed to buy their first homes. Wood Village now ranks as the most diverse city in the Portland area.
• Displacing minorities
Blacks have been pushed out of their traditional neighborhoods in inner North and Northeast Portland in waves for years: first to make way for an Emanuel Hospital expansion that never occurred; then to construct Interstate 5; and to build Memorial Coliseum.
The post-2007 foreclosure crisis has operated differently but just as insidiously. The homeownership rate for blacks in Portland has dipped in recent years, while growing for Latinos. The 2010 Census data confirmed what many already knew: blacks and other minorities are increasingly settling east of 82nd Avenue and in Portland's suburbs.
Wood Village now ranks as the most diverse city in the Portland area.
• Another early exit
The Trail Blazers began the 2010-11 season with plenty of promise. Brandon Roy was an established All-Star, LaMarcus Aldridge was a budding one, and there was hope that center Greg Oden would finally fulfill dreams that began when he was taken with the No. 1 pick in the 2007 NBA draft. Finally, it seemed, Portland might win its first playoff series since 2000.
Aldridge emerged as one of the league's best forwards, but that was about it.
Roy fell victim to surgeries on both knees and eventually chose to retire, having played his final game at age 26.
Oden underwent knee surgery in November 2010 that was to sideline him for the entire season.
Still, Portland had a successful regular season, going 48-34 to finish sixth in the Western Conference. And the Blazers gave Dallas fits at times before falling 4-2 in the first round to the team that went on to win the NBA championship.
Shortly after that, owner Paul Allen fired general manager Rich Cho, who had replaced Kevin Pritchard the previous year after Pritchard was fired.