FONT
SHARE THIS
MORE STORIES
---
BEST PHOTOS OF 2011
---
Occupy Portland takes democracy to the streets, Oct. 20
Tribune Photo: Christopher Onstott
A young Occupy Portland protester burns a dollar bill in defiance of corporate greed during the early days of the camp at Chapman and Lownsdale squares. Although the campers were evicted on Nov. 13, some still hold noisy demonstrations around town.
Welcome to the club, Oct. 20
Tribune Photo: Christopher Onstott
"It's a step up from living under the bridge," said Josh Watson, shortly after setting up a donated tent with his wife Tonya at the Right 2 Dream Too homeless camp next to Old Town's Chinatown Gate in October. Despite early complaints from neighboring businesses, the camp is still there and remarkably peaceful.
Audubon Society hopes shelter plan takes wing, Aug. 4
Tribune Photo: Christopher Onstott
The Audubon Society's Wildlife Care Center in Northwest Portland treats about 3,500 injured and orphaned birds and other animals each year, most of them after coming into conflicts with humans.
Life and death lottery, May 5
Tribune Photo: Christopher Onstott
Housing officials this summer opened the $47 million Bud Clark Commons to skepticism from many national authorities. Tenants for the new 130 apartments were the most vulnerable of the city's chronically homeless, including Deborah Douglas, a 55-year-old recovering heroin addict and methadone user.
SEI turns 30: 'We're not going to let them fail', Aug. 18
Tribune Photo: Christopher Onstott
Roman, 3, plays on the swing set at Unthank Park, which has shed its reputation as a gang hotspot thanks in part to positive influences of the Self Enhancement Inc. and the city parks bureau. With more funds, SEI would expand its reach to more schools in Portland.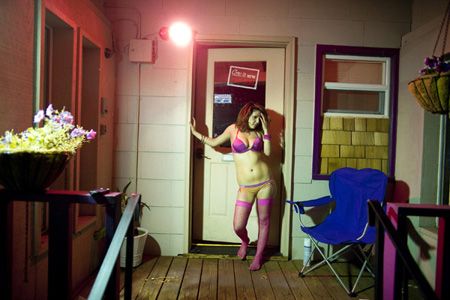 New nuisance rules leave shops untouched, Aug. 18
Tribune Photo: Christopher Onstott
Before losing her job in August, 21-year-old Club Fantasy worker Lindsey Lucero liked to take porch breaks between customers who pay $100 for a half-hour 'lingerie show.' Police say neighbors frequently complain, but the shops and other adult businesses are protected by the Oregon Constitution, leaving the Portland Police Bureau and other agencies little enforcement power.
Occupy Portland's peaceful rally, march attracts thousands, Oct. 6
Tribune Photo: Christopher Onstott
A boy joins thousands of protesters downtown at the Oct. 6 march in support of the Occupy Wall Street movement, which ended with the temporary Occupy Portland camp. Despite the movement's staying power, supporters and detractors are debating how much, if anything, it has accomplished.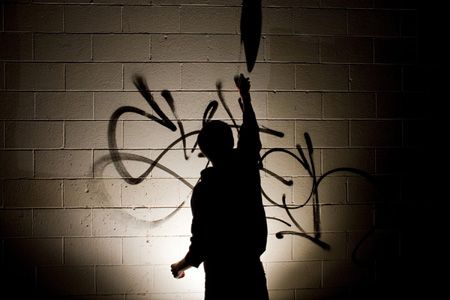 Stains on the Rose City, June 23
Tribune Photo: Christopher Onstott
Portland graffiti writer Switch31 paints his moniker on a Southeast Portland wall. Taggers see their work as art, but the city is trying to clean up the vandalism. The Portland Police Bureau's graffiti unit added a second investigator in the spring.
A crumpling paper industry, March 31
Tribune Photo: Christopher Onstott
Catalina Cruz sweeps up debris near stacks of bundled paper at the Far West Fibers materials recycling facility in Hillsboro. Like other paper mills, Far West is losing business to the heavily subsidized Chinese paper industry. A century-old paper mill in Oregon City closed its doors in February.
Domestic violence killings on rise, June 2
Tribune Photo: Christopher Onstott
"I keep the bullets to show I survived this," says Bobbi Clayton of Gresham, displaying vivid reminders of her marriage: her wedding ring and two bullets taken from her body during a murder-suicide attempt. Her husband did not survive.
Most Oregon kids don't get head start they need, Sept. 29
Tribune Photo: Christopher Onstott
Special Education teaching assistant Colleen Kendall helps Adrean at the playground of Earl Boyles Elementary in Southeast Portland. The school is piloting a comprehensive preschool program for special needs.