FONT
SHARE THIS
MORE STORIES
---
Blind golfer stays on course
Details

Stephen Alexander
Ron Plath doesn't let a disadvantage stop his drive
After teeing up the ball, golfers will inevitably look out over the hole. They see the green grass of the fairway. Off in the distance, they see a flag billowing in the wind. To the left of the fairway, they see the white sand of the bunker. To the right, they see the still, dark glass of a water hazard.
---
Ron Plath cannot see any of that. At best, he sees a fuzzy ball in front of him and dark shapes in the distance that he knows are trees.
But, the Portland resident can hear the ball hit the green. Out of necessity, he takes the time to kneel and touch the long grass of the rough to see how deep it is. He really feels every gust of wind and knows what it will do to the ball. Walking along the course, he can hear the singing of birds which he cannot see.
When he was 26, Plath was diagnosed with macular degeneration, a leading cause of blindness. The disease does not typically strike people until their mid-50s or older. For the past 33 years, Plath's vision has gradually worsened. He is legally blind. But, he has never stopped playing golf - the game he has loved all his life.
'I can't imagine what else he'd do,' Carolyn, Plath's wife of 24 years, says. 'This game is his driving force to go on.'
Plath, 60, began swinging a cut-down 7-iron when he was 3 years old. Plath's family planned all their vacations at golf resorts. They would usually play 36 holes each day.
After Plath was diagnosed with macular degeneration, he eventually had to give up driving and reading. After a 12-year career teaching fifth and sixth grade at McKay Elementary School and gym at Elmonica Elementary School in the Beaverton school district, his vision forced him to retire. Plath resigned himself to everything, except giving up golf.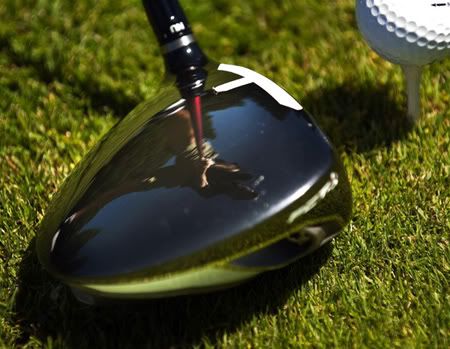 TRIBUNE PHOTO: JEFFREY BASINGER • Ron Plath, legally blind, designed a white T marking on the end of his club to help him line up his swing with what little vision he has.
'Everyone needs something to do,' Plath says. 'No one could tell me it's not possible.'
While his vision was decreasing, Plath's golf game was not. Plath has averaged 240-250 yard drives. He has a very good short game. Since becoming legally blind he has shot a 68. His target score every time he steps onto a golf course is 78.
'Don't get me wrong, I wish I could see,' Plath says. 'But a 78 without vision is more fun than a 78 with vision.'
In 2003, when Plath was 52, the United States Blind Golf Association's National Championship - the U.S. Open for blind golfers - came to the OGA Members Course in Woodburn. Plath's vision had deteriorated to the point where he qualified to play in the B-3 division for golfers with vision no better than 20-200 and no worse than 20-600.
Plath finished third. He went on to win the tournament the next five years. In 2006, Plath won the Canadian Championship in Montreal. In 2008, he won the World Championship in Northern Ireland.
'To win the World Championship, that was definitely the highlight of my career,' Plath says.
One bad knee
Since he began losing his sight, Plath has used several different 'guides,' who help blind golfers navigate the course. Plath's guides have included his father, Ace, his college roommate, Reggie Christenson, and most recently, Carolyn, who he used throughout last season.
Carolyn does not golf. But, she loves being out on the course.
'Ron is a lot more competitive than I am,' Carolyn says. 'I get more nervous in competitions than he does.'
The Plaths do try to make the game fun when they are on the course, though. They also love traveling together to tournaments.
'Trust me,' Plath says. 'I'm under no illusion that I can do it without a coach.'
Plath has had glaucoma for several years. Recently, it got out of control. He had to have laser surgery on both eyes to try to relieve some of the pressure.
'Not good,' Plath says, about the current health of his eyes. 'It's getting interesting. How's that for a phrase?'
As if poor eyesight was not enough of a handicap, Plath has been plagued by a bad left knee.
Plath realized just how bad the knee was after he placed second in the National Championship in San Antonio in October of 2009, ending his streak of five consecutive National Championships.
TRIBUNE PHOTO: JEFFREY BASINGER • Visually impaired golf playing is a true team effort. Ron Plath drives a ball down the Redtail Golf Course, while his wife and caddy, Carolyn, watches and directs.
Going into the final round, Plath had a 3-stroke lead. That morning a hard rain left the course soft and water-logged. The course officials ruled that golf carts could not be used.
Walking the course, Plath's knee gave out. He triple bogeyed the par-4 17th hole and finished the round with an 89.
'If you've ever seen the movie Happy Gilmore, that's what my swing looked like that day,' Plath says. 'I'm not like Tiger Woods. I can't play without a knee.'
In the winter of 2010, Plath underwent a knee replacement surgery after four previous operations on the knee.
'It was very strange to have a left leg again,' Plath says.
Because of the slow recovery process, Plath was only able to play in two tournaments last year. He won the Nova Scotia Blind Championships in Canada. Then, he finished second in the World Championships in England. After following the world championships, though, Plaths new knee 'thought that was too much golf' and he had to withdraw from the British Open, ending his year.
'It was just too much golf too soon on a new knee,' Plath says. 'It was disappointing, but, when you don't have two legs it gets more difficult.'
A role model
Fortunately for Plath, his knee is healthy now as he prepares to start the season April 15 when he travels to the Arizona Regional, which is a fundraiser for Guide Dogs for the Blind, a national group that trains canine helpers.
'I don't want to jinx myself,' Plath says. 'But, I'm playing good golf again, shooting in the 70s and I'm really anxious for the upcoming season.'
Perhaps more important than his success on the course is that during the years, Plath has become an ambassador for blind golf. He has worked as a coach for kids at the Oregon and Washington schools for the blind.
One of the reasons Plath is always so willing to do interviews about himself is the desire for the blind to learn about an activity that can help enrich their lives.
'Anything that spreads the word that blind golf is out there, I appreciate that,' Plath says. 'Working with the kids, they really enjoy stories that it's something they can do.'
Plath was the person who helped encourage his sister, Diane Wilson, of Seattle, who is also legally blind from macular degeneration to begin competing in blind golf.
'I've been listening to him telling stories since he got involved,' Wilson says. 'He encouraged me a lot along the way. He's so involved with blind golf. Ron has always shown that it's possible to do these things. He's always, to me, been a role model for people with disabilities.'