FONT
SHARE THIS
MORE STORIES
---
BODYBUILDERS HEAVY LIFTING
Details

stephen alexander
Weightlifter makes the transformation from a skinny kid to an award-winner
A lot of guys long for massive arms no shirt can contain, if they are honest about it. They want their chests to stick out like Volkswagens. They would love to have the problem of shopping all day for jeans that can hold their quads. Naturally, six- - no, make it eight-pack abs are required.
---
Those guys want to look like Matt Porter.
Porter walked into the gym at 11:30 on a Friday morning. It was arm day.
He headed to the cables. After two quick warm-up sets, Patrick Knight, a middleweight bodybuilder who trains with Porter, helped spot him. It was time for Porter to start lifting heavy.
Porter removed his warm-up jacket. In his tank top, Porter's arms look as if they belong to a cartoon character. The veins jut like garden hoses.
Gritting his teeth, Porter did two sets of 10 bicep curls at 200 pounds - the entire weight stack.
Knight watched Porter and shook his head. 'It's almost like watching a freak show,' he said.After 12 sets on biceps, it was time for triceps. To finish off a 12-set triceps workout, Porter moved to an incline bench. Knight handed Porter a 185-pound easy-curl bar. Without much difficulty Porter did a set of seven 'nose-breakers,' pushing the bar up from his face with his triceps.
After the workout, Porter dumped 10 scoops of branch chain amino acids into a water bottle and sipped it slowly as he rested.
It was just another day at the office for the 24-year-old Porter, a student of bodybuilding, exhibiting the kind of commitment that rewards the people who want to build massive and sculpted bodies.
The Beaverton resident studies every piece of material he can get his hands on to find workouts and diets that will make him look the best. He has won 13 bodybuilding contests for his weight class. In the past year he has really started coming into his own. In October, Porter won the overall category, where the winners from all weight classes compete against each other, in the prestigious John Lindsay's contest in San Francisco. In November, he took another overall first place in the Northwest Championship in Olympia, Wash.
'(Matt) is a freak,' Knight says. 'And it's great to be a freak when you're a bodybuilder.'
Odd diet
Porter was not always a freak. During his sophomore year at Westview High School, Porter's passion was inline skating. At 5-10, Porter weighed just 135 pounds.
But, that year, he took a weight-training class. He began seeing results instantly. By spring he had packed on 13 pounds of muscle. The following summer he bulked up to a shredded 170 pounds. By fall of his junior year he weighed 185 pounds.
Porter became obsessed with gaining weight. He force-fed himself every day. That winter he reached 216 pounds. Porter admits the weight he put on after 185 pounds was not solid. He ate so much, often he could not hold the food down. Porter realized he was being reckless with his health. In four weeks he dropped back to 185 pounds.
With more knowledge about nutrition and training, Porter got himself back up to a solid 210 pounds. He now weighs an even more solid 220.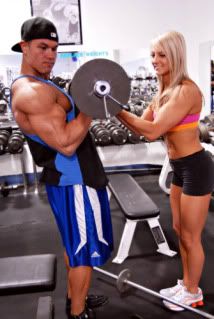 COURTESY OF LISA KEASEY • Matt Porter lives with his girlfriend Rachel Prince (right) in Beaverton, where he trains Prince and several others for contests. Their relationship, for the most part, happily exists in the gym.
After high school, the ex-husband of Porter's sister convinced him to compete in the teen division in the 2004 Northern Gold's Classic. Porter went on a seven-week crash diet to be lean for the show. The effort paid off; he won.
Bodybuilders are known for extreme diet and nutrition. Porter is no exception. He trains one body part a week. His diet is harsh, to say the least.
'There's no right way to train, there's no right way to diet,' Porter says. 'I could probably get into contest shape on McDonald's only. Would it be the best way? No.'
The bodybuilding season usually takes place during the summer. In the offseason, Porter eats 4,500 to 6,500 calories a day. His supplement list is extensive.
How much does he spend on food per week? Porter laughs. 'I don't even want to think (about it). I'll get depressed,' he says.
Staying hungry
Ten weeks out from a competition, Porter begins trimming up. He follows a low-carb, low-fat, high-protein diet.
Porter's diet the day before competition reaches levels of insanity. Porter drops all sodium. He eats only protein and vegetables and drinks five gallons of water. Drinking that much water tricks his body. When he cuts off the water, 12 hours before a competition, his body excretes massive amounts of liquid.
The next morning, after spending the night making trips to the bathroom, Porter begins ingesting calorie-dense foods like pecan pie, cookies and pizza.
Being that dehydrated and introducing an influx of carbs, fat and sodium, any remaining water pulls from his skin to transport and digest the food. It gives Porter the onion thin skin he strives for.
Eating all those sweets sounds like fun. It's not. Porter says eating that much food without water is hell.
'But I prefer to suffer,' Porter says. 'It makes me feel like I'm doing something other people won't do - as sick as that sounds.'
In 2006, Rachel Prince competed in her first figure bodybuilding contest at the Washington state championships. At that contest, Prince first noticed Porter, who won the heavyweight novice overall contest.
Soon after, Prince found Porter on Myspace, and the two hit it off. In 2007, Prince moved from Bellingham, Wash., to Portland to be closer to Porter.
Prince and Porter live together in Beaverton. Prince does the bills, cleaning and laundry. Porter cooks the food.
Porter trains Prince and several others for contests. With Porter's help, Prince took second in the John Lindsay's contest in San Francisco.
Their relationship, for the most part, exists in the gym. Prince works early, Porter works late at the Vitamin Shoppe in Portland.
'When (Matt) gets home from work, we have a shake together, say 'How was your day?', give each other a hug and kiss, and all right, let's go to the gym.' Prince says.
Porter says he will never be satisfied with his body.
'You've got to always stay hungry,' Porter says. 'Once you're satisfied, what's the point?'