BASS LINE JAZZ
Hot from her Grammy triumph, Portland's Esperanza Spalding headlines Jazz Fest
The Portland Jazz Festival got a whole lot bigger with the news on Sunday of the city's native daughter, Esperanza Spalding, winning the Grammy for best new artist.
'Oh, man, you couldn't ask for better timing,' says Don Lucoff, the jazz fest's managing director.
Spalding and her bass, along with the new Chamber Music Society, will perform at the Newmark Theater, 7:30 p.m. Friday, Feb. 25, and it's a sold-out show as part of the burgeoning Portland Jazz Festival that runs from Feb. 18 to 27 at venues around the city.
Spalding's award shocked a lot of people, but not Lucoff, who has seen her perform many times.
'The Grammys can be very predictable, but as we saw last year when Herbie Hancock won Album of the Year, that was the first jazz album to win in years,' he says. '(Spalding's) been on national TV a number of times and compared to other people in her category, it's apples and oranges. But, you'd have to say she wasn't the odds-on favorite.'
Lucoff loves the appeal of Spalding, 26, who also serves as the festival's artistic and community ambassador.
'She's a musician's musician,' he says. 'If she was a basketball player, she would be the point guard. She has a great musical peripheral vision, her interaction with band mates is seamless and inspiring. What she is doing is something very fresh, she is not glued to any one style or influence. People are attracted to her. She has very good positive energy, projects herself well and is exceedingly articulate.'
• The festival's theme, 'Bridges and Boundaries: Jewish and African Americans Playing Jazz Together,' was born from artistic director Bill Royston's inspiration from the book by Robert Dietsche titled, 'Jumptown: The Golden Years of Portland Jazz, 1942-1957.' In the book, Dietsche describes the African American jazz scene and the actual split of neighborhoods by the construction of the Interstate 5 freeway, and of the same thing happening with Jewish jazz in Northwest Portland with Interstate 405.
Royston also drew from writings of Nat Hentoff of jazz being a meeting place between Jews and African Americans.
Lucoff says the jazz scene among Jewish people is still growing: 'There are a wealth of Jewish jazz musicians that are now matriculating to the United States that have received conservatory training in Israel, and settled in New York, primarily, and made a major impact in the past 15 years.'
• Anat Cohen will be playing at the festival again, with her brothers, Yuval and Avishai - The 3 Cohens - at 2 p.m. Feb. 26 at the Crystal Ballroom. She and her brothers came to the United States and studied at the Berklee College of Music in Boston. Anat and Avishai live in New York - Avishai, a trumpet player, will also play with the SFJAZZ Collective at the festival - and Yuval, a soprano saxophonist, lives in Israel.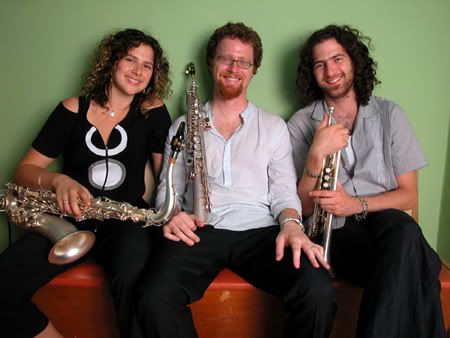 THE THREE COHENS • Courtesy of International Music Network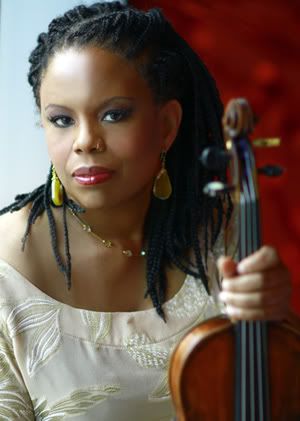 REGINA CARTER • Courtesy of Rahav Segev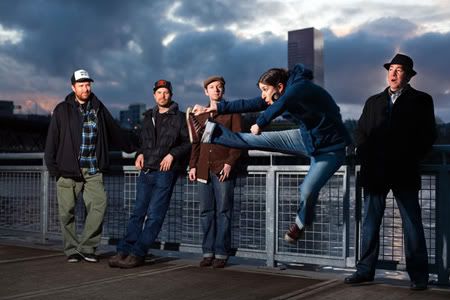 THE BLUE CRANES • Courtesy of Jason Quigley
It's no secret that Jewish musicians have made a major impact in the world of music, not only jazz. But Anat Cohen, a saxophone/clarinet player who will perform the U.S. national anthem at the Trail Blazers game Feb. 23, agrees with Lucoff, that the jazz scene in her native country has grown.
'A lot of older people connected to the American sound book will connect with jazz more. Rings more bells for them,' she says. 'And, with music education, and the development of the Internet and YouTube and easy access to data, Israel has been bringing up a very impressive generation of creative musicians.
'With tensions in the Middle East, a lot of young people find comfort in expressing their feelings through jazz - through jazz, rather than a political argument. Music is a way to bring people together. The language of jazz, even if you don't speak the same dialect, it's the sincerity and intention and it makes you communicate with other people.'
Anat Cohen says the theme of the Portland festival is 'just one angle to show how worldly jazz is. How this music - lots of music - unifies and brings people together. It does reflect what's happening in the world right now; the music reacts, the temper of the people and where they're coming from and history. It makes them who they are.'
• There will be some Portland flavor in the jazz festival, namely with the Blue Cranes, who co-headline with Nik Bartsch's Ronin, 7:30 p.m. Feb. 25 at the Alberta Rose Theatre. In April, the Blue Cranes embark on their first extended tour - all by train, from Twin Cities (Minnesota), to Chicago, either Detroit or Cleveland, Rochester (N.Y.), Boston, Providence (R.I.), New York, Philadelphia, Washington, D.C., New Orleans, Austin, Los Angeles, San Francisco and Portland.
'It's very exciting,' says Reed Wallsmith, alto saxophone player. 'We've done all the booking ourselves.'
The Blue Cranes put out an album, 'Observatories,' last fall and then put out a double-album in January, one with the Blue Cranes covering other singer/songwriters and another of eight different electronic artists reworking songs from 'Observatories' to fit their style.
The group has also received a grant from the Regional Arts and Culture Council to compose its next album, and they'll be spending the days leading up to their jazz fest show at a songwriting retreat on the Oregon Coast.
Wallsmith says the Blue Cranes, although not traditional jazz, incorporate melodies with 'a lot of free improvisation and stuff left up to chance. We're at our best when our songs highlight our connection with each other, listening to each other, creating something with each other.'
• This and that: The SFJAZZ Collective picks a repertoire of a composer each year and plays his or her music. This year, it'll be Stevie Wonder, and the group will debut the show at the jazz fest, 7:30 p.m. Feb. 26 at the Newmark Theater. 'I would put that as the most attractive show,' Lucoff says. … Wallsmith looks forward to seeing Don Byron, a clarinetist who will be playing the music of Mickey Katz, 7:30 p.m. Feb. 24 at the Newmark Theater; Anat Cohen hopes she can take in Joshua Redman's show, 2 p.m. Feb. 27 at the Newmark Theater. … 'I think it's great that we have Maceo Parker back,' says Lucoff, of the festival finale, 7:30 p.m. Feb. 27 at the Crystal Ballroom. 'He's coming from the tradition of James Brown - a strong rhythmic, funk flavor to his music. And, it's going to be a large ensemble, 14 pieces swinging hard.' … Regina Carter's show, 'Reverse Threads,' 9:30 p.m. Feb. 26 at the Crystal Ballroom, speaks to her time with a Ugandan tribe of Jews in Africa.
This email address is being protected from spambots. You need JavaScript enabled to view it.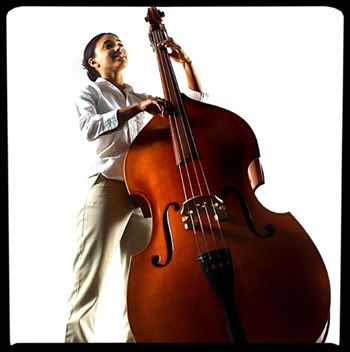 TRIBUNE FILE PHOTO: KYLE GREEN • Esperanza Spalding was raised in Portland, attended Portland State University, and then hit the big time with a Grammy Award for best new artist this week. The Tribune featured Spalding in 2001 when she was 17 (below), playing clubs around Portland.
---
JAZZ FEST HEADLINERS
Friday, Feb. 18
Randy Weston, 7:30 p.m., Winningstad Theater
Saturday, Feb. 19
Anat Fort, 7:30 p.m., Winningstad Theater
Sunday, Feb. 20
Dave Frishberg, 7:30 p.m., Winningstad Theater
Thursday, Feb. 24
Don Byron, 7:30 p.m., Newmark Theater
Friday, Feb. 25
Esperanza Spalding, 7:30 p.m., Newmark Theater
Poncho Sanchez, 9:30 p.m., Crystal Ballroom
Nik Bartsch's Ronin, 9:30 p.m., Alberta Rose Theatre
Saturday, Feb. 26
The 3 Cohens, 2 p.m., Crystal Ballroom
SFJAZZ Collective, 7:30 p.m., Newmark Theater
Gerald Clayton, 8 p.m., Tony Starlight's
Regina Carter, 9:30 p.m., Crystal Ballroom
Sunday, Feb. 27
Joshua Redman, 2 p.m., Newmark Theater
Maceo Parker, 7:30 p.m., Crystal Ballroom
Tickets: Available at Ticketmaster locations, by calling 503-228-5299 or online at pdxjazz.com