FONT
SHARE THIS
MORE STORIES
---
Yo quiero una casa
Details

JASON VONDERSMITH
California pooches make the move north
The migration of Californians continues to the Northwest, only these travelers have cute faces, soft fur and four legs, and bark.
---
California has seen an explosion in dog populations, particularly Chihuahuas, thanks to the so-called Paris Hilton effect, the movie 'Beverly Hills Chihuahua,' Taco Bell commercials, cultural preferences and the general lack of spaying and neutering for the little pets.
If not rescued and transported to places like Oregon Humane Society, many dogs would get a sad one-way ticket to the big kennel in the sky.
Once here, Chihuahuas or other small dogs are quickly adopted.
'There are just so many down here, we can't get them all out,' says Sharon Lohman, vice president of New Beginnings for Animals and volunteer rescue coordinator for Merced County (Calif.) Animal Control.
Lohman says Merced County's euthanization rate for rescued dogs has gone from 82 percent to 51 percent to 38 percent in recent years - still, way too high of a figure. 'It's a problem throughout California.'
'Our shelters keep getting worse and worse,' adds Candace Modrell, whose company, The Mutt Movement, works with shelters in Riverside, Los Angeles and other L.A.-area counties. 'In L.A. shelters, it's ugly. So many dogs, so overcrowded. It's really nice to have shelters that will take them.'
Good energy
Many states and Canada have lined up to take Chihuahuas and other small dogs. Modrell, a former Springfield resident, says her company shipped 199 dogs to Oregon in January, to Portland, Eugene, Corvallis and Albany.
Oregon Humane Society started taking pets from California last year and has taken in about 100 dogs since the start of 2010, and Lohman's group will be shipping another 58 here this week. In addition, Southwest Washington Humane Society has accepted dogs from California, and rescue efforts continue on such Web sites as Pet Finder, Pets 911 and Dogs in Danger, and Comcast's 'Pet Adoptions On Demand' show features dogs from the Golden State.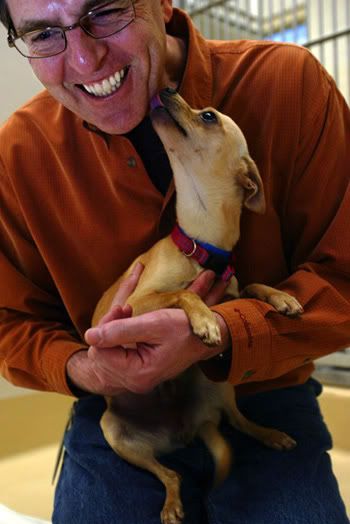 TRIBUNE PHOTOS: L.E. BASKOW • Employee David Lytle gets a lick while playing with Chihuahua Dazo in his cage at Oregon Humane Society. Lots of Chihuahuas, like Sarge (above) and Karl (below) have been shipped from California because of overpopulation.
'The dogs are healthy, friendly, sociable, the kind you would bring into your family,' says David Lytle, OHS public affairs manager. 'But they wouldn't be alive if they weren't here.'
California shelters have time limits for occupancy, Lytle says, and 'the only choice is to euthanize or find somebody like us that works as a safety valve.'
Plenty of paperwork is involved with transferring dogs, and OHS is taking only healthy dogs - and Lytle says OHS does not euthanize healthy dogs. Lytle says that, while cats are overpopulated in the Portland area, small dogs are in demand, especially Chihuahuas.
Zak Thornton and Alexandra King visited Oregon Humane Society recently, checking out a Chihuahua/pug mix they had seen on the OHS Web site.
'We live in an apartment, and we want a smaller dog that doesn't make a lot of noise,' King says. 'Dogs have such good energy. They're healers.'
Never-ending these days
California became overcrowded with small dogs, particularly Chihuahuas, when socialite Paris Hilton started carrying hers around in her arms or purse. Taco Bell had already featured Chihuahuas in its commercials, with the catch phrase, 'Yo Quiero Taco Bell.'
The 2008 movie 'Beverly Hills Chihuahua' fed the Chihuahua frenzy (a sequel is planned for release this year). Then, dogs were let go or given up.
'Somebody who adopts as a fashion statement might not be the most responsible owner to begin with,' Lytle says.
And, the dogs are simply popular in the Hispanic community - Chihuahua being a state and city in Mexico.
With the rising population, however, came more breeding, because of the lack of spaying and neutering. 'We have a lot of cultures here that haven't even heard of it,' Lohman says. 'If they have heard of it, I'll ask them, and they don't know what it means.'
So, the likes of Morrisey, Dazo, Yay-Yay, Karl, Sarge, Lucas and Deanna end up at Oregon Humane Society, where Californian dogs have their own section.
'It is never-ending these days,' says Lohman, of finding safe shelters and homes for California dogs. 'We hope in a few years we'll be able to see things shift. We know it's coming.'