FONT
SHARE THIS
MORE STORIES
---
PSU student visits Gaza Strip
Details

JASON VONDERSMITH
Hassouneh has passion for Palestinian plight
Not too often does a 20-year-old college student from Portland get the opportunity to be on the front lines of an international conflict.
---
In late December 2009, Sarah Hassouneh, a Lincoln High grad and Portland State student, traveled to the Middle East to visit the Gaza Strip and take part in an organized protest against Israel's 'occupation' of what she still calls Palestine. As expected, it was quite eye-opening, and it helped galvanize her opinion that the Palestinians deserve more freedom and rights while living in Israel.
Since the formation of Israel after World War II, the Palestinians have basically been displaced and controlled, and have reacted with violence (and vice versa) and received much sympathy from the Arab world. That's basically Israeli-Palestinian Relations 101, and Hassouneh says all the violence needs to stop.
'I definitely think all the violence just comes back to Israel being an occupying force, and behaving as such,' says Hassouneh, who's half-Palestinian, half-Egyptian. 'There are checkpoints in place, a system of apartheid, and Palestinians living in Israel and occupied territories are not afforded the same rights. I don't condone violence, but you can't be surprised it's happening, given the situation they're in.'
Hassouneh is the vice president of the Students United for Palestinian Equal Rights (SUPER) at Portland State, and she has taken part in protests and rallies. When the opportunity came up to join the CodePink: Women for Peace protest in Gaza, she raised the money to do it. Nearly 1,400 people from 42 countries gathered in Cairo, Egypt, with plans to cross the Egyptian-Israeli border and into Gaza to protest.
There they met resistance, not from the Israelis, but from the Egyptians. She says that only a limited number of protesters were allowed to enter Gaza, less than 100, after a crackdown on the group by the Egyptian authorities. Hassouneh wasn't originally on the list until she convinced organizers that she met the criteria for going into Gaza: She was part Palestinian, had never been to Gaza, had fund-raised and had tried to contact the media for publicity about the event (i.e., in Hassouneh's case, the Tribune).
Ironically, out of protest and after some protesting, some of the protesters stayed in Egypt. For Hassouneh, it was much more peaceful inside the Gaza Strip than in Egypt.
'There was a lot of discord and chaos when the bus left,' she says. 'The whole point was to get all the internationals to go together, and people thought we were breaking solidarity, letting the Egyptian government divide us. It sort of fell apart.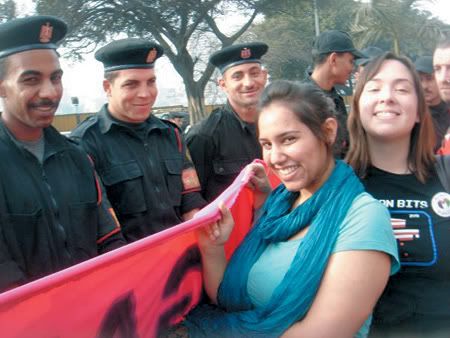 COURTESY OF SARAH HASSOUNEH • Sarah Hassouneh (center) also protested in front of the United Nations building in Cairo, Egypt, with OSU student Jessica Campbell (right).
'My reason for going was it was better than nothing.'
Inside Gaza, she helped protest the Israeli blockade of the area and encountered some Palestinians, who conveyed to her that they just want the isolation and violence to end.
'It wasn't about, 'I want this all to be Palestinian territory and not Israel,'' she says.
Her impressions of the Gaza Strip: 'It's tiny, very small, it doesn't take long to get from one point to the other. … I should have been feeling more insecurity there, but for some reason, I felt a lot safer. I didn't see that constant police force in my face (like in Egypt), knowing they were mad at me. It was more relaxing.'
She left the Middle East still feeling that Israel was unfairly occupying Palestine, but given the influence of Egypt and Hamas and other entities, 'I don't think Arab countries are blameless at all in this.'
Hassouneh, from her comfortable position living and going to school in Portland, will continue to fight for Palestinian rights. She has thought about the two-state solution, as pushed by the U.S. government and at least talked about by the Israeli and Palestinian governments, but she believes a one-state solution would work the best. Of course, the Palestine Liberation Organization muddled the affairs with the late Yasser Arafat in charge, and still muddles the situation.
'A two-state solution, there would still be a division in place,' she says.
Hassouneh wants to complete her PSU degree and then pursue law school, hoping to be involved in Middle East affairs.
The grandmother on her mother's side was from Palestine, her dad was Egyptian. 'I've not met either one of them,' she says. But being Palestinian 'is definitely part of my identity, although watered down.'
Her fascination with the Palestinian cause started in the eighth grade.
Hassouneh looked at a flags-of-the-world poster and she asked, 'Why isn't Palestine on it?' She remembers her teacher not having an answer.
The Portland State group SUPER will present a discussion of the Israel-Palestine two-state solution at 7 p.m. Friday, March 5, at First Unitarian Church, 1011 S.W. 12th Ave. Ali Abunimah, a renowned writer and commentator and frequent guest on CNN, MSNBC and the BBC, will be speaking.