Cheer-ing for the Ducks!
It's not just the football players who bring a team spirit to national championship game
Players and coaches may have created the drama and the storylines, but the band and cheerleaders have provided the backdrop in the University of Oregon's historic football season.
If college football is a cultural production of entertainment, each shares equally in the success of the Ducks as the football team prepares for the BCS national championship game Monday at Glendale, Ariz. The university will be well represented for the game by not only students in helmets, pads and uniforms, but also band ensembles and cheerleader garb.
'It's not just football, it's the entire package,' says Bret Emerson, the Oregon Marching Band trumpet section leader from Wilson High School. 'Very few people just show up to watch a football game and leave. They spend hours at barbecues, having fun with their friends; it's an entire experience.'
The Ducks football team would lose a lot without coach Chip Kelly's dynamic offense and the athletes to make plays happen on the field. Oregon fans would lose just as much, if they did not get to hear 'Mighty Oregon,' the Ducks' fight song, or get to see the female cheerleaders perform their breathtaking acrobatics and the male cheerleaders perform equally impressive feats of strength.
'It's the face of the university,' says Austin Parr, a senior cheerleader for the Ducks from Lincoln High School, of the cheerleaders and band - and mascot, Puddles. 'You get to be the No. 1 fan.'
The Ducks' success on the gridiron has forged a 12-0 record this season and a date with Auburn Monday night at University of Phoenix Stadium. When the Ducks take the field, the Oregon Marching Band and the cheer team will provide their support.
'It's an incredible feeling to be a part of it,' says Darren Muerth, a fifth-year senior cheerleader from Sherwood High School. 'It's amazing.'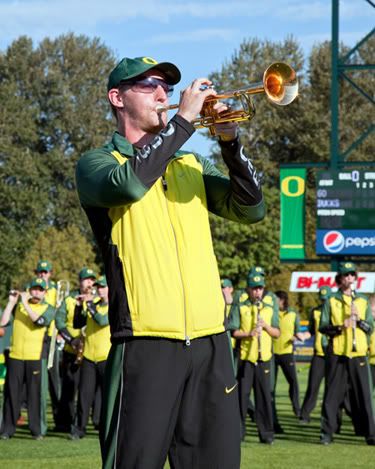 COURTESY OF TOM EMERSON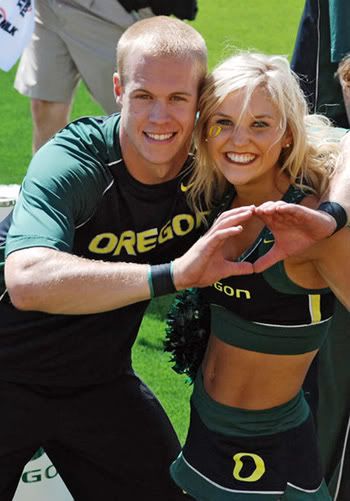 COURTESY OF UNIVERSITY OF OREGON
TRIBUNE PHOTO: CHRISTOPHER ONSTOTT • Marching Band trumpet section leader Bret Emerson (top), cheerleaders Austin Parr and Jackie Chelf (middle), as well as the Duck mascot (above) are all part of the experience during this historic University of Oregon football season.
A real uniform
As the 'Natty' approaches, the cheer and band members are feeling as much of an adrenaline rush as the players. The entire band and 35 cheerleaders will be on hand - although only 20 cheerleaders (eight dancers, six stunt couples) and one mascot will be allowed on the sideline at any one time.
'I'm just excited,' says Kelsey Luscombe, a sophomore cheerleader from Tualatin High School. 'We get to go and get to be on such a big field with so many people watching and a lot of Duck fans out there that are rooting for the team as well.'
For the football team, playing in the national championship game is more than just a byproduct of several months of work. Almost to a man, the players have dedicated their lives to this goal through hard work and big dreams.
The cheer team and band members have dedicated themselves the same way.
Jackie Chelf was born in Huntington Beach, Calif., then moved to Tigard. She grew up attending Ducks games and watching them on television. Her first Halloween in Oregon, Chelf's father gave her a UO cheerleader costume.
'I'm going to have a real uniform some day,' Chelf told her father, as soon as he handed her the gift.
Chelf began working toward that dream, doing dance lessons and tumbling classes throughout elementary school. The work paid off, as Chelf made the UO cheer team.
'I had always wanted to be a cheerleader,' Chelf says. 'It's something that you don't decide, 'Oh I'm going to do this.' It's something that you really have to work for.'
Emerson began playing the trumpet in fourth grade at Stephenson Elementary School.
'It matched my personality,' Emerson says. 'It's loud and leading, and I don't want to say abrasive, but, commanding. Everybody to a degree ends up picking an instrument that reflects themselves in some way.'
Emerson did not originally like football. But, as he began playing for Wilson's marching band, he came to love it. He chose to go to Oregon because the marching band was 'on the cutting edge of the marching band world. We're always trying out new stuff as opposed to lots of schools that have a traditional approach. I really wanted to be a part of the modernity of Oregon.'
Emerson almost quit playing music in high school when there were other classes he could have taken. As he sees the road music has led him down since he first picked up his trumpet, he could not be happier he continued.
'I'm so glad I stuck with it because music in more ways than most people recognize gives you experiences that you will never get anywhere else,' Emerson says. 'I would have never expected that picking up my instrument.'
Special pride
Coach Kelly is fond of saying that the success of the football team happens because of the players' practice and preparation. The same is true of the marching band and the cheer team.
The cheer team arrives on campus six weeks before school starts. They practice five or six hours a day, five or six days a week. Once school starts, they continue practicing three or four days a week for up to three hours.
In order to balance their partners and toss them up into the air, the male cheerleaders have to do a lot of work in the gym. They focus on Olympic-style lifts like squats and power clean.
'It's the hardest I've ever had to work for any kind of sport just as far as the strength that is really required to do the stunts,' says Parr, who participated in track and field at Lincoln. 'You really need to be a well-rounded athlete to be able to do the kinds of things that are asked of us.'
The rigors of performing stunts require a lot of athleticism from the female cheerleaders as well.
'To be able to be thrown up there and the technique involved, you have to be in shape, and you have to have a strong body and willing enough to put yourself through things like that,' Chelf says.
To be a member of the marching band requires a huge time commitment to learn to play an arsenal of 40 to 45 songs while moving on the field.
During non-game weeks, the marching band rehearses for around 10 hours. During game weeks, they will rehearse 12 to 16 hours. The musicians also put in several hours of practice time alone.
The time is worth it, though. Being a member of a group or a team allows the students to fulfill their need to be artistic while helping their social life.
'I really like getting into the games for free,' says Central Catholic High grad Scarlett Sanudo, who plays alto saxophone. 'It's a lot of fun. You get a ton of friends and it's really fun to all play music together.'
The marching band and the cheer team members seem to take special pride in their role in helping the Ducks this season.
'People don't really think about it, but, one of the main goals of the marching band is to rile up the crowd,' says Andrew Wallner, who plays in the 'bassline' section of the drum line. 'We distract the other team, we annoy them, sort of confuse them.'
The cheer team tries to bring the crowd into the game as much as possible, especially when the Ducks are struggling.
'Our job really comes into play when the team is down and the fans are not as engaged in the game,' Parr says. 'Our job is to get them motivated and get them going, which then pumps up the team because they can hear that the crowd has their back. It's a huge impact.'
By making the national championship game, the Ducks' football players have turned themselves into legends. The members of the Ducks' cheer team and marching band will always be linked to the season that will be remembered forever.
'Not only did I get to experience it, I got to be a part of making other people's experience,' Emerson says. 'I'm not just a student of the school, but an active participant of the school experience.'