KOOZA!
Cirque du Soleil returns to its roots with a twisting, acrobatic show in Portland
It's one-of-a-kind entertainment. Fans leave smiling in wonderment - and with some sadness because they won't want it to end.
Cirque du Soleil's new show, 'Kooza,' is coming to Portland with a spectacular smattering of acrobatics and bold slapstick humor.
The popularity of 'Kooza' has led to organizers putting on more shows than originally scheduled. The show goes on underneath the Big Top - known as the blue-and-yellow Grand Chapiteau - April 9 to May 16 (extended two weeks), on Southwest Moody Avenue, south of the Marquam Bridge.
Cirque calls it, 'An adrenaline rush of acrobatics in a zany kingdom.'
'Kooza' tells the story of The Innocent and his search for place, and he encounters the likes of the Trickster, Pickpocket, Obnoxious Tourist and Bad Dog. As the circus promotes, 'Kooza' explores themes of fear, identity, recognition and power.
The show is something to behold - it takes large crews (many hired locally) seven days to set up the 180,000-square-foot area for the show's tents and trailers. It takes about two days to break everything down when the show leaves town.
It has all the circus wonder of balancing on chairs, charivari, contortion, hand-to-hand, highwire, hoops manipulation, solo trapeze, teeterboard, unicycle and 1,600-pound spinning 'Wheel of Death,' music and traditional wonderful costumes.
'It's a return to their roots, focused on clowning and acrobatics - an old circus show,' says Portland publicist Molly Gilbert, who saw the show in Irvine, Calif. 'It's dramatic, but really comedic. I was grabbing the leg of somebody next to me cracking up. People will be on the edge of their seat the whole time, and there's a lot of audience interaction. It's an intimate audience.
'I've seen a lot of shows in the past, whether it be Broadway productions, operas and concerts. The difference here was there was a real storyline. You didn't want each act to end, but once the next one started, you didn't want that to end either. Once it was over, you're sad, it's so much fun.'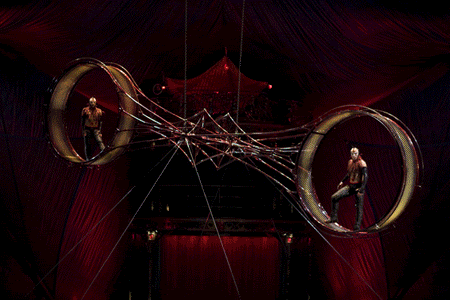 COURTESY OF OSA IMAGES • KOOZA tells the story of The Innocent, a melancholy loner in search of his place in the world, set in an electrifying and exotic visual world full of surprises, thrills, chills, audacity and total involvement.
Return to simplicity
Cirque du Soleil has been to Portland several times, but for the newbies to the extravaganza, a primer: In the early 1980s, a band of colorful characters, called the 'The Baie-Saint-Paul Stiltwalkers,' roamed the streets of Baie-Saint-Paul near Quebec City, striding on stilts, juggling, dancing, breathing fire and playing music. Popularity grew, and one Guy Laliberte formed Cirque du Soleil (or 'Circus of the Sun'), which celebrates its 25th anniversary this year.
'If there's anything surprising about the show,' writes the L.A. Times of 'Kooza' in its review during the show's stint in Santa Monica, Calif., 'it's that it represents a return to simplicity for Cirque. Those who are familiar with the company's mega-productions in Las Vegas and elsewhere will no doubt feel the absence of high-tech waterworks and other stage effects. But in the case of 'Kooza,' less is more - a lot more.'
General tickets for Cirque du Soleil are $35-$87 for kids ages 2-12 and $50-$125 for teenagers and adults. They can be purchased by telephone at 1-800-450-1480 or online at www .cirquedusoleil.com/kooza. The show plays each day except Mondays and April 27.