FONT
SHARE THIS
MORE STORIES
---
Young blues musicians have a different feel for music
Details

Jason Vondersmith
The Safeway Waterfront Blues Festival was a big success again, and two Northwest artists took the stage to showcase their talents in front of admiring fans.
---
The Ty Curtis Band is an up-and-coming group from Salem, led by lead singer Ty Curtis and harmonica player Hank Shreve.
Curtis, 23, aspires to big things and, even though his group played during an afternoon session at the blues fest, he wants to eventually be a headliner.
'It'll take a lot of dedication and hard work, paying attention to a solid groove, everybody working as a whole,' Curtis says. 'We have a learned a lot already, from being exposed to great musicians in Austin, Texas, to being around bands booked in the Caribbean. We have to prove ourselves, where we go out and give it our all.'
Mac Potts, a 19-year-old (and blind) musician from Kalama, Wash., has been sitting in with famous musicians (including Harry Connick Jr.), many times during the Jazz Fest in New Orleans. He's a known commodity, and he wants to continue the climb in the music business - although he aspires to go to school to tune pianos.
'It's so I can get fix-it-up jobs,' he says. 'I can already tune pianos a little bit. I'll probably get a job tuning pianos during the day and play music at night. Then, I'll be able to take the summer off and make money (at music).
'Some people think I'm crazy, that I should be on the road all the time. But I don't like being on the road all the time, other than maybe being in New Orleans or the blues fest. I don't want to have to support myself playing in night clubs till 4 or 5 o'clock in the morning.'
The Ty Curtis Band has already done its share of night club gigs and festivals - to pretty high acclaim. The band took second in last year's International Blues Challenge in Memphis, Tenn.
The band has been together for five years, and it became better with the addition of Shreve.
'I encountered Hank through Myspace,' Curtis says. 'A friend of mine had been talking to Hank; our harp player at the time had to take a trip, and Hank filled in. We jelled and made the switch.
'He's on top of his game playing the harp. He's really been exposed to great, great players.'
The band has made three CDs - 'Stubborn Mind,' 'Down On My Luck' and 'Cross That Line,' the latter of which the group released May 1 at the Roseland Theater.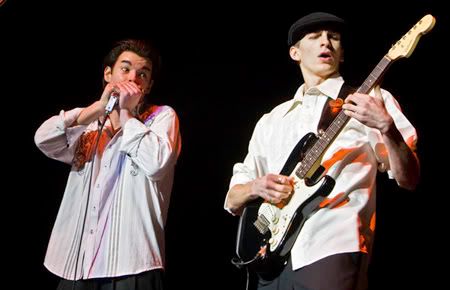 COURTESY OF TY CURTIS • The up-and-coming Ty Curtis Band from Salem with Ty Curtis on guitar and Hank Shreve with harmonica, took second place in last year's International Blues Challenge in Memphis, Tenn.
Hearing more stuff
Curtis, the singer and songwriter and guitarist, got his start in music during his teenage years. He would listen to his father teaching his brother about guitar and picked up on it. 'I was in the room with a cheap acoustic guitar and would mimic,' he says.
'I was in the Salem Boys Choir and did a couple concerts. I learned about warming up and breathing. I didn't have the patience for it - too high-strung - and wanted to do my own thing. But, it gave me a base.'
Songwriting, he adds, came about in high school. 'I was picked on in high school for being short,' Curtis says. 'That was (the subject) of my first song. I expanded and tried to write about other experiences.'
Potts has not let his disability get in his way. In fact, he dispels the myth that the blind have a better feel for music.
'You just use (the hearing sense) more,' he says. 'If you close your eyes for a day, it'll seem like you're hearing more stuff, because you're listening. You don't have amazing superpowers (being blind).'
Potts, a saxophonist and all-around musician, has played at six blues fests; he also played during an afternoon session this year, playing with guitarist Lloyd Jones. Potts also has a regular gig at the Hotel Monaco.
He started playing piano at age 2 1/2 'on dad's lap,' Potts says. 'As the story goes, I walked to the piano and played 'Mary Had a Little Lamb.' … I had classical lessons for 11 solid years, and I was starting to play blues before that ended. I was not destined to play classical.'
Potts started playing rock 'n' roll songs about age 10. He met DK Stewart at his 12th birthday, and the musician gave the kid blues lessons.
He has enjoyed numerous sit-ins with accomplished musicians.
'Playing with kids doesn't always do the trick,' Potts says. 'I've played in a few regular bands, but not many.'
He has his own band now, Manimal House, playing funky New Orleans music with some rap.
Being blind, he has welcomed help and influence from people in the music world.
'I want to be like anybody who is awesome,' he says.