FONT
SHARE THIS
MORE STORIES
---
Pickathon sticks to its roots
Performers at Happy Valley festival don't keep their distance from fans
Sometimes summer music festivals place wide gulfs between the audience and musicians, with a performer's image often broadcast on massive video screens so people way in the back can see.
---
Not so in Happy Valley.
At the annual Pickathon festival there, headliners often take the stage at the cozy Galaxy Barn for a set in the wee hours of the morning. And while the festival has seen steady growth of 30 percent to 40 percent in ticket sales during the past five years, keeping that intimate, low-key vibe is a priority for its organizers.
'We'll never be a big, big festival,' Pickathon cofounder Terry Groves says. 'We're growing, but we try to keep it sane and manageable and keep the comfort level intact.'
Groves admits that the festival, in its 12th year and set for Aug. 6-8, might have already lost that comfort level were it not for Pendarvis Farm, the 80-acre spread tucked between volcanic buttes in Happy Valley, about 30 minutes from downtown Portland.
This is the farm's fifth year hosting the festival, and owners Scott and Sherry Pendarvis have embraced the event. While new homes have sprung up in the area, Pendarvis Farm has instead preserved the old Victorian homestead, making changes that cater to the annual festival.
Ticket holders who camp at Pickathon pitch their tents in a sprawling wooded area rather than a parking lot. A massive team of volunteers have work parties throughout the year to build new trails and maintain the camp sites.
Each of the event founders has children younger than 6, so they've worked to create an atmosphere welcoming to families. Children younger than 12 get in free if the family buys adult tickets. There are designated family camping areas, and there are artists who cater to the younger set.
'You have to have this balance of trying to keep families entertained but not sticking kids activities off in the corner,' Groves says.
Then there's the beer garden. At what other festival can you attend where a microbrew costs four bucks?
Organizers have managed to do this in the small suburb of Happy Valley, a community better known for its subdivisions than music festivals.
'They've built a good relationship and a positive report with not only the residents, but the entire community,' said Steve Campbell, director of community services with the city. 'It's a really positive event for our community and I think it brings a lot of value into the city.'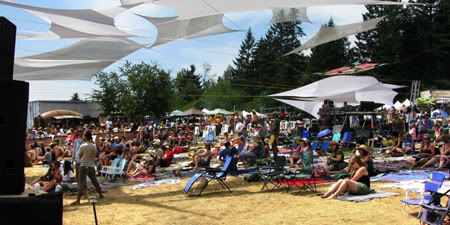 TRIBUNE FILE PHOTO: JIM CLARK • Among many sustainable practices, this year Pickathon organizers are trying to eliminate plastic used at the site.
Bluegrass and Americana
Groves says Pickathon has always been driven to provide both a high-quality event and high-quality acts. The musical lineup has come a long way since organizers used to 'beg' bands to play at the event. This year features some of the biggest names to ever play at Pendarvis.
'This is the most bands we've ever had and it's the most, kind of, defined headliner roles we've ever had with folks like Bonnie Prince Billie and Dr. Dog,' Groves says. 'These are bands that play the Wonder (Ballroom) or the Crystal (Ballroom), which we're never really had in the past.'
Those bands, along with other national acts like Langhorne Slim and the Fruit Bats, join a lineup that also includes about one-third Portland-area acts, including Richmond Fontaine, Black Prairie, Typhoon, Foghorn Stringband, Weinland, Cardboard Songsters, the Water Tower Bucket Boys and Captain Bogg and Salty.
When the event started 12 years ago, the lineup was stocked with regional bluegrass acts. Now it's an eclectic mix of Americana, folk, blues and rock - indie roots, as Pickathon promoters like to call it.
The one thing that all of the artists have in common, Groves says, is that they 'get it.' Bands are willing to stay for multiple days, play in intimate settings at 1 a.m., and in many cases, come back the next year.
Keeping things Klean
Pickathon organizers have consistently worked to incorporate sustainable elements into the event. Solar panels were recently installed at the Galaxy Barn stage, and organizers provide a shuttle to link up with public transportation in the goal of one day having a 'car-free Pickathon.'
This year, however, they're experimenting with something new. Pickathon is trying to nearly eliminate plastic used at the site. Among many sustainable practices, organizers have teamed with California company Klean Kanteen, which makes stainless steel cups and bottles, on the project. Beer drinkers will have to purchase one of the cups adorned with the festival logo for $5 at the beer garden, but they get to keep it, and refills are $4.
Pickathon is Aug. 6-8 at Pendarvis Farm, 16581 S.E. Hagen Road, Happy Valley. Individual day tickets are $70-$75, and weekend passes are $140. Tickets are available online only at www.pickathon.com.