Kitchen whips up creamy goodness
Bread and Brew
Irving Street Kitchen, which opened in May, is already famous for its butterscotch pudding. And rightly so - it's a captivating dessert. No gimmicks, just a homey balance of sweet and burnt flavors rendered opulent by an endlessly silky texture. It's a crowning moment for a kitchen that, throughout the meal, seems to have a particular knack for creaminess.
Irving Street occupies the Pearl District space that used to be Bay 13. It's a cavernous warehouse that the new owners, a group of restaurateurs from San Francisco, have deftly broken up into manageable spaces. There's a row of enclosed booths along one wall, and tables on the main floor are bracketed by bookcases. A broad loading dock provides outdoor seating, and the huge bar is defined by banners hanging from the high ceiling.
The bar looks open and inviting, but the cocktails are overwrought. The Boxcar #9 is served with a pink rim of Molokai red salt and Korean five element pepper. It's a trendy touch that only interferes with the gin and grapefruit juice in the drink. I liked the Old Curmudgeon, which tasted like a spicy whiskey sour, but I have to play along with the name. The Aperol, Cynar and grapefruit bitters were unnecessary and undetected in this bourbon-based drink. Kids these days.
We started dinner with a creamed white corn soup that took maximum advantage of cream's ability to enhance flavor. Baby onions and chanterelles melted into the pure, clean corn taste.
An appetizer called Angels on Horseback also melted in our mouths. The dish is traditionally English: oysters wrapped in bacon. At Irving Street they are flash fried and served with a spicy remoulade, although they more than held their own without the sauce.
There's a southern tinge to many dishes here. Gumbo is on the appetizer list and biscuits, grits and succotash are among the sides. For this reason, I decided to see what I thought of the fried chicken.
I don't want to get involved in a major fried chicken discussion here, so I'm just going to say, it was fine, but in Portland, you could do better. The chicken is accompanied by some bland greens and some delicious 'smashed' yellow potatoes. Half in chunks and half mashed, the potatoes were luscious and buttery - another example of the kitchen's way with creamy textures.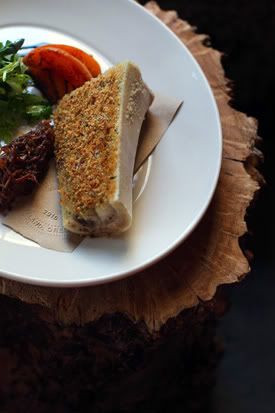 TRIBUNE PHOTO: CHRISTOPHER ONSTOTT • Irving Street Kitchen's herb-roasted bone marrow with pulled pork marmalade and a balsamic reduction is a staple at this rustic Pearl District restaurant.
Roasted lamb was perfectly cooked and flavorful without being too lamb-y. Alongside was a combination of fava beans, sugar snap peas and spaetzle seasoned with garlic and rosemary that set the meat off very well, although for $25 a larger plate of food might be in order.
On the other hand, it is imperative to save room for dessert. In any other company, the warm, sweet and chewy mixed berry cobbler would have stolen the show. But our spoons were drawn like divining rods to the butterscotch pudding.
It's presented in a small mason jar that a server pops open for you at the table. Topped with a layer of caramel sauce and a dollop of cream, this pudding has a particularly soft, rich feel that's hard to describe, but harder to forget.
4:30 p.m. to midnight daily (happy hour 4:30 p.m. to 6 p.m.) and 10 a.m. to 2:30 p.m. Saturday-Sunday, 703 N.W. 13th Ave., 503-343-9440, www.irvingstreetkitchen.com, entrees $17-$25
This email address is being protected from spambots. You need JavaScript enabled to view it.