FONT
SHARE THIS
MORE STORIES
---
MFNW: A five-day grind
Northwest's answer to Austin's fest gives fans a lot to lose sleep over
Next week more than 200 bands will flood Portland, packing the streets with tour vans, beat up Volkswagen microbuses and enough illicit drugs to get the state of Nevada high twice.
---
The occasion? Musicfest NW, Portland's response to Austin, Texas' claim to the throne of Music City, USA.
Austin's annual music festival, South By Southwest, is a behemoth of rock and the rest, creating a temporary economy of music fans, industry reps and their coterie.
Musicfest (known by the suggestive acronym MFNW) doesn't compare in size. But it creates an atmosphere similar to Austin's musical Haj. By buying into MFNW for its five-day run (Sept. 8 through Sept. 12), festivalgoers become part of a subset of Portland. Members of a tribe are branded with a $65 wristband.
The wristband
MFNW gets bigger each year, and the wristband, which grants its wearer general admission to most of the festival's shows, gets more expensive. Even so, it's arelative bargain.
But this year, the wristband bargain's become Faustian. That's because the $65 wristband grants access to only one of the festival's two headline shows (both held from 4 to 9 p.m. in Pioneer Courthouse Square). On Sept. 11, the square will feature The Decemberists, Laura Veirs, Blue Giant and Weinland. On Sept. 12, the really big show features The National, The Walkmen, The Helio Sequence and Talkdemonic.
A $90 wristband buys access to both big shows, and a $175 VIP package grants all access plus some extras.
The smart money is on the Sunday show. It's the only event that day, and the one-two punch of The National and The Walkmen is hard to resist. The National's new material feels nervy, dark and relaxed. Like Bruce Springsteen on tour with the remnants of Joy Division. While The Walkmen's new LP 'Lisbon' adds a surf coolness to the band's bombastic atmosphere.
Wednesday, Sept. 8
The only option: Panda Bear (10 p.m., Crystal Ballroom, 1332 W. Burnside St.). As one half of Animal Collective, Noah Lennox (aka Panda Bear) has already become one of his generation's musical touchstones. Animal Collective's 2009 LP 'Merriweather Post Pavilion' and Panda Bear's 'Person Pitch' were marching orders for thousands of underground musicians around the country.
Thursday, Sept. 9
The static options: The Crystal Ballroom features the slash-and-burn AM rock of Portland's The Thermals at 10:30 p.m., before them is Ted Leo and the Pharmacists at 9 p.m. Leo's built a reputation as a quirky heartland punk, a bit like John Mellencamp with an enlarged hippocampus and a better record collection. Past Lives opens the show with a smart mix of post-punk and terse college hardcore at 8 p.m.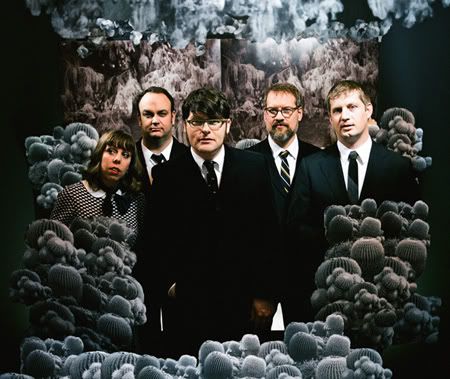 Musicfest NW is entering its 10th year as Portland's largest and most successful music festival, with popular local band The Decemberists headlining the Sept. 11 show in Pioneer Courthouse Square.
At Holocene (1001 S.E. Morrison St.), New England new wavers Cold Cave close out a set of arty beats, including Portlanders ASSS and Reporter. Doors open at 9 p.m.
The early option: If you prefer your music on a happy hour schedule, trek to the Wonder Ballroom (128 N.E. Russell St.) at 4:30 p.m. and catch the chillwave trippiness of Washed Out, followed at 5:30 p.m. by Phantogram and at 7 p.m. by the catchy, Vampire-Weekend influenced (and influencing) Ra Ra Riot.
Friday, Sept. 10
The out-of-town musts: LA's Abe Vigoda turned heads in 2008 with 'Skeleton,' an infectious tropical punk record that ratcheted up the suddenly hip sounds of Peter Gabriel and Paul Simon for the 21st century.
Now the band's reformed as a synth-pop outfit, but the songs are just as good. Catch them at Backspace (115 N.W. Fifth Ave.) at 11 p.m..
Bobby Bare Jr. is MFNW royalty, and with good reason. Bare's low profile usually keeps his shows from getting packed, but every performance is a stunner.
The average-sized Swedish songwriter Kristian Matsson (aka The Tallest Man on Earth) is the rare songwriter able to burn an image into your eyes while his melodies worm their way into your ears. See him headline a hip folkie revue at Doug Fir (830 E. Burnside St.) at midnight.
The early option: Hit the Wonder Ballroom at 4:30 p.m. for the rousing brutality of Male Bonding, a U.K. guitar club, followed by Surfer Blood, who play the closest thing to mid-'90s college rock anthems this side of the Smashing Pumpkins (who play the Wonder on Saturday). Top it off with the garage swagger of Black Lips at 7 p.m.
The dance option: Hit up Lazer Sword at midnight at Rotture (315 S.E. Third Ave.) for a mix of electro, rap and no wave funk.
Saturday, Sept. 11
The rock option: The Doug Fir offers up a serious rock block. If you like the Jesus and Mary Chain, you'll love Jeff the Brotherhood (10 p.m.). If you like Thin Lizzy and cheap beer, you'll love Free Energy (11 p.m.). And if you liked skipping school, you'll love Japandroids (midnight).
The dance option: Holocene will make you move, with local synth-samplers Dat'r (10 p.m.) bringing a primal scream take on the Talking Heads and New Orleans booty-shaker Freedia playing an encore set of cut-up beats (midnight).
The local option: The Crystal Ballroom hosts a trio of brilliant local acts, from the sensual art rock of Tu Fawning (9 p.m.) to the eerie folk of Akron/Family (10 p.m.) to the trippy songsmithing of Menomena (11 p.m.).
The metal option: The Roseland will raise the dead with Scott Kelly, of metal gods Neurosis playing at 10 p.m. and doom metal machine Sleep performing their dirgey LP 'Holy Mountain.'
Sunday, Sept. 12
The only option: The National, The Walkmen, The Helio Sequence and Talkdemonic take the stage of Pioneer Courthouse Square at 4:30 p.m.