FONT
SHARE THIS
MORE STORIES
---
TBA:10
Annual art fest cements Portland's rep for odd-ball stuff, with a twist
Cathy Edwards, who is a luminary on the East Coast arts scene, laughs at the idea that folks there would question the legitimacy of Portland's Time-Based Arts Festival, which returns this weekend as TBA:10.
---
'Are you kidding?' asks Edwards, who is in her second year of three as guest artistic director of the festival. 'Portland is one of those cities everybody fantasizes about on the East Coast. This is something we fetishize.
'I have to tell people not everything in Portland is perfect.'
For some Portlanders, few things come closer to perfection than the kaleidoscopic TBA, the 10-day barrage of contemporary art and performance begun by the Portland Institute of Contemporary Art eight years ago.
'I've known about PICA since it was founded,' says Edwards, 44. 'The festival and the organization have incredible national reputation.'
Edwards, the former artistic director of the prestigious Dance Theater Workshop in New York, says PICA and TBA have come to be associated with both unique, high-quality programming and a steadfast refusal to fit any mold.
'I think they're viewed as a bright spot on the horizon, in part because they've broken a lot of rules,' she says. 'You're gonna have a lot of music festivals. We're kind of a singular artistic experience.'
To be sure, a person could probably lead a full life without ever seeing a transvestite built like a linebacker fronting a R and B combo ('09). Or two Belgian artists tying strings around each other's naughty bits ('07).
But Edwards says TBA's unique offerings, offered in a furious 10-day salvo, are capable of nothing less than 'rewiring' perceptions of art.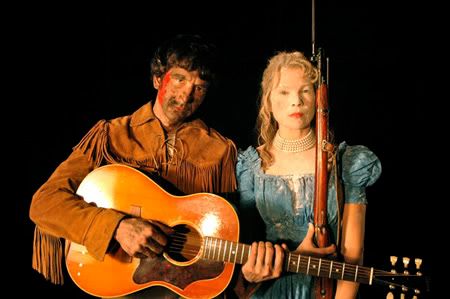 COURTESY OF BENJAMIN KASULKE • TBA:10 brings to Portland the week of Sept. 9-19 contemporary artistic voices from around the world, including projects from Seattle's Dayna Hanson (above) and Portland's Noelle Stiles with Las Vegas' Danielle Kelly (below).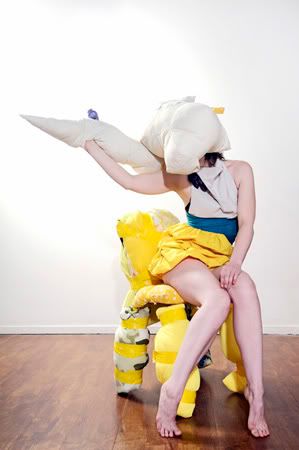 COURTESY OF CHRISTINE TAYLOR
'Invariably, there are going to be some things where you're going to say 'What in the world is that?' But you're going to feel a sense of adventure and creative curiosity. It's a participatory immersion in contemporary arts,' she says.
'This is not going to be like something you've seen before. These are artists that are doing things in new ways. They really are pushing boundaries.'
Edwards says that strikes a chord for Portland's 'ready for anything audiences,' for whom keeping it weird is a way of life.
'It's so perfect that it's in Portland,' she says. 'There's such a healthy respect for pop-up endeavors. It's not a competitive thing. It wouldn't be the same if it weren't in Portland.
'A lot of things happen in intimate venues. It really makes you feel like you're having an up-close and personal experience.'
Not all of it takes place in hidden corners of the Portland art world. The festival headliner for TBA:10 is the genre-bending composer and artist Rufus Wainwright, who debuts an original operatic piece with guest diva Janis Kelly and the Oregon Symphony.
Edwards says her parents, who are in their 70s, took in a recent performance by the enigmatic Wainwright in Washington, D.C., where she was raised.
'They said 'We've never seen anything like that,' ' Edwards says with a laugh, 'but they loved it.'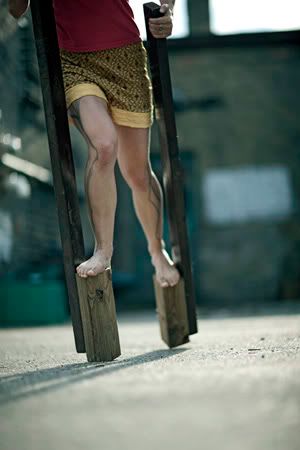 COURTESY OF CAMERON WITTIG • Emily Johnson's "The Thank-you Bar" uses dance, storytelling, live multi-layered music and visual image to blur distinctions between performance and daily life.
End of summer
Also on the bill are festival favorites making return engagements. The funny and thought-provoking monologist Mike Daisey returns, as does the innovative Nature Theater of Oklahoma, which will offer a version of Shakespeare's Romeo and Juliet based on man-on-the-street recollections of the play.
'It is so funny,' says Edwards, 'but it is also a really powerful piece about collective storytelling.'
She says the popular troupe's willingness to make time for TBA, despite a busy touring schedule in Europe, says a lot.
'It was a testament to how much fun they've had here in the past that they found a way to make it happen,' Edwards says.
For local artists, the festival offers more than simply an opportunity to perform.
'It's almost impossible for an artist to be discovered overnight,' Edwards says. 'The important thing is for an artist to be visible and to be visible over time. TBA is a critical wider context.
'It could be that your grant application is reviewed by somebody who saw you at TBA. All of a sudden, somebody is advocating for you.'
'To be involved definitely validates your work,' says Noelle Stiles, the Portland movement artist. 'Look at the lineup over the last several years. PICA is serious about what they do.
'I'll be around these artists and they'll be able to see my work. It allows you that networking possibility.'
For fans of the festival, local or otherwise, the network that matters is the delightfully complex matrix of artists and venues they'll be challenged to navigate, often crisscrossing town to do so.
'One thing I love about TBA is that it's at the end of the summer,' says Edwards. 'It's a great bridge into the fall.
'A lot of the good vibes of the summer are still present. Everybody still has the energy to dive in. So many people really kind of carve out 10 days, like, 'I'm going to give myself permission to stay out late and see a couple shows a day.' '
Various venues and times, Thursday, Sept. 9 to Sunday, Sept. 19, info at www.pica.org or by calling 503-224-PICA