FONT
SHARE THIS
MORE STORIES
---
Mmmm! Club sinks its teeth into state culture
Details

Anne Marie DiStefano
Quirky Portland group offers a different view of region's education, history
One Saturday in September, a group of Portlanders boarded a school bus and headed out for a two-day tour of the historic boom towns and ghost towns of Northeastern Oregon. They went through Boyd, Dufur, Fossil, Antelope, Friend and Shaniko, and stopped to view the Painted Hills.
---
The field trip was the most ambitious excursion to date for the Dill Pickle Club, an educational nonprofit with its own ideas about what history and civics lessons should look like.
Formed more than a year ago by three friends, the club sponsors readings, lectures and trips, and even has its own small publishing arm.
Founders Marc Moscato, Lucy Rockwell and Kyle Von Hoetzendorff started out with plans for a slightly different kind of club.
'I was actually thinking about starting a bar, like a nightclub kind of thing,' Moscato says. 'We had a series of meetings and talked about what we were interested in, and quickly realized that we had no cash … but we tried to figure out ways in which to operate and do things that we thought were important.'
The group's interest in cultural history and art coalesced into the Dill Pickle Club. The name comes from a long-gone underground club in Chicago that sponsored lectures and dances for the radicals of the 1930s.
The new Dill Pickle Club's first event, in the summer of 2009, was a tour of work done in Portland by the New Deal's Works Progress Administration. Other tours explored local food policy and Portland's industrial economy. For 2010, the club chose a theme, 'Forgotten Memories,' which, Moscato explains, are community stories, histories of immigrants and activist movements, 'kind of the underbelly of history.'
Still to come this year are a bike tour of Portland's African American murals and a trip exploring Oregon's logging industry.
Participants find out about the club in various ways, says Moscato. The website (dillpickleclub.com) gets a lot of traffic, and the club uses Facebook and Twitter, but Moscato also seeks out artists to create posters for individual events. He asked watercolorist Cari Vander Yacht to design a poster for the ghost towns tour, and Henry Frison created the poster for the mural tour based on a mural he painted in North Portland in the 1970s.
Word of mouth is also key. BJ Thomsen, a member of the club who went on the ghost town tour, found out about the Dill Pickle Club from a friend.
'It's unique,' Thomsen says. 'I'm not aware of anything else like this.'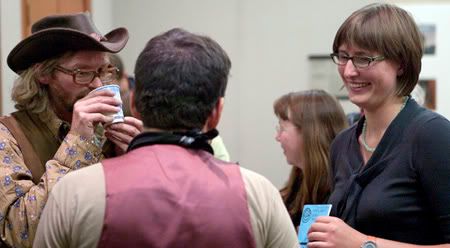 TRIBUNE PHOTO: PATRICK COTE • The Dill Pickle Club celebrates the release of 'Portland's Dead Freeways,' one in a series of Oregon History Comics written by Sarah Mirk (above right), at Central Library last week. In September, the club sponsored an overnight field trip to historic boom towns of Northeastern Oregon (below). 
COURTESY OF SAM CHURCHILL
Variety of viewpoints
Thomsen, a native of Denmark, is a longtime Portland resident who is nearing retirement. He particularly likes the wide range of age groups that the Dill Pickle Club attracts.
'It's not all old geezers,' he says. 'You meet interesting people and young people, and I like that.'
In fact, Thomsen brought his son, Skipp Thomsen, on the most recent tour. Both father and son enjoyed the company - a good thing on a two-day bus trip.
'I was impressed by the wide spectrum of people, and I met a lot of interesting people,' says Skipp, who is 28.
Before the trip, he says, he didn't know much about the club. 'Once I was there,' he says. 'I definitely got a sense of what the club was about and the spirit of its members. It really reminded me, especially since we were on an actual school bus, of going to the museum when you were in fifth grade, only a little bit more focused. It was just fun to be back in that open, exploratory environment as an adult.'
It's that approach, rather than any specific topic, that defines the Dill Pickle Club.
'We don't really have an agenda,' Moscato says. 'The agenda is just education, and education from a variety of viewpoints… I don't feel like we're a historical organization. Our programs are really about many different things and using history as a means to inform how we understand contemporary society.'
Developing a stronger sense of place is key - and especially makes sense in Portland, with its huge influx of new residents. (Moscato himself has been in Portland for six years.) And Portland's quirky, do-it-yourself side has contributed to the Dill Pickle Club's projects.
In process is the publication of a series of Oregon History Comics. Journalist Sarah Mirk is writing the 10 short comic books, which are each illustrated by a different artist. The subjects are local history, told in first person, and covering topics including Chinatown, the X-Ray Café rock club, the flooded town of Vanport, Portland's Black Panthers, and the fall of the logging industry.
It's true that the area's history hasn't always been very funny. But that doesn't mean that learning about it can't be fun.