FONT
SHARE THIS
MORE STORIES
---
Marysville rises again
Details

Jennifer Anderson
A year after a devastating fire, students are rebuilding their studies in a 'new' school
The excitement on their faces is palpable as they hop off the school bus and bound across the playground at Marysville K-8 School.
---
'C'mon guys, let's go to work! Walk fast without running!' Principal Lana Penley shouts as she greets her 400 students who've spent the past 20 to 45 minutes riding a school bus across town.
Many of the students stop to give her a hug, share a story or ask her a question that just can't wait.
'I get everything from 'Did you know I went to the circus last night?' to 'My dog had puppies,' 'I like your glasses' and 'Where were you yesterday?' ' Penley says. 'It's kind of like 400 energies coming at you. They're coming at you whether you're ready or not.'
The same is true for the challenges Penley and the kids at Marysville have had to endure in the past year.
Nearly a year ago - on Nov. 10, 2009 - Marysville's old wooden schoolhouse at Southeast 77nd Avenue and Raymond Street caught fire in the middle of the school day, destroying one wing and forcing them to move to another location indefinitely.
Miraculously, there were no injuries, and officials haven't been able to determine a cause of the fire. The building is still shuttered and plans are on the drawing board to build a new school at the same location at a cost of between $8 million and $16 million. Insurance will pitch in $4.5 million for the fire damages.
That means the district will look to voters to pick up the remainder of the cost, between $3.5 million and $11.5 million. By the end of this year, the school board will revisit its long-term facilities plan and likely prioritize Marysville's needs in a bond measure that could be floated next year.
'We're trying to be patient,' Penley says. 'We want to get back, for our families' sake.'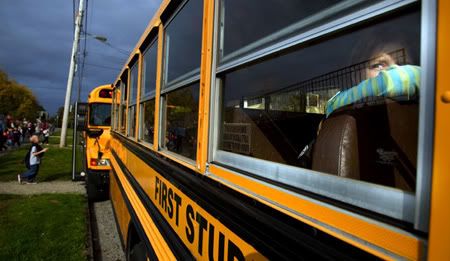 TRIBUNE PHOTO: CHRISTOPHER ONSTOTT • Marysville second grader Darbi Rush sits aboard a school bus to go home, since now nearly every student takes the bus. Before the fire, most students walked to school. Students and staff are still haunted by the fire; during fire drills, nearly everyone takes their personal belongings, since backpacks and coats were lost in the blaze last year.
Community comes together
Since Marysville reopened at Northeast Portland's Rose City Park Elementary - a 1911 building that the district closed in 2007 and been using for furniture storage for the past three years -life has been 'a bundle of emotions' for all, Penley says.
It hasn't just been psychologically traumatic, it's been a logistical challenge they've learned to overcome. Before, all but a few children walked to school; now, all but a few take the school bus, and fewer parents show up at school because the distance is so far.
While Rose City Park is just five miles north, it's across Interstate 84 and several neighborhoods away - a vast chasm when many parents work or don't have cars.
Before, the one-story 1921 school building circled around a central courtyard; now, students have had to learn to navigate their way around three floors of winding staircases and a quirky floorplan.
The bonus is extra-large classrooms with cozy nook space for coat racks and couches at the entrance to nearly every room. The downsides are that it's not handicap-accessible, and it suffers the same woes as other aging facilities - for instance, the strange loud tap, tap, tap, tap that came from the pipes overhead in a classroom one recent morning.
'That's just the boiler,' said Rebecca McAlister, known as 'Mrs. Mac' by her first-graders. 'It just happens about 20 or 30 times a day.'
She went on leading her students in an advanced reading lesson without skipping a beat. 'Overall, it's a great building,' Penley assures.
It's a far cry from the day after the fire, when Penley was told for the first time that her school would be moving to Rose City Park.
'It was nighttime and raining, and I had tears in my eyes,' she recalls. 'I remember thinking, 'We can't bring our kids here.' There were holes in the carpet, dust everywhere, spiderwebs, stains.'
That was a Wednesday. During the next four days, hundreds of volunteers, dozens of businesses and organizations chipped in with landscaping work and donations - everything from new backpacks and coats to school supplies and cash - for the school and families who'd been impacted.
When the school opened to students on the following Monday, Penley remembers, 'it was shining.' The way the community came together for Marysville, she says, is 'one of those things we'll remember forever.'
Although things are running smoothly at Rose City Park, there's still a disconnect from the old neighborhood.
'There was a real sense of community and connection' to families at their old location, McAlister says. 'Honestly, we've lost some of that. There's no number of phone calls or notes home that take the place of conversation.'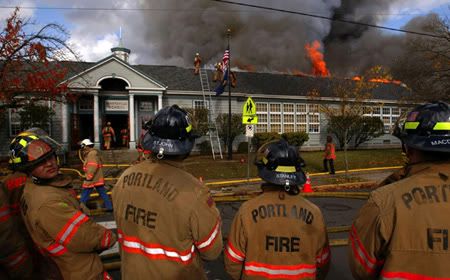 TRIBUNE FILE PHOTO: L.E. BASKOW • Portland firefighters worked to save Marysville School last year; the school is still shuttered and the school board will prioritize rebuilding a new Marysville at the same location in its upcoming discussions about long-range facility plans.
Major changes ahead
As the one-year anniversary of the fire approaches, Penley plans to mark the occasion in different ways for the staff, students and families. Counseling will be available in a 'safe room' for those who need it, and it'll be cozy, comfy pajama day for students and staff.
Teachers will be handed lesson plans that will involve writing and art, for students to express their feelings about their school and the fire.
Penley is also surveying staff members to see what kind of morale boost they'd most appreciate - she's guessing they might vote to cancel their staff meeting that day.
For Marysville families, the school has been running monthly 'parent tea' gatherings in their Southeast Portland neighborhood.
On Nov. 10, it'll be held at Rose City Park, so parents can walk through the building, ask questions and talk about their feelings.
Many parents will likely have questions about yet another major change.
Due to the school board's new high school redesign plan, Southeast Portland's Marshall Campus - where Marysville eighth-graders have always continued on to - will be closed next year. That means current eighth-graders will likely be assigned to Franklin High School, back in their old neighborhood, although that's not expected to be finalized until the end of the calendar year.
So families are once again in limbo, a fact that's not lost on Penley.
'We're going to really hold their hand through this thing, too,' she says of the high school transition. 'By the time it's time for them to go to high school, they'll feel confident about it.'
Penley has yet another goal for the end of the school year, which has nothing to do with moving school buildings.
It has to do with boosting students' achievement in big ways. Last fall, before the fire, the pressure was on Marysville to meet its federal 'Adequate Yearly Progress' status lest it become closer to becoming a 'failing' school, subject to sanctions.
After the fire, 'My first reaction was, 'Let's get out of testing this year,' ' Penley says. 'We had every reason in the world to have an excuse to have low test scores.'
That didn't fly, she says. 'We made the decision we weren't going to let that happen.'
As a result, the school made a focused effort to identify where each student needed help, work on it through double-doses of reading and writing, and track their progress throughout the year.
In the year after the fire, reading scores rose from 67 percent to 73 percent of students meeting or exceeding benchmarks; math scores rose from 68 percent to 74 percent.
That was enough to meet AYP status and get the school back on the right track. This year, Penley is counting on continuing the success.
'There is an awareness of the standards,' Penley says. 'We expect (teachers) to be very aware of what's on the test. We don't want to lose the special environment we have, so it's definitely a delicate balance.'
---
TRIBUNE PHOTO: CHRISTOPHER ONSTOTT • Marysville Principal Lana Penley (left) talks with Tribune reporter Jennifer Anderson during her "Principal for a Day" visit, a Portland Schools Foundation annual event.
'Principal for a day' shines spotlight on schools
It used to be that if you misbehaved in school, you got a direct pass to the principal's office.
That's not the case nowadays - except with egregious behavior - because many schools have a student management specialist on staff, dedicated to improving student behavior.
At Marysville K-8 School, Principal Lana Penley has also empowered teachers to handle most problems in their classrooms. That leaves her with less time as a disciplinarian, more time for other things.
In the day I spent shadowing Penley for the Portland Schools Foundation's 10th Annual 'Principal for a Day' event on Oct. 21, I saw her role as part fundraiser, part data analyst, part cheerleader.
One fifth-grade boy last week held out a stack of 'Marysville Success Tickets' he'd collected over the years. Teachers hand them out to students who make good choices in class, and they're entered for a prize drawing at the end of the week.
But most often it's the recognition itself that's worth more than the prize.
'Wow, great job!' Penley said to the boy, who kept several years of tickets safely stashed in his plastic yellow pencil case.
To see a child motivated and empowered to learn like that is magical stuff.
The Portland Schools Foundation knows that not many people get an up-close view of what happens in the public schools. That's why the schools get a bad rap - because the news that comes out of the schools is political, having to do with test scores, budget cuts and reform measures.
The Principal for a Day event invites local civic and business leaders into 100 schools throughout Multnomah County, to help them see the positive work being done and how they can help fill the gaps.
After the event, during a discussion among principals and guest principals, all spoke passionately, calling on fellow businesses to offer internships and partnerships - whatever they can - with their neighborhood schools.
Mike Phillips, a world-renown Portland jazz musician, spent the day at North Portland's Humboldt School, where he took his saxophone to every class and played a little tune. 'They were very responsive to music,' he said of the students.
Someone in the crowd asked the all-critical question: Does Humboldt have a band? No, it doesn't, Phillips said. That's something he's trying to remedy, by fundraising with legend Stevie Wonder on VH1's 'Save the Music' program, which aims to restore music to public schools.
'When I walk in and a fifth-grader sees a saxophone and calls it a trumpet, that's a problem,' Phillips told the crowd. 'Education is the new civil rights issue of this time. As long as a kid is breathing, they should be able to have the proper education.'
Phillips said he'd be spending time at his neighborhood school to follow through on his promise. The question is, will you?
- Jennifer Anderson