FONT
SHARE THIS
MORE STORIES
---
The Big What If?
These things could save your life when the ground shakes
Whether it's legitimate worries of a future earthquake in Oregon, or immediate concerns about what's happening in Japan today, the natural disaster across the Pacific Ocean last week contains real meaning and lessons for Portlanders.
---
Local residents are asking first how they can help with the ongoing human tragedy in Japan, and then wondering how their own communities would hold up under similar circumstances.
One thing is for sure: The threat of a Japan-style quake in Oregon is more than just a theory. Large subduction zone quakes off the Northwest coast have historically occurred every 300 or so years -the last one in 1700. So we're due.
If the quake is big enough, the shaking will cause landslides, tumble old unreinforced masonry buildings into rubble and bring down several bridges across the Willamette River.
April is Earthquake Preparedness Month. Local governments will give advice on ways to survive a major quake. The Japanese quake offers valuable lessons, even though it continues posing risks of its own - primarily radiation releases from damaged nuclear reactors.
Here are nine things Portlanders should consider in the wake of the quake:
• Schools aren't seismic-ready
When disaster strikes, any parent's first thought will be for their children - who could be in a school building miles away, possibly on the other side of the Willamette River.
So just how safe are Portland's school buildings in the case of a major earthquake? The answer is sobering, at best.
Of about 100 Portland Public School buildings, just a dozen are compliant with current seismic codes: Applegate, Wilcox, Smith, Edwards, the Kelly Center, Astor, Bridger, Forest Park, Rosa Parks, Hollyrood, Irvington and Vernon.
The first five do not house students - they've been shuttered and house other district programs or remain empty.
If voters approve the $548 million capitol bond measure in May, the number of compliant school buildings would increase to 21, with nine more schools rebuilt to current codes. Those are: Roosevelt, Cleveland, Jefferson, Faubion, Rigler, Laurelhurst, Markham, Marysville and West Sylvan (half of it).
In addition, the bond would pay for seismic roof reinforcements at four schools: Ainsworth, Grant, Tubman and Wilson.
More than half of the district's schools have received some seismic improvements, but are not compliant because the code is fairly new.
Just because a school isn't fully compliant doesn't mean it's not safe, says district spokesman Matt Shelby. He compared it to a car without airbags: The car with airbags just has an increased level of safety.
NICHOLAS KAMM/AFP/GETTY IMAGES • A man looks on as U.S. rescue workers search for survivors in a house in Kamaishi, Iwate prefecture on March 16, five days after the devastating earthquake that's still seeing ripple effects.
• You can limit radiation
It's natural to be worried about whether dangerous levels of radiation from the damaged nuclear reactors in Japan will hit the West Coast. Experts are saying that even if radiation reaches the jet stream, it should disperse enough over the Pacific Ocean that it cannot hurt anyone here.
You can still take precautions. If radiation is scheduled to arrive, stay indoors as much as possible. Don't pump fresh air into your home or office. Eat and drink from a previously established food and water supply. And look into buying potassium iodide, known as KI, a white salt compound that helps prevent radiation from being absorbed into the thyroid.
Non-radioactive KI is available without a prescription, but its potential side effects can be nasty.
• Getting better prepared
Last May, the city auditor said the Portland Office of Emergency Preparedness - which has the unlikely acronym of POEM - was not sufficiently ready to respond to a disaster. Among other things, an audit found POEM did not have a written plan to coordinate the responses of all appropriate city agencies.
Mayor Sam Adams oversees POEM and made responding to the audit a priority. During the past 10 months, the agency has worked to complete the plan and fix other problems noted in the audit, says POEM Director Carmen Merlo. She plans to update the City Council on the efforts in April. The goal, Merlo says, is to complete the work by the one-year anniversary of the audit's release.
According to Merlo, if an earthquake causes extensive damage, city officials will quickly assess which public buildings and outdoor areas are the safest and concentrate relief efforts there. If all power is out, police cars with loudspeakers will tell people where to go.
The city also has moved to establish an emergency operations center and dispatch yard for heavy equipment that could be used in such a disaster on the west side of the Willamette River.
All of the city's heavy equipment yards are on the east side of the river. Adams worries no equipment will be available on the west side if an earthquake makes travel across the river impossible. He wants to site a new yard at the soon-to-be-decommissioned Sgt. Jerome Sears U.S. Army Reserve Center at 2730 S.W. Multnomah Blvd.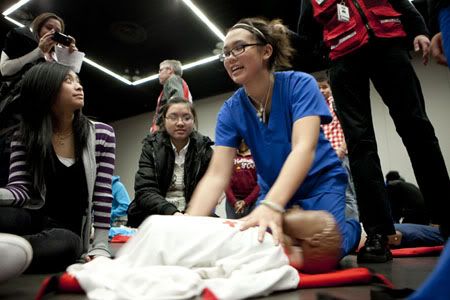 TRIBUNE PHOTO: CHRISTOPHER ONSTOTT • Benson High School nursing student Sandra Van learns the basics of CPR with about 200 others from five Portland-area high schools during a Red Cross earthquake simulation event at the Oregon Convention Center Tuesday.
• Chile offers us lessons
Kate Raphael used to be a skeptic about planning in advance for emergencies, and she teased her mother-in-law for stowing hiking boots under the bed just in case of a disaster.
Then a massive earthquake struck Chile last year while Kate, her husband and their three children were vacationing on the Chilean coast.
'Now you know who has hiking boots under the bed?' says Raphael, a communications and marketing consultant who is back in the Mt. Tabor neighborhood after a year in Chile.
The family was 12 hours' drive from the epicenter, she says, but the earth was shaking so violently, they thought the epicenter was nearby. They jumped into a car to get away from any potential tsunami danger, while Raphael's son Sutton started videotaping the experience.
It's unfortunate that so many people have to endure a crisis before they take emergency preparedness seriously, says Raphael, who wound up preparing a five-minute videotape to encourage others to prepare.
One lesson from Chile was how crucial communications are, Raphael says. All cell phones and telephone lines were down for at least a day. 'When you don't have information, it creates a huge amount of panic,' she says.
Since last week's earthquake in Japan, Raphael has updated her list of key emergency phone numbers. She's also trying to find a hand-crank radio for her emergency supply kit.
Raphael suggests people stock up on water and food, including food for their pets. If there's a major earthquake here and the area gets battered, 'you can't go to Freddies' the next day and stock up,' she says. 'You've lost your chance.'
To see Raphael's video, go to: http://web.multco.us/em/2010-national-preparedness-month.
• Red Cross on the front lines
There was a whole lot of noise Tuesday morning at the Oregon Convention Center. The lights went out, book shelves fell and papers flew everywhere. The rumbling of falling structures, people's shouts for help and flashing emergency lights filled the air.
It wasn't a real quake. It was the first earthquake simulation put on by the Oregon Trail chapter of the American Red Cross, which had been scheduled long before last week's Japanese quake.
Local business people and high school students walked through a series of elaborately staged scenes, with volunteers acting as a trapped victims, medical workers, fire chiefs and others.
The Red Cross deals each day with the aftermath of house fires. But in the event of a major earthquake, the group would be on the frontlines with blood donation trailers, mobile kitchen units, bulk distribution sites for things like water and hygiene kits, emergency operation centers and makeshift shelters.
The goal of Tuesday's event, Red Cross spokeswoman Lise Harwin says, was to give people a realistic look at the path from chaos to recovery after a major earthquake strikes.
Benson High School senior Sandra Van fully embraced the experience, taking mental notes of everything she needed to do.
'I definitely want to start getting a kit' of emergency supplies, she says. She also wants to talk with her family about designating a meet-up place and an out-of-state relative to check in with after a major disaster.
'If I start getting (my family) ready, they'll be able to carry it on' when she heads to college next year, she says.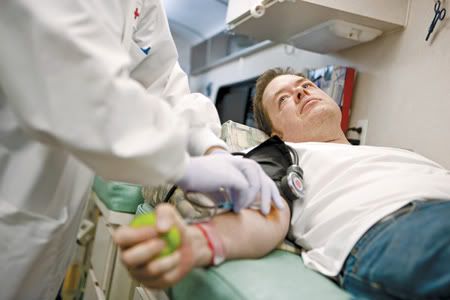 TRIBUNE PHOTO: CHRISTOPHER ONSTOTT • Todd Anderson gives blood at a mobile donation unit Tuesday during the Red Cross earthquake event. In times of major disaster there's often a great need for blood donations. The Red cross in Japan has not yet requested blood donations from the U.S., a spokeswoman says.
• Don't stand in the doorway
You're standing in your kitchen when the house begins to shake. What you don't do, according to Dave Houghton, director of the Multnomah County Office of Emergency Management, is head for the nearest doorway.
Despite years of being told that doorways would hold up best when the rest of the house is crumbling, Houghton says, the theme now is 'duck, cover and hold still' beneath something that will protect you from falling chandeliers and broken window glass.
A strong dining room table or office desk might do that trick. Once the temblors have stopped, Houghton says, take a sniff. If you smell natural gas use a wrench (and you do have one stashed ahead of time, right?) to turn off the gas at the meter.
Don't expect shelters and medical staging areas to be set up immediately if a Japan-sized quake hits Portland. That could take a while, Houghton says, because emergency workers will have to figure out which buildings in each neighborhood are safe enough to host shelters.
Cell phones and other phone lines could become hard to use in emergencies, even if the towers are intact, because too many people are calling at the same time. Sometimes, the secret is to place a long-distance call, Houghton says, because those lines aren't overused. The way to keep in contact with people in Portland might be to designate an out-of-town family member or friend to serve as the hub of a contact wheel.
• Care may be hard to reach
Once the Big One hits and you're standing in the rubble, you might want to rush for the nearest hospital. Be prepared to offer basic first aid on your own, health experts say.
That emergency kit you've stashed away should include extra medications and copies of prescriptions. Somebody in each household should have training in CPR and first aid.
The Red Cross offers a guide for preparing an emergency first aid kit that should be kept at home, with a possible second kit in the car. Try www.oregonredcross.org.
Legacy Emanuel in Northeast Portland and Oregon Health and Science University in Southwest Portland are the area's two level-one trauma centers. Still, a quake on the scale of Japan's could disrupt hospitals.
'The scope is so huge nobody can predict what will happen,' says Dave Austin, Multnomah County spokesman. 'People need to be prepared - not to perform surgery on themselves - but have emergency kits ready, have a communication plan set with your family.'
• You can insure your home
Oregon may be vulnerable to a major earthquake, but only one in five homeowners has earthquake insurance, according to a state survey.
'If the Big One happens, I'd rather not be holding the bag for $100,000 or $200,000,' says Eric Mitchell, insurance sales manager for the American Automobile Association in Portland.
Some insurance carriers have stopped providing earthquake coverage here, Mitchell says. Many homeowners are reluctant to buy it, he says, because it often comes with such a high deductible.
Still, Mitchell advises folks to buy the insurance if they can.
There are also many other things people can do to make their homes safer in an earthquake. Experts advise going on a 'hazard hunt' of your house, checking everything that could tumble down if your house starts tossing like a rowboat in a storm. Strap the water heater to the ground. Make sure bookshelves, entertainment centers and other heavy furniture are attached to nearby walls. For older homes, consider reinforcing the foundation and making sure it's securely attached to the house.
• You can help Japan
Portlanders can make a difference in disaster-stricken Japan. At least four major charities are sending direct aid. Here's how to help:
• Make a donation to The Salvation Army online (www.salvationarmyportland.org) or by calling 1-800-SAL-ARMY and designating the donation to 'Japan earthquake/tsunamis.'
You can also text 'Japan' or 'Quake' to 80888 to make a $10 donation; standard text messaging rates apply.Or, write a check marked 'Japan Earthquake/ Tsunamis' to: The Salvation Army World Service Office, International Relief Fund, P.O. Box 630728, Baltimore, MD 21263-0728.
• The American Red Cross is working with Japanese Red Cross teams. To donate, visit www.redcross.org.
• Medical Teams International is working with church partners to provide water, food and other needs. To donate, visit www.medicalteams.org/japan.
• Portland's Mercy Corps is helping survivors through Peace Winds, its longstanding partner. Peace Winds has already assessed a number of damaged areas and flown emergency supplies into families evacuated from homes in the tsunami-devastated city of Kesennuma. Donations can be made at www.mercycorp.org.