FONT
SHARE THIS
MORE STORIES
---
O! THAT TEAM!
Details

Stephen Alexander
Ducks' fans revel in No. 1 ranking this season with a little touch of outrageous magic
As vehicles with Oregon flags flying flew down Interstate 5 recently, with fans destined for their team's game against Washington, a solitary man dressed in a No. 16 Brady Leaf jersey and hard hat with school colors stood proudly on an overpass between two big Duck banners, waving at the commuters.
---
It brings to memory a scene from the movie 'Deliverance.' The men floating down the river look up to a bridge spanning the water and see the strange kid who had just wowed them with his rendition of 'Dueling Banjos.' The men are entering a different world.
These days, it is a different world at the University of Oregon. Opponents beware.
Fans of the Ducks have loved their team through good times and bad. Now, with the Ducks ranked No. 1 in the nation for the first time in school history, you can feel the pulse of Autzen Stadium thumping an hour and a half away from Eugene. There is a pride and sense of community with everything perfect in the land of green and yellow.
At 9-0 going into its game at California (4:30 p.m. Saturday, Nov. 13), Oregon is riding high, sporting a warp-speed offense, its typical flashy uniforms and a real possibility of playing for the national college football championship in January. It's unprecedented college football fame for the Ducks.
Cars fill I-5 on game days, with multiple Duck flags from their windows. On a good day, there is not too much traffic and the flags wave in the wind. On a bad day, traffic is virtually at a standstill. The Duck flags hang limply from the windows.
Once you pull off the highway into the parking lot, the party starts.
Despite the games of catch people are playing with footballs in the aisles of the parked cars, there is little worry about your car being safe. Oregon has numerous police officers roaming the lot.
'We look for people who are stealing things and try to keep things as orderly as possible,' says Eugene police Det. Steve Williams. 'Ninety-nine percent of the people out here, not a problem at all.'
Throughout the parking lot, Duck fans are tailgating - eating, drinking copious amounts of beer and talking about the game. It is almost always 'we' when the Duck fans mention the team.
TRIBUNE PHOTO: CHRISTOPHER ONSTOTT • Autzen Stadium has seen 73 consecutive sellouts, including a record crowd of 60,017 against Washington.
Mike Hogan, a federal judge in Eugene, has one of the best tailgate setups in the lot. He brings outan outdoor kitchen he built himself. It is a huge rectangular unit with four length suspensions like a NASCAR ride and powered by CO2. Hogan says he serves around 120 fans every game - for free.
Hogan, 64, who has been going to games for 20 years, is living a dream with the Ducks being ranked No. 1.
'It's unbelievable,' he says. 'I never thought it would have happened in my lifetime. You have to live your whole life for one of these chances as a fan. It never happens for most people.'
Interestingly, the judge is inclined to be understanding about the Ducks' offseason, off-the-field legal problems. Running back LaMichael James, former quarterback Jeremiah Masoli and others had scrapes with the law.
'They're just a bunch of kids,' Hogan says. 'They have to grow up like any other kids. Some of them get out on their own, and it takes a while.'
Bleeding green
During the Ducks' Homecoming game against Washington, many alumni cheerleaders returned for their chance to get back down on to the field.
Alyssa Montserrat, who cheered at Oregon, graduated in 2005. She works as a bill coder at Providence Medical Group in Lake Oswego. Montserrat is not disappointed that the Ducks didn't make it to this level while she was cheering for them on the sidelines.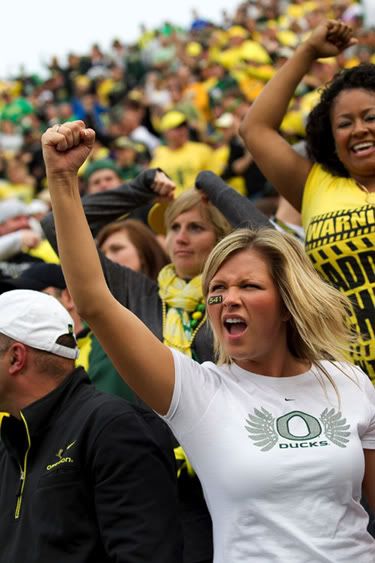 TRIBUNE PHOTO: CHRISTOPHER ONSTOTT • Fans can't get enough of their Ducks, who lead the country in scoring and yards and stand three wins away from a national championship berth.
'I enjoy watching the games,' she says. 'When we're on the field cheering, we're working. Now we really get to watch. It's great.'
A little ways away from Hogan's kitchen, the Oregon Club of Portland has a tent set up for members and fans. There has never been a better time to be a member than with the No. 1 ranking.
'It's making it a special time for any Oregon fan,' says Becky Sprecher, the club's executive director. 'They're definitely die-hard Duck fans. They bleed green. It's a point of pride right now.'
Michael O'Connor, a Portland lawyer and member of the Oregon Club of Portland, gets a sense of community from the games.
'This is like family,' O'Connor says. 'We're all here tailgating together, having fun whether the Ducks are No. 1 in the country or not as good. When you come as often as we do, you get to know all these people around us.'
Outside the club's tent, Renne Wheeler, a legal assistant in Eugene and dressed in a Ducks jersey and a Duck hard hat with her nails painted yellow and green, epitomizes the love fans have for the team.
'We are Oregon born and bred,' Wheeler says. 'We are Duck fans through and through. That's my life. My family, God, then the Ducks. It's the joy of my life.'
Uncharted territory
Once game time nears, fans begin going into Autzen Stadium. The student section is the place to be for the craziest, most passionate fans.
Dominique Christianson is a junior lacrosse player at Oregon. Even on a cloudy day, she keeps her yellow sunglasses on. The football team's success is reverberating throughout the athletic department.
'It motivates (the lacrosse team) to do better,' she says. 'We want to bring a sense of pride to Oregon, also.'
Michael Nguyen and Srdjan Kamenko spent 10 hours the night before the Washington game making yellow and green cardboard 'rock 'em, sock 'em' robot costumes.
TRIBUNE PHOTO: CHRISTOPHER ONSTOTT • Sophomore quarterback Darron Thomas has led the Ducks to a 9-0 record and No. 1-ranking, after replacing the unceremoniously departed Jeremiah Masoli.
'Visibility is a little limited, but it's worth it,' Nguyen says. 'We're here for the crowd. The crowd loves us. We're doing everything we can to make this the best day.'
Sam Peterson, a former pitcher for Wilson High School, has been spending a lot of time while not in classes at UO going to both practices and games.
'Everybody knows we're in uncharted territory right now,' Peterson says. 'Everybody is united after everything we went through this (offseason) as fans. It's just an exciting time.'
Perhaps one reason the students love the team so much is the fact that the Ducks' success motivates them in their own lives. Coach Chip Kelly's 'Win The Day' has become a mantra for followers as much as players.
'It's the most amazing thing in the world,' UO freshman Whitney Haskin says. 'It pumps us up for school. The fans are so inspiring. It even makes me want to do better in school. It's just a feeling you get.'
Kelly, who visited military bases in Iraq in the offseason, has made a point of showing his respect for our troops. For junior Kala Thomas, an ROTC cadet who is also a member of the Oregon National Guard, Kelly's gestures mean a lot.
'I've always liked the Ducks,' Thomas says. 'But it makes me respect the coach that much more.'
It was an honor for Thomas to be one of the cadets presenting the country's colors before the Washington game.
'It's a pretty respectable task that we get to do,' Thomas says. 'It's pretty nerve-racking, and it's very prestigious. So we take it with a lot of honor.'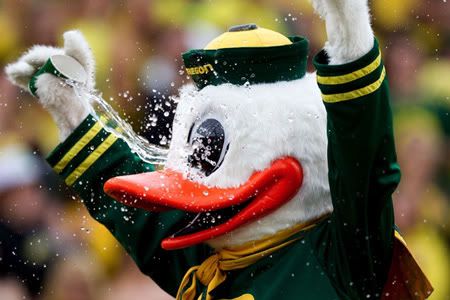 TRIBUNE PHOTO: CHRISTOPHER ONSTOTT • The Duck mascot douses himself with water after doing push-ups after points scored.
An electric place
One of the advantages of being ranked No. 1 is that it brings some celebrities out to the games. Notre Dame and NFL legend Joe Montana came to the Washington game with his family to see his son, Nick, who is a backup quarterback for the Huskies.
'It's an electric place to play,' Montana says of Autzen. 'Especially if you're the home team.'
Once the game starts, it is pandemonium in the crowd. The fans live and die with every twist and turn the game brings.
This season, there has always been a happy ending as the fans leave the stadium; in fact, the Ducks have won 14 consecutive home games.
Trash talking to opposing fans is almost required. Once opposing fans have been put in their place, and the Ducks win, it's celebration time.
For those who have to make the long drive back to Portland, sitting in traffic as they try to leave the stadium, all the time and emotion spent was worth it to see another Duck victory.
'It makes it all that much better,' says Mike Mackin of Portland, whose son just started school at Oregon. 'I'd do it anyway. But, it does make it better when they win. Every game is big when they're No. 1.'